Who's Afraid of Virginia Woolf?, Therapy Included
CARD researcher's troupe tackles Albee's domestic drama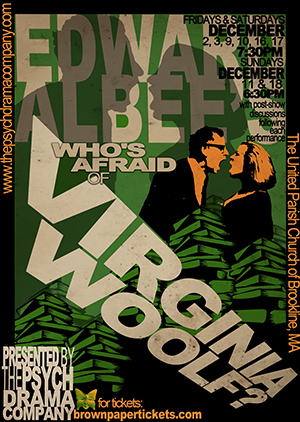 Most people who see Edward Albee's Who's Afraid of Virginia Woolf? either on stage or in its iconic screen version, come away thinking: These people need therapy.
Now, Wendy Lippe (GRS'93,'96) is giving it to them. Sort of.
"People always say, 'What's the connection between being a psychologist and being an actor?'" says Lippe, therapist by trade, actor by avocation, and artistic director of the nonprofit Psych Drama Company, which is staging the play by Albee (Hon.'10) on weekends through December 18 at the United Parish Church of Brookline, complete with postshow discussions led by mental health professionals. "I look at them, like, you don't just know?
"(It's) the interest in getting into the mind of somebody else and exploring their anxieties and their pain and their confusion and their ways of coping and in their relationships," says Lippe. "I'm doing that with my patients, and I'm doing that with my characters.'"
Albee's searing, Tony Award–winning drama from 1962 tracks George, a professor, and Martha, his wife, as they booze and fight and push each other's buttons through one very long night, with a younger faculty couple, Nick and Honey, as guests, audience, and hostages. Many people familiar with the play's emotional brutality may quail at the idea of an immersive production, but psychotherapists go where others fear to tread. The Brookline venue is a church parlor where up to 50 audience members can squeeze into what should feel very much like George and Martha's living room. They'll sit unnervingly close to Lippe (Martha), Cliff Blake (George), Victor Kholod (CAS'16, Questrom'16) (Nick), and Kelly Young (Honey).
At the Center for Anxiety & Related Disorders at BU (BU CARD), since 2000 Lippe has been a clinical supervisor for students in the clinical psychology doctoral program, using her expertise in cognitive behavioral therapy to teach students how to treat patients. In her private practice in Brookline and Harvard Square, she uses both cognitive therapy and psychodynamic psychotherapy.
Albee's characters appear to need all the psychological help they can get, as they meet for drinks in the home of Martha and George, famously played by Elizabeth Taylor and Richard Burton in the 1966 film. The two can't wait to rip each other apart over old grudges and failed dreams, in a script generally taken as a biting commentary on the realities and illusions of marriage in the 1960s. Nick and Honey start out as relatively innocent bystanders, but innocence can't be expected to survive such entertaining parlor games as "Hump the Hostess."
"As the night goes on, the games get progressively more violent and sadistic and hostile, and all this bubbling-up stuff gets released," says Lippe's friend Goldie Eder, a social worker who leads postshow audience discussions with psychiatrists, psychologists, and other social workers. Lippe has long acted and directed for small theater companies in Boston, and a few years ago, a conference in Sicily on Greek tragedy and psychoanalysis led to a brainstorm: "What if you really integrated this completely and had psychiatrists and psychologists and social workers involved with every aspect of the production and had them leading talkbacks with the audience every single night?" Her aim is to bring more psychologically minded reflection to people in the community. It's outreach. "We want people in the conversations to start to talk about the characters, because that's safer, and slowly but surely begin to talk about themselves," she says.
Psych's first production, Hamlet, was staged at the Boston Center for the Arts in 2011, and after one show, a criminologist told the audience that everyone has the murderous impulses of Hamlet, Claudius, and Gertrude inside them. "People went nuts!" Lippe says, laughing. "They said, 'That is not true, that's not us. That's them!' And he said, that's a problem. Because we all have these impulses, and being able to acknowledge them and talk about them is part of what helps us not act out."
Psych has also produced No Exit (coproduced with the Algonquin Theatre Company), A Streetcar Named Desire (coproduced with the Rhode Island Shakespeare Company), and a staged reading of an adaptation of Macbeth at a psychiatric conference in Manhattan.
With all the emotion on stage, Lippe acknowledges she sometimes has to work to keep her two worlds apart. With a play like this one, she says, "some nights I go home and I feel really sad, but I think that there's a zone I get into with my patients. You learn that whatever the drama is on stage or in your life, you have a muscle that shifts you back into the space with your patient."
Psych's Virginia Woolf has also had its share of backstage psychodrama, with two cast members replaced just weeks ago after some uncomfortably intense disputes. The codirectors departed at the same time, replaced by Lida McGirr, now credited as consulting director. But, perhaps thanks to her professional background, Lippe seems to take it in stride. To her, the play is about the fantasies we have when we begin a new relationship and the realities that eventually intrude. Can we live with the truth and pick up the pieces and keep going together? That's the question for George and Martha.
"Can we find a way to be intimate, or do we just throw our hands up and walk away?" Lippe asks. "In this day and age, walking away is easier. We see that in relationships all the time, and we've seen that in our production, sadly."
The Psych Drama Company production of Who's Afraid of Virginia Woolf? runs December 9 to 11 and 16 to 18, at United Parish Church, 210 Harvard St., Brookline. Performances are Fridays and Saturdays at 7:30 p.m., Sundays at 6:30 p.m. Tickets are $30 and can be purchased online at BrownPaperTickets.com or at the door if available. Students and seniors receive a 25 percent discount.