Trustees Adopt Broad Climate Change Strategy
Cutting energy demand and avoiding investment in coal, tar sands included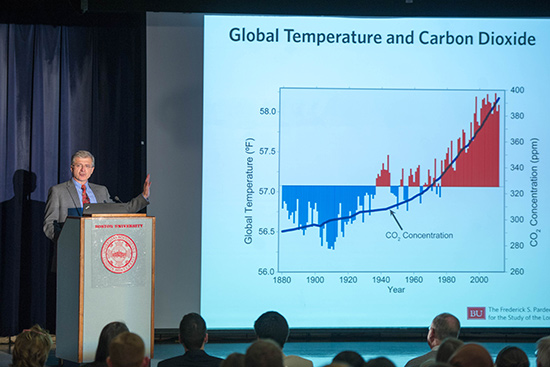 Expanding BU's efforts to curb climate change, the Board of Trustees last week unanimously approved a broad strategy, including efforts to avoid investments in companies that extract coal and tar sands oil, the most carbon-intensive fuels.
The board also authorized a Climate Action Plan that will lay out goals and timetables for greater energy efficiency and green energy use, more climate research and education on campus, and addressing climate change effects on BU's physical plant. A third board-approved measure calls for BU's endowment investment office to include managers with expertise in renewable energy and technology, a move the office had begun on its own.
The board also directed its Investment Committee to report back at least annually on the implementation of the coal/tar sands policy, and it agreed to review the issue at least every five years in light of economic, climatic, and technological developments.
The board's actions recognize that reducing energy consumption is key to mitigating climate change, says trustee Richard D. Reidy (Questrom'82), who heads the board's Advisory Committee on Socially Responsible Investing (ACSRI), which had recommended climate change policies to the board.
"Human-made climate change is real," Reidy says. "If we do nothing about it, it will create social harm that will affect the world and BU. We understood that a comprehensive global climate change strategy had to focus on reducing demand and replacing fossil fuels with clean alternatives." The board endorsed development of a Climate Action Plan, he says, because "the best role for a university is doing research and education and being a good global citizen and reducing its carbon footprint."
President Robert A. Brown announced the trustees' decision in a letter emailed to the University community.
"Because of the work of the ACSRI and the Board of Trustees," Brown said in an interview, "the University is on a path toward facing the challenges of anthropogenic climate change. This is the first step in what will be an ongoing process in the years and decades ahead."
As is its usual procedure, the board had referred the ACSRI proposals, made in April, to its Executive Committee for study. That committee reviewed these proposals at its regularly scheduled May meeting and again at a special meeting held in August, reaching consensus on three recommendations to be presented to the board last week. The board voted unanimously to endorse each of the recommendations put forth by the Executive Committee.
In a document posted on the trustees' website, Board of Trustees chairman Kenneth Feld (Questrom'70) said he has asked Brown, "in consultation with such others as he deems appropriate, to develop a Climate Action Plan for review and consideration" by the board.
Recognizing that divestment was the most complex issue among the possible options, the Executive Committee said it weighed the potential harm of climate change against the social and economic disruption from a too-abrupt shift to clean energy.
The Executive Committee reviewed data on global energy use, which demonstrate the magnitude of the challenge associated with shifting the world's energy production (heavily based on coal, oil, and natural gas) to low-carbon sources—solar, wind, and nuclear power—that are more expensive sources of energy.
The trustees' decision could result in divestment from some current holdings as well as avoiding future investment in coal and tar sands. The trustees noted that total avoidance of coal and tar sands companies may not be possible, because the University's portfolio includes vehicles such as mutual funds, whose managers choose stocks, and passive index investing. That latter is tied to the performance of a particular stock index—say, the S&P 500—whose holdings BU has no say over.
The trustees' votes last week capped several years of campus activism for divestment, most recently in the form of a student rally the day before the board's decision. Two years ago, faculty members petitioned for divestment from all oil, coal, and gas companies.
With the board's actions, "we have stepped beyond what most of our fellow colleges and universities in the area have done," says ACSRI member John Robb Dixon, a Questrom School of Business associate professor. "We've said no to the two dirtiest, worst in terms of carbon dioxide release fuels that are out there."
Dixon says the board's unanimous support for all the measures surprised and gratified him. "While we would love to have some technological miracle come along that would enable us to stop using fossil fuels, the technology infrastructure that's in place is still going to be very costly and time-consuming to replace," he says.
In weighing divestment, the board is guided by several principles, one of which notes that most divestment discussions involve issues that aren't directly related to the University's operation; another notes that by divesting, BU adopts a viewpoint in a debated issue and risks undermining robust campus discussion about that issue.
"Non-investment or divestment actions based on social or political principles should be very rare," the board's principles state, "and occur in only the clearest of circumstances, and should be judged to withstand the test of time in terms of how the wisdom of the University's decision will be judged by future generations."
The University has divested at least twice before. In 2006, BU shed its holdings in companies linked to Sudan and its genocidal government. In 1979, the University pulled money from companies tied to South Africa to protest apartheid.