Tattoos: More Than Skin Deep
The stories behind the ink
Tattooing dates back to the Neolithic Age. Tattooed mummies have been found at dozens of archaeological sites from Egypt and the Sudan to Greenland, China, and the Andes. In the intervening millennia, tattoos have been both revered and maligned, often carrying a stigma.
But a Harris Poll released in February offers proof that our perceptions and acceptance of tattoos is changing. Today, nearly half of all millennials (47 percent) report having at least one, followed by Gen Xers (36 percent). Nearly 3 in 10 Americans (29 percent) sport a tattoo (up from 21 percent in 2012), and of them, 7 in 10 have 2 or more. According to the survey, 32 percent of adults would be OK with a presidential candidate with a visible tattoo. And the number reporting that tattoos make them feel attractive was up noticeably from 2012 (32 percent vs 21 percent).
With so many people getting tattoos, we reached out to the BU community, asking students, faculty, and staff to show off some of their tattoos and talk about the stories behind them.
Danielle
Enserro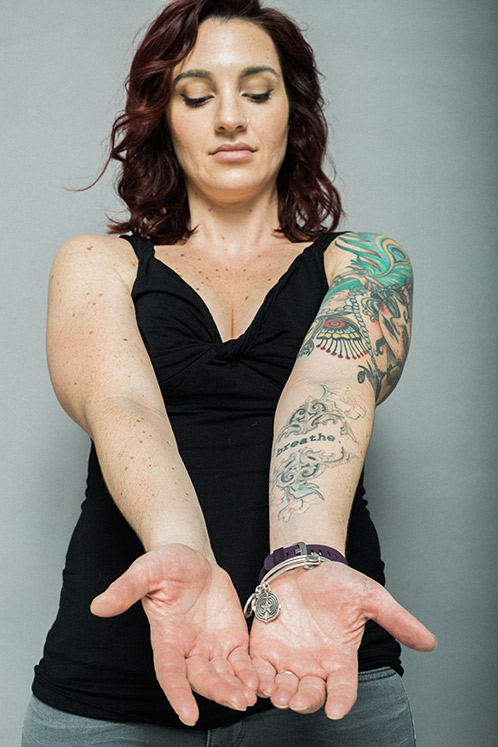 Name: Danielle Enserro (SPH'17)
Number of tattoos: 4
All of my tattoos were created by an amazing artist, Eva Jean. I usually give her a word or two of inspiration and let her run with it. For example, the gypsy on my arm was created simply by asking her to incorporate a peacock feather into the artwork. The gypsy holds a bright red heart lock—my clever way of "wearing my heart on my sleeve." However, my favorite is the "breathe" tattoo on my left forearm, which I had done in 2008. I am a survivor of an eating disorder and some other very dark personal events and I got that tattoo as a reminder that no matter what disasters happen in life, as long as I remember to breathe, everything will be okay.
‪‪Sometimes I'm asked what I do for work—when I explain I'm working on my PhD in a math-related field, there is usually a look of shock.
Josh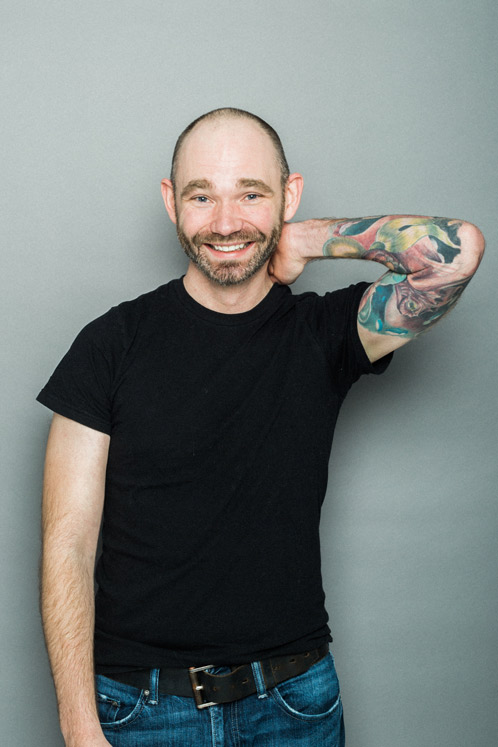 Ames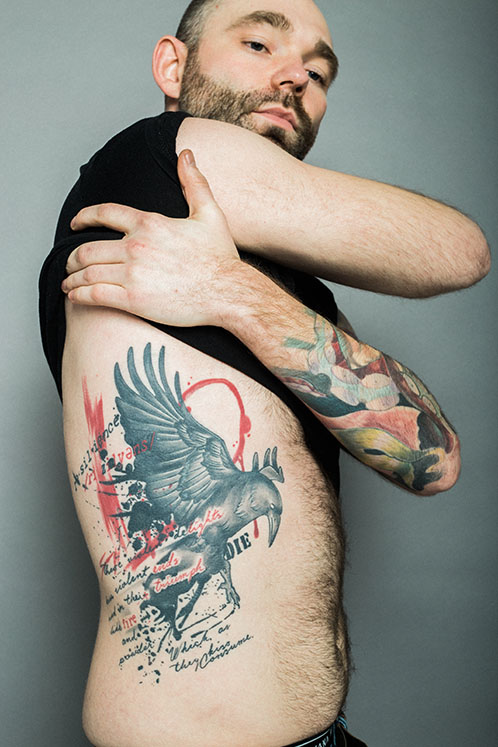 Name: Josh Ames (MET'13,'16)
Position: Environmental health and safety program manager, National Emerging Infectious Diseases Laboratories
Number of tattoos: 4
All of my tattoos have significance. My sleeve displays my singular dedication to my son, the boy in the boat, in the face of adversity. The theme came from the "To be, or not to be" soliloquy from Hamlet, specifically "taking arms against a sea of troubles." My crow and the quote on my ribs are a bit more narcissistic. The crow exemplifies many traits and qualities that have been vital in my life, chiefly, resilience. The quote comes from Romeo & Juliet and embodies the dangers of excess that mirror my own personal desire for temperance.
People are very interested in my arm tattoo. On several occasions I have had people come right up to me and grab my arm to look at it. It's funny—although the tattoos are so public, it feels very intrusive when someone asks about them. They are all so personal, and it's like sharing my life story with a complete stranger.
Melissa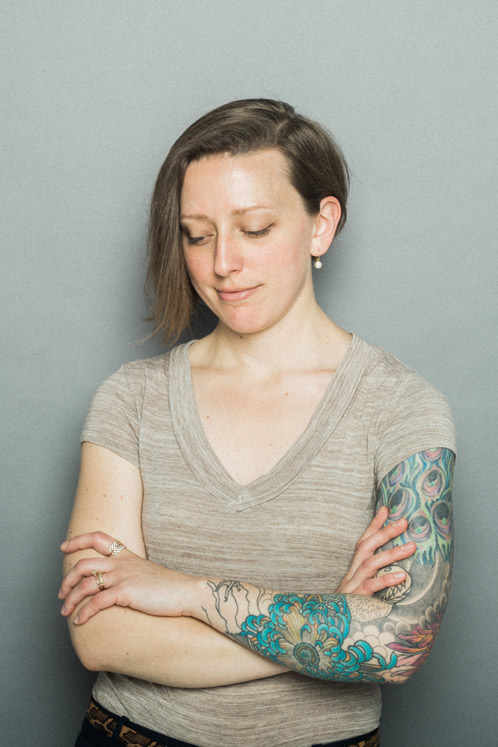 Lund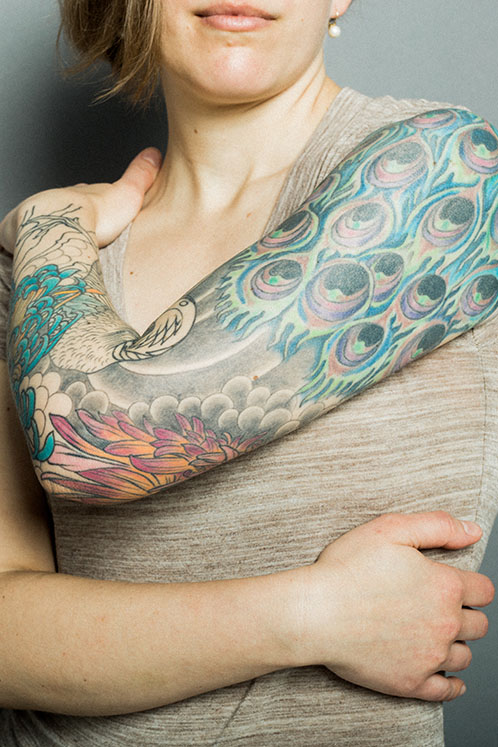 Name: Melissa Lund (CFA'12)
Position: Financial aid officer, College of Fine Arts
Number of tattoos: 4
I lived in Hawaii for a couple of years before moving to Boston, and I wanted to get a tattoo to commemorate that time. I wanted to avoid traditional designs so I wouldn't be appropriating a culture I wasn't raised in. An artist ended up designing my sleeve to include the state bird of Hawaii, the nēnē, which is a relative of Canada geese, which arrived on the islands thousands of years ago and decided never to leave—can't blame them.
I also have a memorial tattoo for my dad, who passed away from melanoma in the fall. My sister and I took a sample of his handwriting to a tattoo artist in Phoenix, where he lived, and got tattoos in his handwriting that say, "Hang in there." That was what he'd always say instead of "Good-bye."
Someone asked me what I think that'll look like on my arm when I'm 80. I replied that my arm isn't going to look great when I'm 80 anyway, so what difference does a tattoo make?
Aristotelis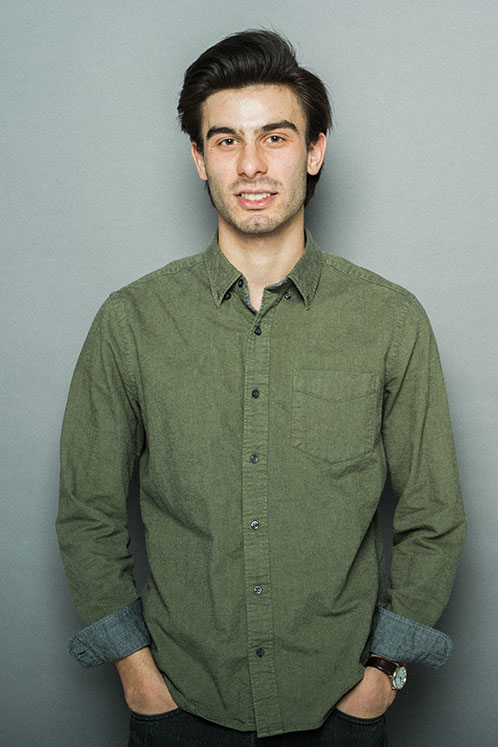 Ambatzidis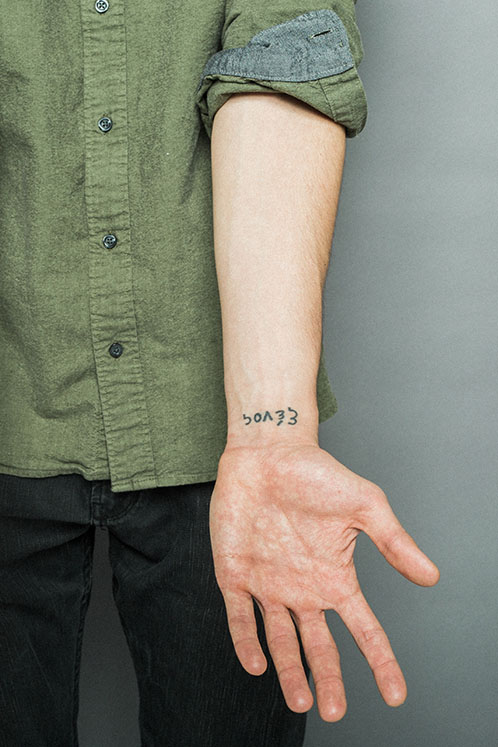 Name: Aristotelis Ambatzidis (CFA'16)
Number of tattoos: 1
‪I got my tattoo the summer of my sophomore year. I had sketched the concept for the tattoo for quite some time, and finally I decided to pull the trigger and get it.
My father ran a restaurant in Greece called Xenomania, which translates in English to an obsession for foreign things. Being a citizen of two different worlds for so long, I decided to get the first part of the word, Xenos (foreigner), tattooed on my wrist. It represents a simpler time, but it also expresses how I connect with my heritage and how I have felt like a foreigner my whole life.
Pamela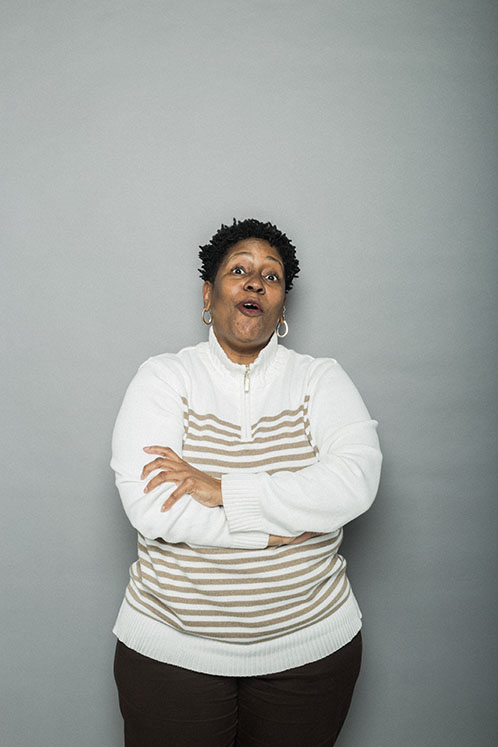 Lightsey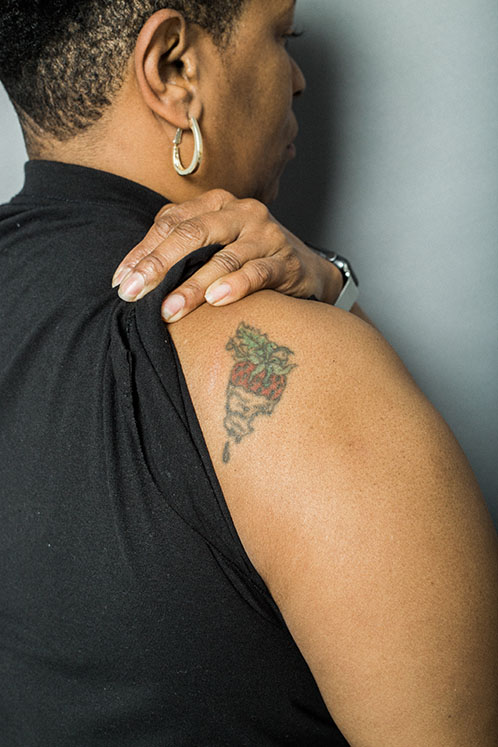 Name: Pamela Lightsey
Position: Clinical assistant professor and associate dean, community life and lifelong learning, School of Theology
Number of tattoos: 1
I got my one and only tattoo in 2004 at the urging of my daughter and goddaughter. They wanted to get tattoos and thought it would be cool if "we girls" just did something risqué. They have this way of enlisting me when they want to do bucket list–type things, but don't have the nerve to follow through.
‪Usually people ask me if my tattoo stands for anything, as though I would have never gotten a tattoo that didn't have some deeper mystical meaning. They're surprised when I tell them, "Naw, it's just a strawberry dipped in chocolate."‪
The pain was just too much. But ask me about my piercings.
Brendan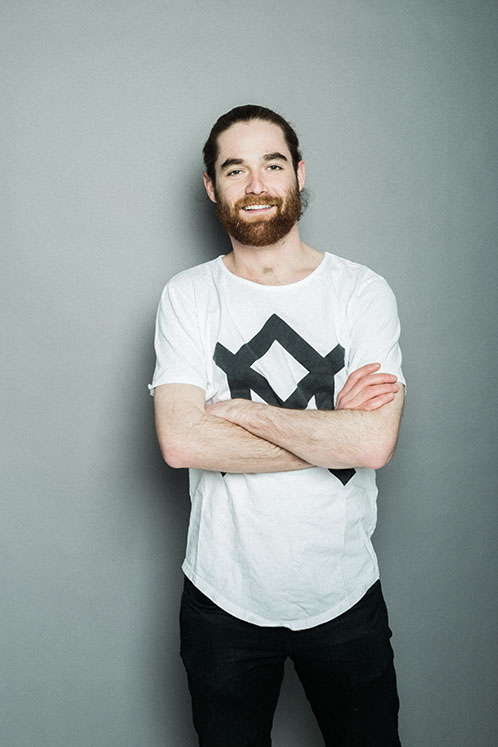 Cobb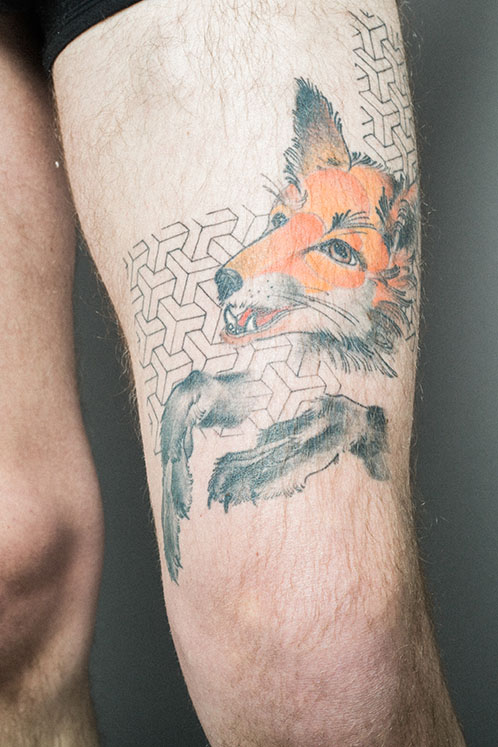 Name: Brendan Cobb (CFA'16)
Number of tattoos: 5
I got my first tattoo when I was 18 to symbolize some of the struggles I've been through, but I don't always feel that tattoos need to have meaning. They are an art form in themselves and can stand alone as a piece.
I wanted to collect different works of art from different tattoo artists. Amanda Abbott from Brilliance Tattoo in Allston, Mass., did the large piece on my leg; I loved her work and wanted to collaborate with her.
I love having the ability to have a piece of art on my body forever.
Christina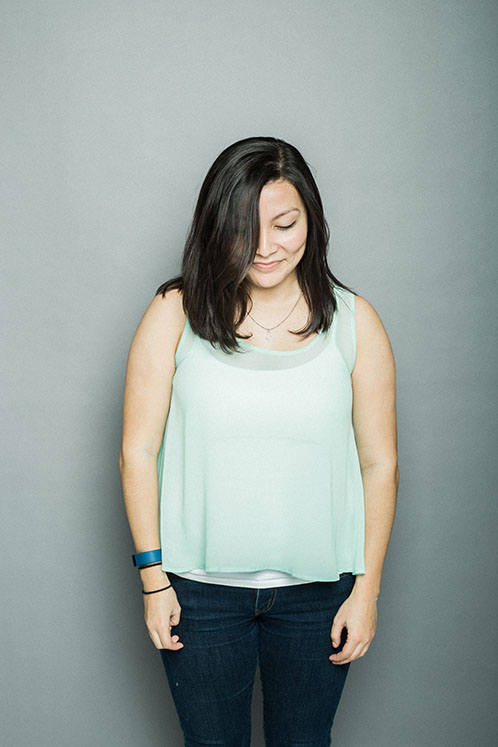 Sanchez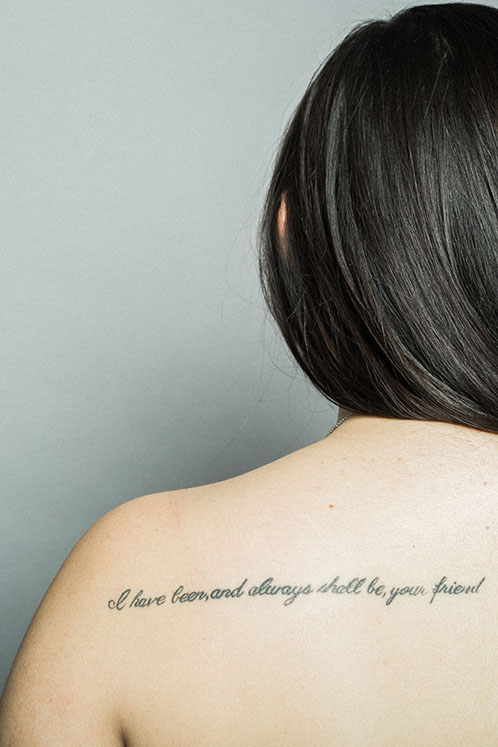 Name: Christina Sanchez (CAS'17)
Number of tattoos: 1
I got my first and only tattoo when I was 19 years old to commemorate my brother's life. When I was a second semester freshman, I got the dreaded news that my brother had passed away. He committed suicide.
The main things my brother and I bonded over were movies, music, and quotes from TV shows, so I immediately knew I wanted a tattoo that would relate to our relationship in that sense. When I re-stumbled upon the well known quote "I have been, and always shall be, your friend," I felt like it said exactly what I had wanted to tell my brother after his first suicide attempt, but at the time, I didn't know how to say it. With this tattoo, I feel like it tells him that I have always been there for him and loved him, even though he may not have felt it or seen it.
Isabel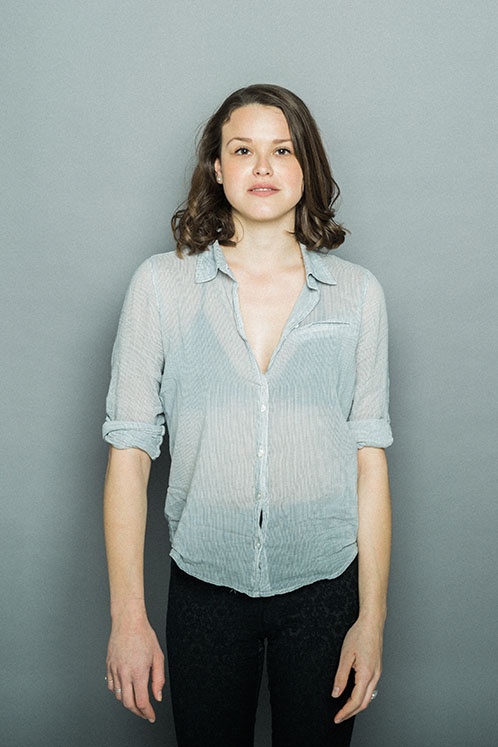 Schnall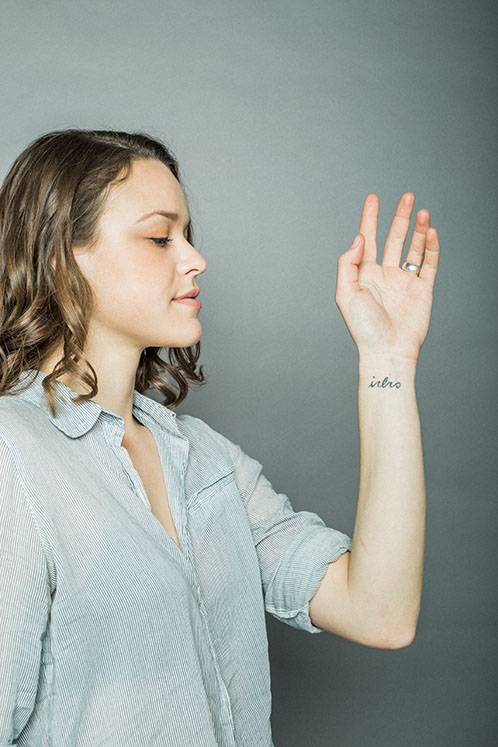 Name: Isabel Schnall (CFA'16)
Number of tattoos: 2
My first tattoo, on my wrist, is a design I created to represent my family. When I was growing up, my parents wore silver Hopi rings they had given each other before I was born. My mother's had small waves on it, and my father's had spirals. These symbols, though small, were so representative of my childhood to me because I saw them every day on my parents' fingers. At first I was only creating designs that had waves and spirals in them, but then I thought it would be nice to represent my entire family. My tattoo has an "I" for my name, the wave and spiral design, and an "L" for my little sister, Lena. It represents the whole of my family, and the bond between us.
People often think it's a tattoo of my own name, which is hilarious. In case I lost myself? But when I explain it to them, they find it unique and sweet.
Arthur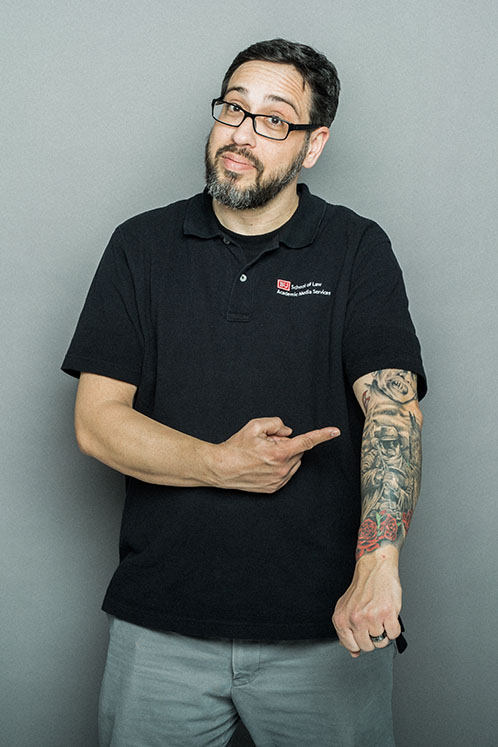 Martins
Name: Arthur Martins
Position: Learning and event technology specialist, School of Law
Number of tattoos: 13
I got my first tattoo when I was 19. My daughter was just born and I wanted something that reminded me of her and kept her with me. My left arm is a Stephen King sleeve work-in-progress. King helped me find the world of books when I was a teenager. I fell in love with his multiverse and how the Dark Tower lives in the center of all existence. Artist Jason MacKenzie spent a lot of time on the detail. Also, I have a red Rebel Alliance symbol (I fell in love with Star Wars as a kid) on my right arm. Next sleeve? Star Wars.
Renee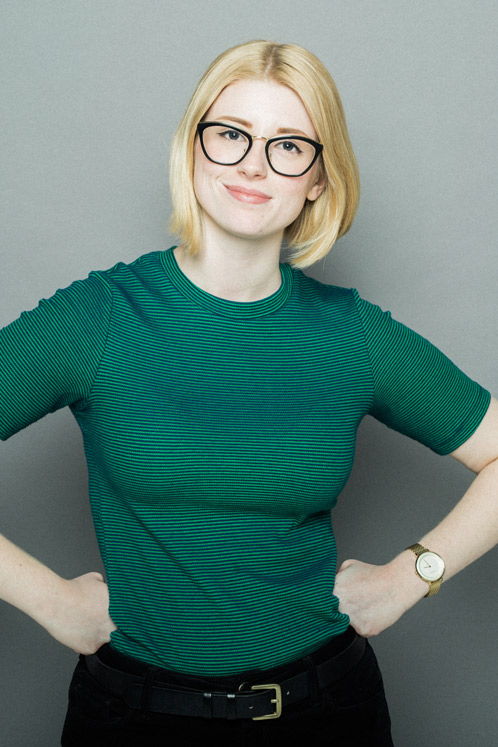 Piper
Name: Renee Piper (CFA'18)
Number of tattoos: 1
All my life, I've really liked Harry Potter and reading in general. Harry Potter was special though, because it was the series I started reading in kindergarten all the way through "those magic changes." Despite everything that was happening socially, scholastically, familially, Harry Potter was a constant. It taught me much more than schooling probably ever could: it's quality over quantity when it comes to friends, political nuance, patience, what bravery can look like, how there isn't one way to be a female, and all of the great lessons that school really can't teach.
Although my tattoo is from Harry Potter, it's not something as distinguishable as the Deathly Hallows or a lightning bolt. It's the Hogwarts motto, which you really only ever see under the Hogwarts crest. It reads: Draco Dormiens Nunquam Titillandus—"Never Tickle a Sleeping Dragon." It basically means don't mess with me. It also alludes to other stories that were really crucial to me as a young'un: The Hobbit by J.R.R. Tolkien and the lesser known The Dragon of Lonely Island by Rebecca Rupp.
Chimel
Idiokitas
Name: Chimel Idiokitas
Position: Outreach and program director, School of Medicine
Number of tattoos: 8
I got my first tattoo 10 years ago. It is from the Bible, Psalm 116:15: "Precious in the sight of the Lord is the death of his saints." I got it in remembrance of my grandmother, who had passed away a few months prior.
In 1999, I met a group of seven individuals at Boston Latin Academy. We grew from friends to brothers. We called ourselves the "Ugly Fellas" as an eighth grade joke, but it stuck through high school and college. That tattoo is a shield of honor with the letter "UF" inside, topped by an ambigram tattoo that reads "Family Forever" in both directions.
My favorite set of tattoos is probably on my upper left arm. "Believe" is my favorite word, because it reminds us to invest in ourselves no matter what. The chain link fence breaking into birds surrounding the word represents breaking away from the norm, not following the stagnant, but instead rising up and not only believing, but achieving, your dreams.
Dalila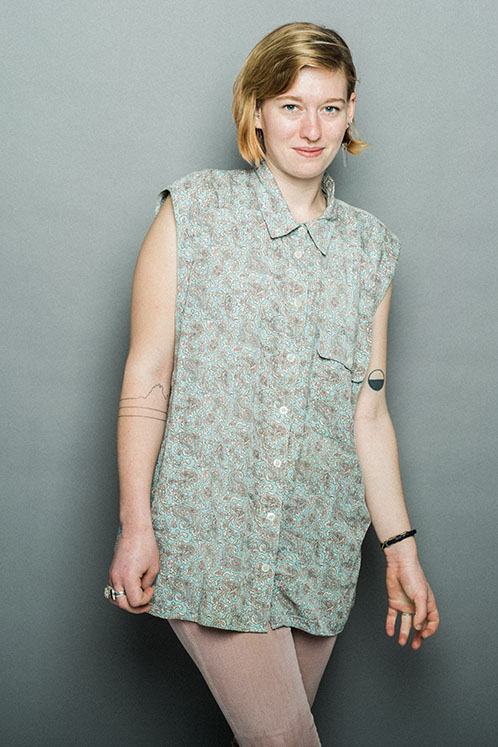 Bennett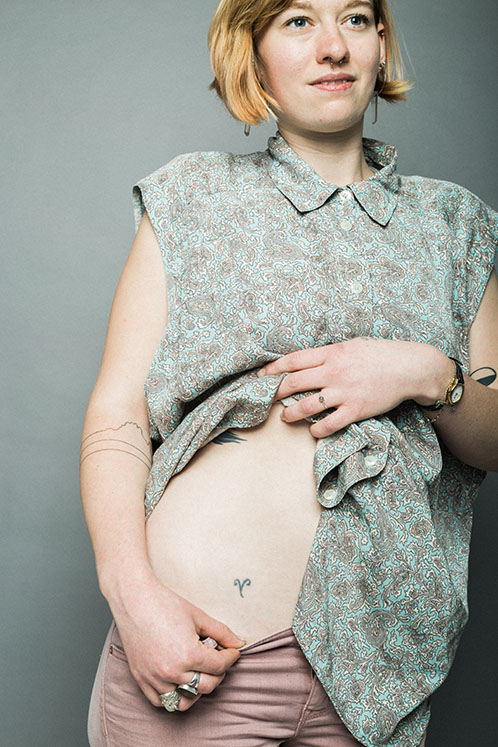 Name: Dalila Bennett (CFA'17)
Number of Tattoos: 7
The circle on my arm is a simplified moon. My sister and I both got this tattoo spontaneously in Denver, Colo., on a road trip across the country. The black half represents my sister being born during a full moon and the empty part represents me being born during a new moon.
The armband is my most recent tattoo. I got it about two months ago. There are three bands for my favorite number, and each line is half an inch apart so that I can measure anything, anytime. The top line is curved to be the outline of the top of Martha's Vineyard because I grew up there and will always consider it my true home, regardless of where I end up.
Jim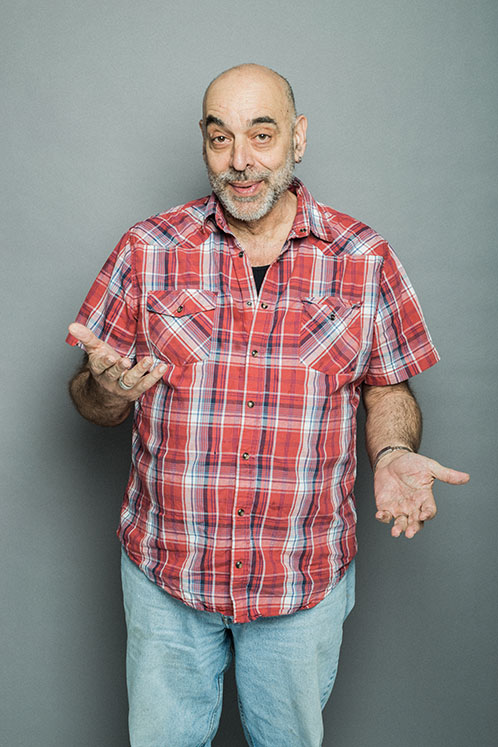 Petosa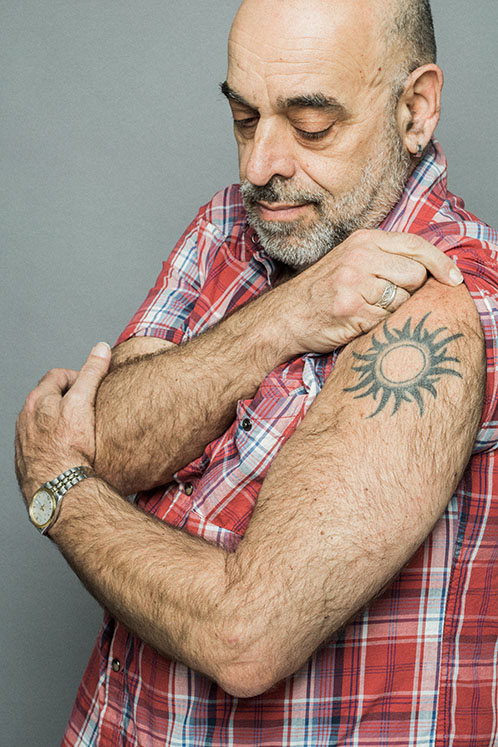 Name: Jim Petosa
Position: Professor and director, CFA School of Theatre
Number of tattoos: 1
I got my tattoo in 2002, soon after 9/11. I was visiting a playwright friend in Brooklyn when we both thought of getting one. I went ahead, he chickened out. I knew I wanted a tattoo that would represent a symbol of idealism and optimism to me. Having gone through some difficult times, I'd learned to value the power of resilience. The woman who designed mine was terrific; we came up with the design (based on a number of existing ones) and once we worked through the drawing of it, we went for it.
After I got this one, I was eager to get a second. Apparently, that is not uncommon. But I decided to wait until I had a strong idea for what another one would mean to me. Apparently, I haven't come up with that. In some ways, the meaning of the one I have has only deepened, so it's probable I'll just stick with it.
Brenda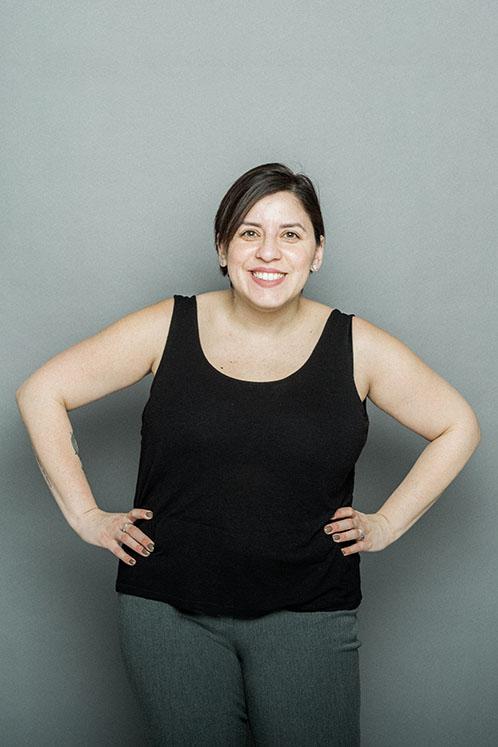 Hernandez
Name: Brenda Hernandez
Position: Associate director for academic and multicultural affairs, LAW
Number of tattoos: 9
The Roman numeral XVII (17) is my lucky number. I was born on July 17, my father on June 17, and one of my brothers on April 17. On my forearm is a version of the feminist symbol, but instead of the traditional woman sign, I incorporated the tree to symbolize the intersection between my feminism and my environmentalism. From people who recognize the symbol, I have gotten a lot of positive feedback. On each shoulder I have a tattoo of a cherry tree, which symbolizes the fragility of life since the tree's existence is short-lived. I got one in full bloom, to represent my mother, and one that's bare, to represent my father, who passed away.
Ella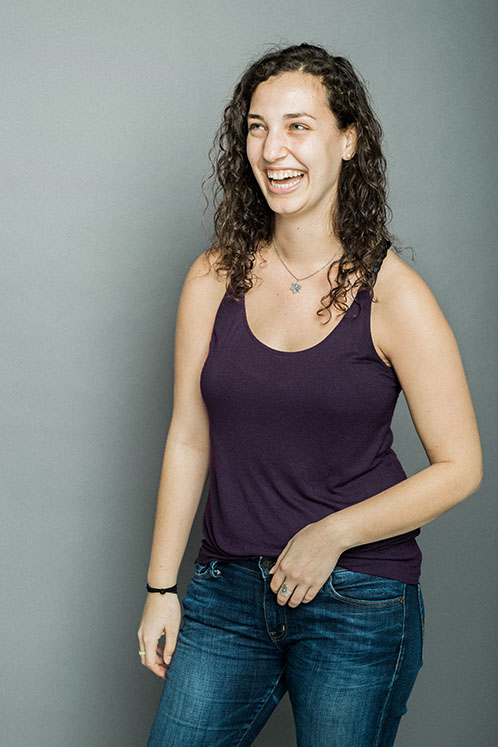 Pestine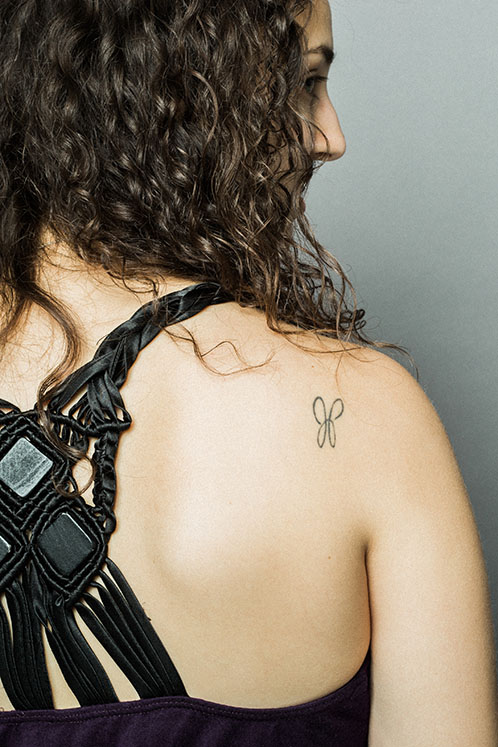 Name: Ella Pestine (SAR'16, SPH'17)
Number of tattoos: 1
‪I got my first and only tattoo in August 2012, just before I came to BU. I had been planning to get it for a few years, but I wanted to make sure it was actually what I wanted.
My mom passed away when I was 15, just as I was starting high school. When I graduated and was packing to go to college, I was extremely nervous to be starting such a new chapter of my life without my mom. So, a few weeks before my flight to Boston, my sister took me to get my tattoo—my mom's initials, JP. She had taught us how to sign her initials so she wouldn't have to sign permission slips or homework for us; we would just do it ourselves. Her initials make a butterfly shape and are on my right shoulder forever, so I remember that my mom always has my back.
For a Jew, it is typically frowned upon to have tattoos, yet most of my relatives comment on how my tattoo is the only one they like.
Taylor
Lawson
Name: Taylor Lawson (ENG'20)
Number of tattoos: 9
I got my first tattoo when I was 18 and home on Christmas break freshman year. I'd always abided by every rule possible and never done anything crazy. I needed some excitement in my life and had always wanted a tattoo.
Each tattoo I have has as specific meaning, whether it commemorates something I've overcome or something that was monumental in my life. My tattoos have been, and continue to be, a way for me to represent myself and the things I've been through.
Brittany
Costa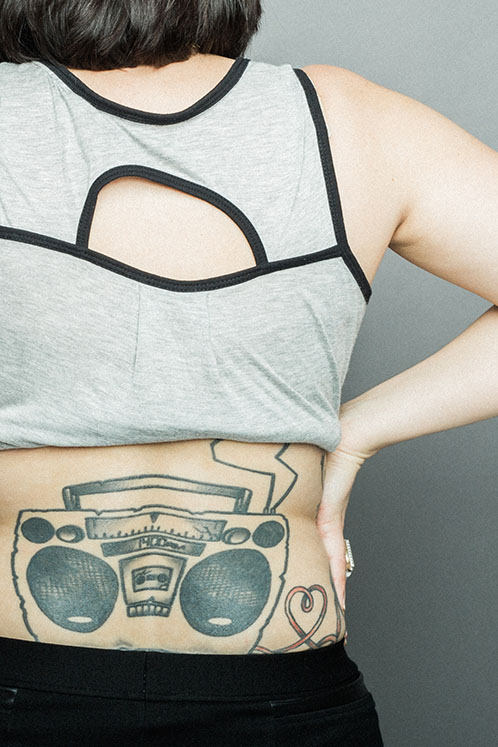 Name: Brittany Costa (MET'14)
Position: Senior staff assistant, CFA School of Music
Number of tattoos: 12
My arm piece is my most recent tattoo (and my favorite). It is an original work by the wonderful Dia Moeller from Boston Tattoo Company. I didn't really know what I wanted when I first met with Dia; I just knew that I wanted a woman's face and vintage flowers, I wanted it on my arm, and I wanted it to be done by her. For me, this piece represents my feminist beliefs. I strongly believe in equality, especially the empowerment of women, so having this piece sketched and tattooed by a strong woman like Dia was important to me.
My back piece is probably the strangest tattoo I have, but it has the most meaning. It's for my grandmother, Vavo Lourdes, who passed away about nine years ago. She helped raise me and was my best friend growing up. She was one of the strongest and most stubborn women I have ever known, and I have always looked up to her. This piece is an original sketch by Bryan Mullen at Art Freek Tattoo, and it represents a really old, beat-up stereo my grandmother owned when I was younger. She had to listen to her Portuguese talk radio show every day on 1400 AM and I had to help her get a good signal. Sometimes helping meant attaching forks, wire coat hangers, and aluminum foil to the antennas to get the station to come through. Now, her broken stereo—stuck on 1400 AM—will be with me everywhere I go.
Bryan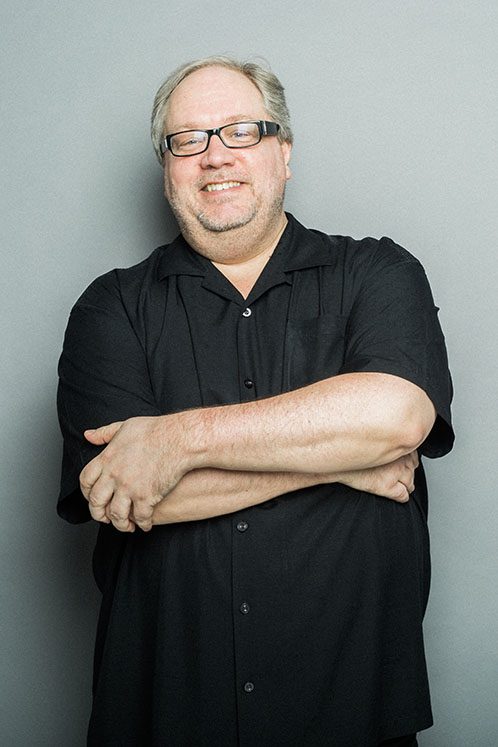 Stone
Name: Bryan Stone
Position: E. Stanley Jones Professor of Evangelism and associate dean, STH
Number of tattoos: 1
I had just gotten my niece and nephew tattoos 10 years ago, and I wanted to join them in that experience. They would come spend summers and holidays with my wife and me, and we grew very close. Getting a tattoo together was a way of marking that close relationship.
People rarely see it, but the responses are about equal between those who are surprised because I'm a faculty member and an associate dean, and those who don't really think it's that out of the ordinary at all.
I often think that what I'd really like to do is add some color—maybe some flames.
Jennifer
Beard
Name: Jennifer Beard (SPH'06)
Position: Assistant professor of global health, School of Public Health
Number of tattoos: 7
All of my tattoos are in places where I can see them, which was always an important consideration. I've never understood getting them on your back if you only have a few. All have some connection to British literature, which is what I did my PhD in. My armband and the woman on my leg are drawings by the poet Stevie Smith, who wrote funny, dark rhyming poems that have simple accompanying drawings that sit on the edge between sketch and doodle. The woman accompanies Smith's famous poem "Not Waving but Drowning." I got it the night before I defended my dissertation because I wanted to feel tough and resolute while defending and also because I wanted something to show for the pain of the dissertation process. It's a pretty bleak poem. The speaker is basically saying: you thought I was happy all this time and waving at you cheerfully, but I was actually drowning. I'm usually a positive and happy person, but I really found the dissertation process to be painful, so the poem captured my angst. What I like about the drawing is that she is either coming out of the water or going down under. To me she is emerging.
I love having visible tattoos because they are a great way to connect with others. Often, people want to show me theirs or talk about ones they want to get. I've had students ask my professional advice about having visible tattoos: will a visible tattoo ruin their professional prospects? My answer generally is that my tattoos don't seem to have had a negative impact on my profession or whether or not others take me seriously.
Katy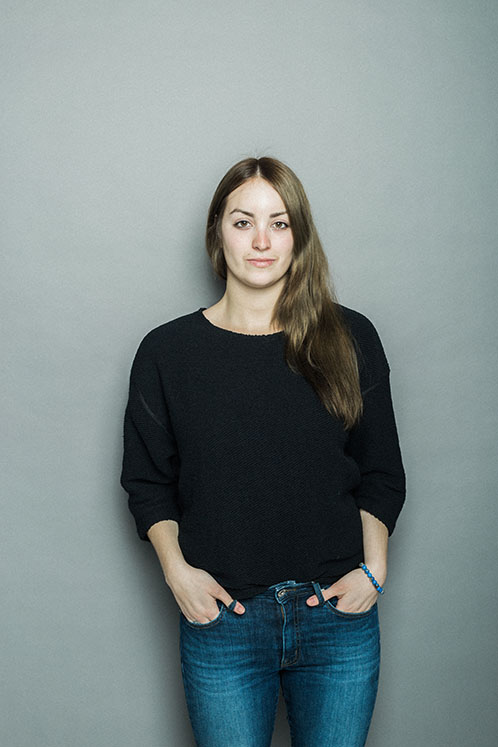 Lazar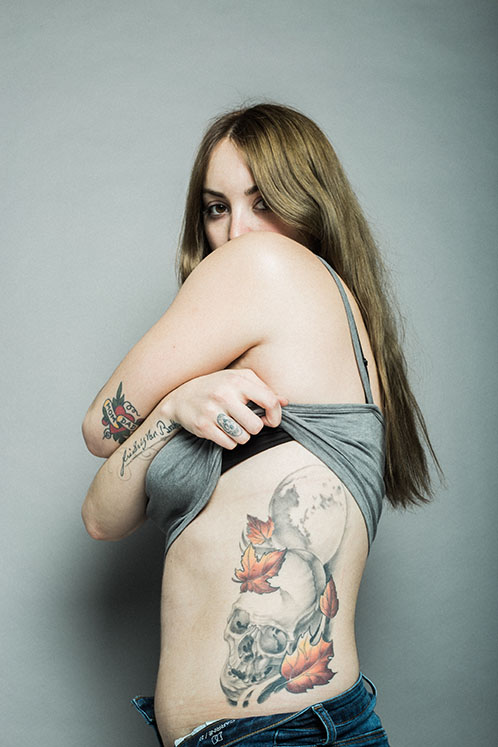 Name: Katy Lazar (CFA'16)
Number of tattoos: 7
‪My side piece represents two things: my favorite holiday, Halloween, and my love for the fall. I like the symbolism of leaves falling off the trees. While spring is about renewal and birth, I think fall is about shedding negativity. You can't renew yourself if you haven't rid yourself of the things just adding weight to your life.
Beethoven's signature is tattooed on my right arm. He's my favorite composer, and I think his biography is extremely inspiring: he was losing his hearing as a composer of music and even at his darkest moments, when he contemplated suicide, art and music saved him. He had more music to share with the world and that wasn't worth giving up, even though he was miserable. I think that's incredible.
Mike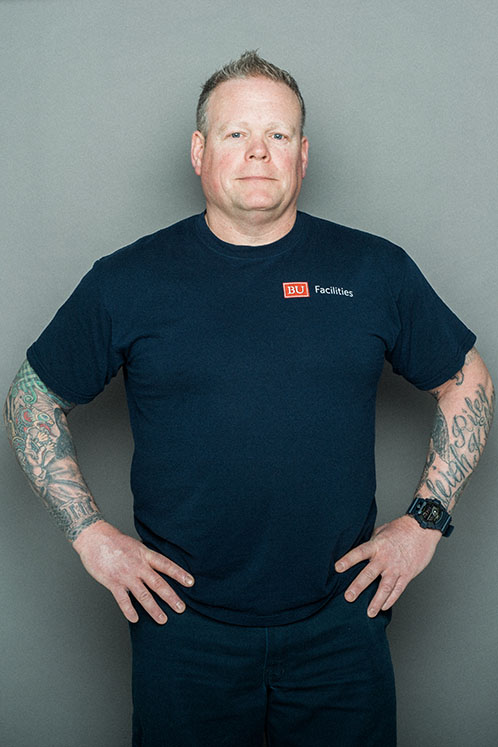 Flynn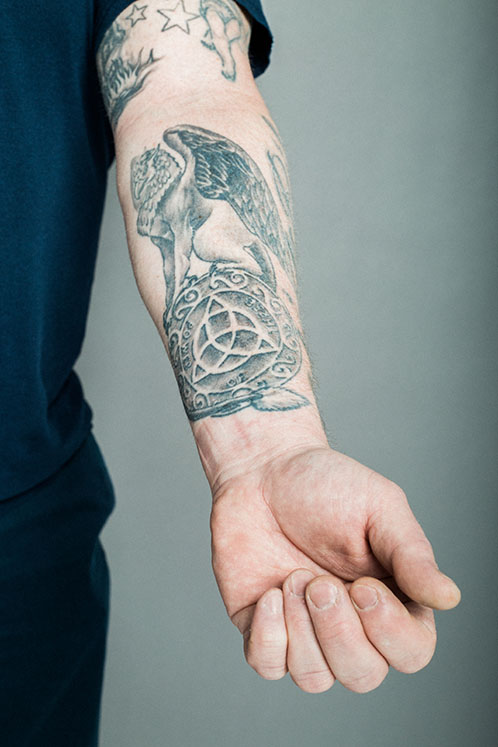 Name: Mike Flynn
Position: Staff electrician, Facilities Management & Planning
Number of tattoos: Probably around 35
Celtic symbolism is 90 percent of the work—mythical animals that symbolize protection and strength, the number 3, which symbolizes luck, the Holy Trinity, and Celtic knots, which most believe have an infinity connotation.
The remaining tattoos are Roman Catholic references—for example under my left upper arm, there's St. Michael the Archangel with his foot on the head of Lucifer at the Gates of Heaven, a portrait of Jesus, a portrait of Mary holding baby Jesus. I have three angel cherubs that symbolize my three daughters, along with their names written in script.
I'm very proud of my tattoos. I've spent a great amount of time thinking and planning for each and every one.
Amanda
Gallinat
Name: Amanda Gallinat (GRS'17)
Number of tattoos: 2
‪‪‪My first tattoo was a hyperparasitoid wasp, in the family Trigonalidae. I got it after spending several years identifying insects under a microscope, both for my personal insect collection and for my job. I thought bees, ants, and wasps in particular were really beautiful, so I started looking for an image that was both accurate and attractive for a tattoo. It took me three years to find this image; it comes from a book titled Wasps, Bees & Ants of Costa Rica (illustrated by Alejandro Herrera).
My second tattoo was about five years in the making. It's a selection of my favorite flowering prairie plants: the purple coneflower (Echinacea angustifolia), big bluestem (Andropogon gerardii), prairie clover (Dalea purpurea), and prairie blazing star (Liatris pycnostachya), designed and tattooed by a California artist named Brücius in 2015. Both of my tattoos are more about aesthetics than any particular experience, but I do really love the Minnesota prairie—that's where I first learned to love ecology and where I met my partner and many of my closest friends. I'm not originally from the Midwest, but I put down roots there, and it's nice to have a reminder of that.
Occasionally someone will try to guess the species, and that can be fun if they're either very good at guessing or very bad at guessing.
Daniela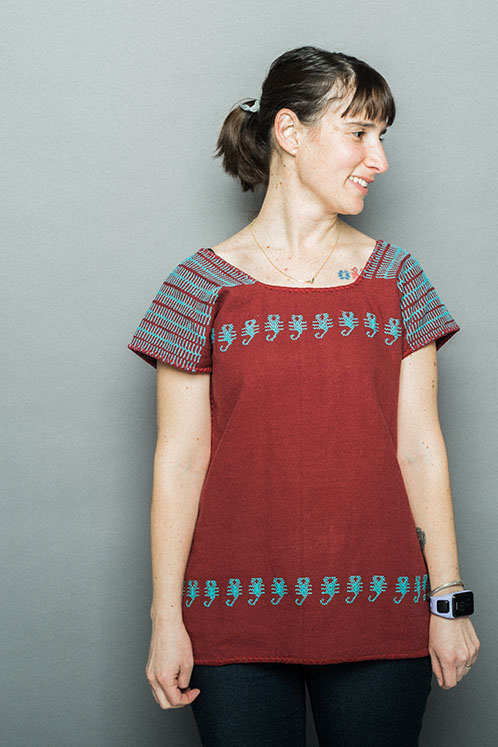 Hernandez Sarinana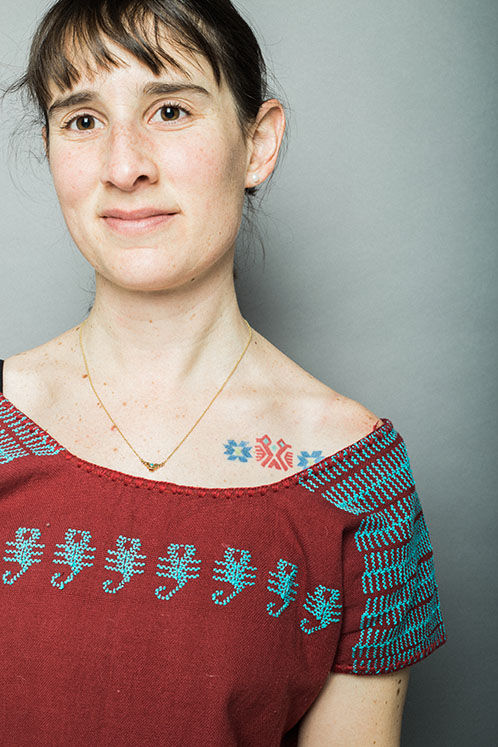 Name: Daniela Hernandez Sarinana (GRS'19)
Number of tattoos: 5
I got my first tattoo when I was in high school, because I was very curious about the experience. I did not have a design in mind. I just went to the parlor, chose one from the book, and did it. Years went by after my first tattoo—maybe 12 years or so—before I had the idea of getting a new one. After that I was pretty much hooked.
My fourth tattoo is related to Mexican culture; it is a set of symbols found in traditional textile garments made by the Amuzgo, an ethnic group found along the southwest Pacific coast of Mexico. Their traditional textile culture is very rich, colorful, and full of meaning. I am very proud of being Mexican, and I am always awed and impressed by so much color and story united in one country. This is my way to celebrate it and to always have it in my mind.
People are more open about tattoos now, but you can still hear expressions like: "You're not getting a job with that; at least wear long sleeves to cover it" or "Remember, it's something permanent and it can get boring" or the typical "How is it going to look when you are old?" My answer is: I am doing a PhD, so hopefully I will get a job; thank God it's permanent; and it is going to look awesome in the years to come. Since I know that the story behind my tattoos is amazing, at least for me, they will never get boring. Every time I look in the mirror, I just like them more and more.
Amy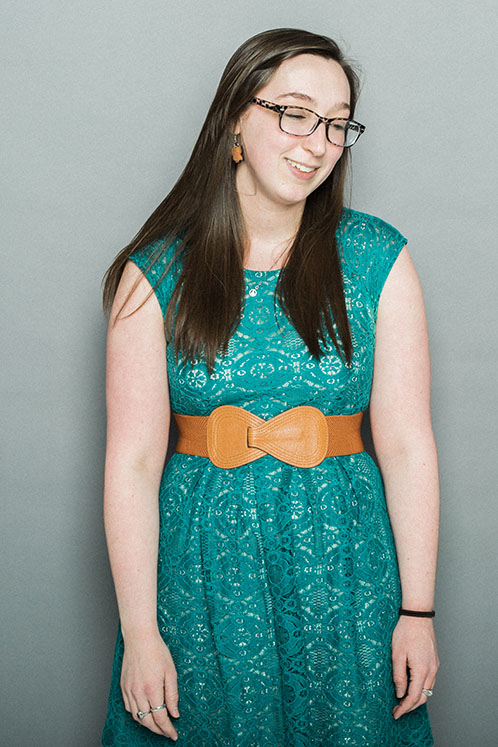 Fox
Name: Amy Fox (CAS'14)
Position: Administrative coordinator, College of General Studies
Number of tattoos: 2
My second tattoo is a dreamcatcher that starts behind my left ear, with feathers that run down my neck. I got it done when I was 20 years old, on my mother's 50th birthday. She has a matching tattoo on her forearm. To her, the tattoo is a symbol of her connection with her family's Native American history: her great-grandmother on her father's side was a full-blood Native American. Growing up, that was always really important to her and resonated with her.
While my mother's tattoo—a near carbon copy of my own—represents her connection with her heritage, mine represents everything my mother is that I hope to be. She's the kind of person who would talk to a wall if it would listen, and so she's always making conversation with people wherever she goes: receptionists, cashiers, you name it. She has always put others before herself, even to a fault. She has the patience of a saint. And when life throws a challenge at her, she smiles through the hardship. She is a wonderful role model of genuine kindness, stunning humanity, and incredible patience. My tattoo is a physical representation of all of the values my mom embodies, and a reminder to try to uphold them even half as well as she does.
Janice Checchio can be reached at janicelc@bu.edu.