#TestBatchThursday Showcases Sam Adams' Newest Brews
Popular sampling event helps guide brewery's R&D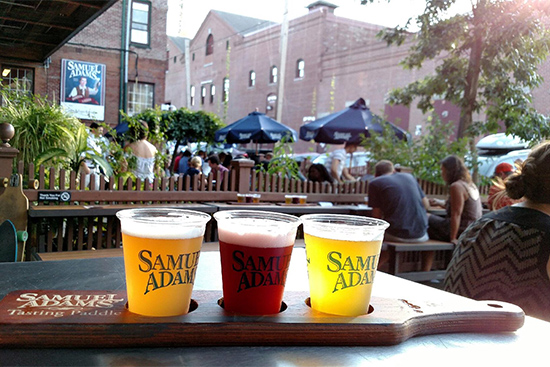 Ah, Thursday. You've nearly made it through another hectic workweek. What better way to get a jump-start on the weekend than by sampling some of the newest beers from one of Boston's favorite breweries?
Tonight, the Sam Adams Boston Brewery in Jamaica Plain hosts #TestBatchThursday, a thrice-monthly event where guests can sample three of the company's brews that are still in the research and development stage and also enjoy dinner from a local food truck, all for just $10. The tasting is 21+ only and runs from 5 to 7 p.m.
#TestBatchThursday takes place the first, second, and fourth Thursday of each month throughout the summer. Guests get to sample the latest beers straight from the brewery's brewhouse and provide feedback, which is used to help determine which products to bring to market.
This week's #TestBatchThursday will feature a cider blonde, a pineapple-mango-jalapeno IPA, and a Schwarzbier.
Some of the test beers go on to be sold in stores, restaurants, and bars, but some may never get past the R&D stage, meaning that the event can offer a unique opportunity for beer enthusiasts to try something that may never make its way to a retailer's shelf.
In addition to a new selection of beverage samples, each event features a different food truck. Tonight's meal is courtesy of Boston's Baddest Burger, which offers burgers, grilled chicken sandwiches, hot dogs, and deli sandwiches.
Although the Sam Adams Boston Brewery is the smallest of the company's three breweries, (the others are in Cincinnati, Ohio, and Lehigh Valley, Pa.) it is arguably the most important. It's here that all the Sam Adams beers get their start (except for the Boston Lager, which was started in founder Jim Koch's kitchen). The Jamaica Plain location acts as the company's test kitchen, where brewmasters experiment with new ingredients and methods to ensure that Sam Adams offerings stay innovative and delicious.
#TestBatchThursday takes place tonight, July 28, at the Samuel Adams Boston Brewery, 30 Germania St., Boston, from 5 to 7 p.m. (last call is at 6:45 p.m.). Via public transit, take any MBTA Green Line trolley to Copley, walk over to Back Bay Station and take an outbound Orange Line train to the Stony Brook stop. Make a left onto Boylston Street, a right onto Amory Street, and walk five minutes. The brewery will be on your left. Tickets are $10 and can be purchased here.
Jennifer Bates can be reached at jennb7@bu.edu.