Getting a Taste for Global Business
BU students gain firsthand field experience in Beijing, Hong Kong
Benjamin Graham (ENG'16) liked Hong Kong a lot, especially its gleaming skyscrapers juxtaposed with open-air beach markets. Samantha Sweig (Questrom'16) was surprised by the elaborate tea formally served during a visit to an oil company in Beijing. Finance major Israel Alarcon (CGS'17, Questrom'17) ate a fried scorpion.
The 3 were among 16 students who visited Beijing and Hong Kong during spring break as part of a new Questrom School of Business undergraduate course, Global Management Experience, taught by Gregory Stoller, a Questrom senior lecturer in strategy and innovation.
The course is designed to give students a real taste of an increasingly global business world. "It's one thing to have a guest speaker, but I'm trying to put them in the field so they can hear from multiple executives directly and understand how business is practiced in reality," Stoller says. During their weeklong trip, the students met with local business leaders, toured companies, and connected with BU alumni to get an up-close look at global business practices.
Before the trip, the students researched and gave class presentations on the various companies and business leaders they were scheduled to visit. But being there is different. "We were able to really see and experience the culture of China and how it permeates the business practices and traditions," says Sweig.
On their Beijing itinerary were visits to the local offices of global giants Microsoft and Pfizer and a shop floor tour at Huairou Cloisonne, a maker of cloisonné vases, outside the city. A visit to a state-owned Chinese oil company in Beijing revealed the formalities that frequently accompany traditional Chinese business meetings. "Seeing how the tea was poured and in what order and how they addressed each other—it was so formal," Sweig says.
The students say they were treated like honored guests and that discussions were often candid. "I felt like they knew that since we were Americans, we would be more aggressive with the questions, so they allowed it," says Alarcon, who gave a class presentation on the oil company Chinese Oilfield Services, Limited, before they visited.
Stoller, owner of Brookline-based real estate holding company Coolidge Plaza LLC, was a longtime lecturer at the Boston College Carroll School of Management before joining the Questrom faculty last fall. He led similar trips to Asia for graduate students enrolled in his International Management Experience class at BC. They traveled to Korea, Thailand, Vietnam, and other Asian countries where he has contacts. He began building his network of business contacts while living in Tokyo, where he worked as a financial analyst at the Imperial Hotel in the 1990s.
One of the benefits of taking undergraduates abroad, he says, is the opportunity it could provide for some of them to intern at a company they visited.
The trip gave students a chance to see firsthand some of the striking differences between US and Asian business practices. In American companies, Stoller says, "everyone always wants to go for the grand slam in terms of revenue and profits, because that's how we value success in this country," but many Chinese companies are pursuing a more measured approach to business, through test markets or gradual expansion. For example, during their visit to Beijing, the students visited CLZD, a prosthetics manufacturer that began in China before entering the European market and is now eyeing expansion into the US market.
"They showed us the products and also explained to us the strategic challenges they are facing, their wins, and their losses, in terms of getting into these markets," Stoller says. "Do they use a distributor? Do they go direct? How do they navigate the US health care system?"
The students also learned that forging personal relationships is crucial to doing business in China and Hong Kong: even if you're a US multinational with deep pockets, you have to spend time building ties.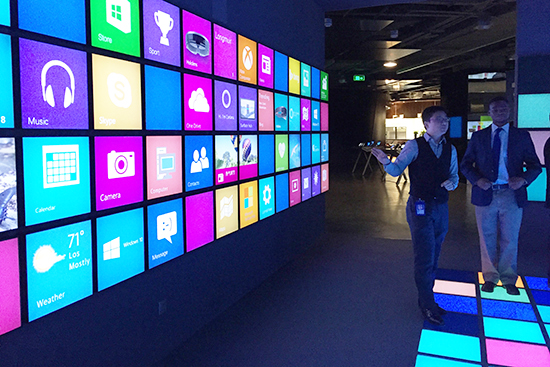 When they got home from their trip, the students each had to write a 10-page paper on topics such as China's housing market and the effect of globalization on manufacturing, drawing on their experiences on the ground. Stoller also held a 90-minute debriefing class to consolidate the trip's lessons as well as to gather suggestions for improving the trip next year.
"Beijing definitely felt like a place that's in transition," says Sweig. "Just walking around and being with people in the city, you could tell they're in kind of an in-between stage."
Graham and Alarcon expressed a preference for Hong Kong over Beijing, in part because of the climate and the fact that it's a more westernized society. Even there, however, the business environment presented challenges, Alarcon notes. Work-life balance as we know it in the United States seemed a foreign concept in Hong Kong: the workday there officially ends at 6 p.m., but if you don't stay at your office until 8 or 9, your boss will look at you differently, he says.
When not meeting with executives and visiting companies, the students got to experiment with the very different food on offer, from high-end business feasts to street-corner snacks. "I recommend the scorpion," Alarcon says. He and a couple of other students ate them fried at a Beijing street stall. "They're actually good. We all loved it."
Stoller says he hopes to bring his Global Management Experience students to Shanghai and Tokyo next year. He also has in the works a graduate course on consulting in China for this fall, intended to draw students not just from Questrom, but from the School of Law and the College of Engineering as well. The plan is to partner with a Beijing-based strategic consulting firm that would provide students in the class real-world business projects to work on. They would prepare in class for four months, then travel to Beijing in January to present their solutions to the consulting firm and its clients.