Going to Warmer Climes? Precautions to Take against Zika
BU's top doctor: how to protect yourself if traveling for spring break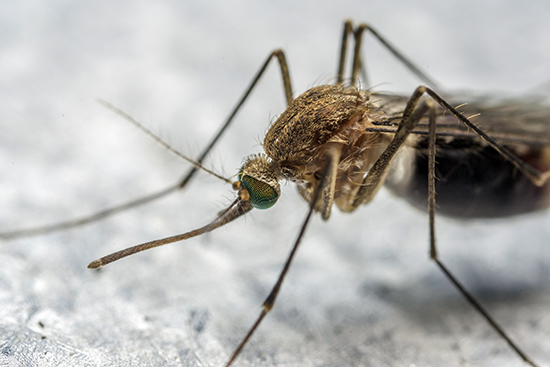 With BU students bound for community service projects during spring break to several regions reporting outbreaks of Zika virus, the University's top doctor is recommending some precautions.
Puerto Rico, where Alternative Service Breaks volunteers will help teach San Juan residents about safe living habits connected to HIV/AIDS, drug abuse, homelessness, and other issues, has been especially hard-hit. The Centers for Disease Control and Prevention (CDC) reports at least 152 cases there. Other ASB volunteers are taking on projects in such southern states as Florida, Louisiana, and Georgia. These three states are among those reporting travel-acquired (as opposed to locally contracted) Zika cases.
Zika, transmitted by mosquitoes and prevalent in Latin America as well, usually has mild symptoms, such as fever, rash, conjunctivitis, and joint pain. While rarely fatal, the virus is believed to have caused a surge of cases of microcephaly—babies born with unusually small heads that can cause developmental problems and early death. Pregnant women in particular are advised to take precautions against the virus. In rare cases, the virus has been found to have been sexually transmitted.
"Education about potential health risks and employing methods for prevention when possible are the best defenses against any illness," says Judy Platt, director of Student Health Services. BU Today interviewed Platt for advice about what students can do to protect against Zika.
BU Today: Overall, how much Zika risk is faced by students heading south?
Platt: Any student who plans to travel during spring break, or any other time of the year, should always consult the CDC's Travelers' Health site for important information about travel alerts, tips on how to prevent illness, and recommended immunizations before travel. Puerto Rico reported the first locally acquired case of Zika on December 31, and over the course of the last two months, there have been over 60 cases reported. Defining an exact risk to an individual traveler is often difficult because there are many factors that eventually determine who will get infected. The majority of individuals will have no outward symptoms, and the greatest risk is currently thought to center around pregnant women.
What precautions should students take to avoid being bitten by mosquitoes?
Because mosquitoes bite throughout the day and carry many illnesses, not just Zika, students should always take precautions to avoid being bitten by wearing long clothing or clothing treated with permethrin, which is the only pesticide approved for clothing by the Environmental Protection Agency; using EPA-registered insect repellents containing DEET, oil of lemon eucalyptus, or IR3535; and staying in, and sleeping in, screened-in rooms or using an insecticide-treated bed net.
How serious is the risk of transmitting the virus through sexual intercourse?
Zika is primarily transmitted through the bite of an infected mosquito, but as of February 26, the CDC had reported 14 cases of suspected sexual transmission of Zika in the United States. This is an active area of research and the actual risk is difficult to determine at this point. The best advice for male travelers to Zika-affected areas is to use condoms consistently to protect their sexual partners.
Barrier contraception (male and female condoms) is currently being recommended to reduce the risk of Zika transmission. Since condoms are not 100 percent effective, abstinence would be the only surefire method to eliminate risk of the majority of sexually transmitted infections.
Any particular precautions you'd offer to pregnant women bound for warmer climes over break?
Pregnant women have been urged to consider postponing travel to any area where Zika virus transmission is ongoing. If women are pregnant and have traveled to, or are residing in, an area where Zika is present, they should consult with a physician.