Huntington Stages August Wilson's Theatrical Memoir
Pulitzer winner's How I Learned What I Learned at BU Theatre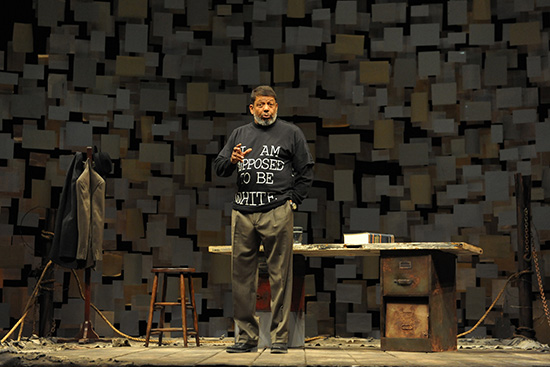 The late playwright August Wilson gained fame chronicling the 20th-century African American experience in 10 plays known as the Century Cycle, each set during a different decade. He won a Pulitzer Prize and a Tony Award in 1987 for one of those plays, Fences, and another Pulitzer in 1990, for The Piano Lesson. Wilson (Hon.'96), who died from cancer in 2005, at age 60, has been called a truth-teller and a prophet, and has been cited as a major inspiration for a new generation of black playwrights, among them Suzan Lori Parks and Kirsten Greenidge, a College of Fine Arts assistant professor of playwriting and theater arts.
But it was here in Boston, at the Huntington Theatre Company, that Wilson fine-tuned many of his works before they headed to Broadway. He had a long, congenial, and creative association with Huntington managing director Michael Maso, who recalls Wilson sitting at a table outside Uno Pizzeria and Grill, smoking and scribbling. The playwright's swift decline and untimely death came as a shock to Maso. After his death, the Huntington began hosting the regional finals for the August Wilson Monologue Competition, a national contest for high school students.
Wilson now returns in spirit with the Huntington's production of How I Learned What I Learned, a one-man autobiographical play he wrote in 2003 and initially performed himself. The Huntington production runs through April 3 at the Boston University Theatre.
Portrayed by actor, playwright, and longtime Wilson collaborator Eugene Lee, Wilson's character shares funny, often piercing stories about his first jobs, his stint in jail, his passion for the blues, and his encounters with racism as a young poet in Pittsburgh's Hill District. Directed by the playwright's close associate Todd Kreidler, who conceived How I Learned What I Learned with him, the play is a witty, earnest tour of Wilson's early days and times and the streets of the Hill District, where his plays were mostly set. We see through his eyes what formed him as a writer and as a man, and ultimately inspired what the New York Times called his "majestic investigation of the black experience." The play is a theatrical memoir charting Wilson's journey of self-discovery through adversity, and what it means to be a black artist in America.
To Maso, the production conjures the compelling presence of his old friend, a fixture in Boston during Huntington rehearsals of many of his plays, starting with Joe Turner's Come and Gone. The 2012 production of Ma Rainey's Black Bottom marked the theater company's completion of the 10-play cycle: Gem of the Ocean, Seven Guitars, Two Trains Running, Jitney, King Hedley II, Radio Golf, and the aforementioned Fences and The Piano Lesson.
Maso, a College of Fine Arts associate professor of theater, has been at the Huntington since its inception 34 years ago and recalls his first meeting with the playwright. "I met August some time in late 1985 or early 1986," he says. At the time the Huntington was interested in Fences and Joe Turner's Come and Gone. When the company staged Joe Turner in 1986, the cast included Angela Basset and Delroy Lindo, who were on their way to becoming major film stars. Wilson had died by the time the Huntington put on Radio Golf, "but he was here for seven of those [Century Cycle] plays," Maso says. "He used to tell me he'd get ideas for his next play while sitting outside Uno's, and he'd talk about characters coming to life in his head."
The Huntington veteran says that "Wilson had a long-standing relationship with Boston's black community. He was the game changer for us 30 years ago, when the Huntington established its long, continuing commitment to diversity on stage. That began with the work of August Wilson. I didn't know he was going to generate work at this extraordinary level, but I knew this guy was brilliant, funny, and engaged. He was a revelation to our audience."
Wilson was reluctant to speak publicly during those first few productions, "which was ironic because he became famous for making speeches," Maso says. But he convinced the playwright to read his poetry a fundraising dinner. "He smiled and said, 'Yes, I'll do that.'" He was a great natural storyteller, and the one-man show was born when Wilson, with Kriedler's help, collected his tales of listening as a kid to the old men gathered at the neighborhood barbershop, and his experiences as a young man desperate for work.
Wilson lived long enough to perform the play himself in Seattle, but died before doing it at the Huntington, as planned. "He died too soon," says Maso. "Certainly we would've been so honored to have him do it for us, and it's our good fortune that Eugene was willing to come and do it. It's a great, fun, and pretty spectacular piece, and you can feel the energy in the room. If you don't know who August Wilson is, you're going to be introduced to an extraordinary person, somebody who lived with this deep passion and intensity and was one of the great observers of the last century."
The Huntington Theatre Company production of How I Learned What I Learned is playing at the BU Theatre, 264 Huntington Ave., Boston, through Sunday, April 3. Purchase tickets online, by phone at 617-266-0800, or in person at the BU Theatre box office. Patrons 35 and younger may purchase $30 tickets (ID required) for any production, and there is a $5 discount for seniors. Military personnel can purchase tickets for $20 with promo code MILITARY, and student tickets are available for $20. Members of the BU community get $10 off (ID required). Call 617-266-0800 for more information. Follow the Huntington Theatre Company on Twitter at @huntington.