Full Professorships for Eight on Medical Campus
Faculty from MED, SDM, and SPH promoted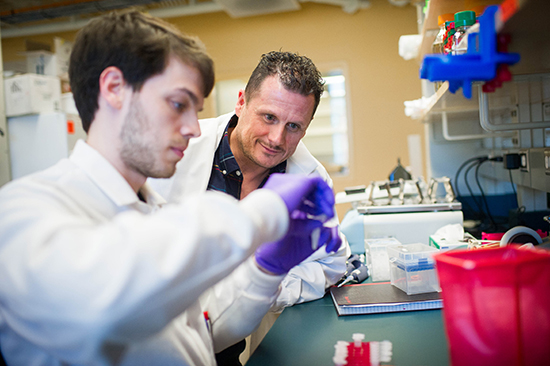 Paul Duprex, originally from Northern Ireland, specializes in the genetics of viruses. Haiyan Gong (GRS'91), a native of China, has spent nearly three decades studying a single system in the eye and its relation to glaucoma, a leading cause of blindness worldwide. The two are among eight BU Medical Campus faculty recently promoted to full professor.
"These promotions signify a major milestone in our faculty's careers," says Karen Antman, dean of the School of Medicine and provost of the Medical Campus. "Achieving the rank of professor recognizes their outstanding contributions plus their national and international reputations."
Duprex, a MED professor of microbiology and director of the cell and tissue imaging core at BU's National Emerging Infectious Diseases Laboratories (NEIDL), studies the pathogenesis and spread of human and animal viruses, and has worked on the molecular biology of paramyxoviruses for more than 20 years. These include measles, mumps, and canine distemper viruses, which require Biosafety Level 2 containment. As a molecular virologist, he uses genetic techniques to manipulate the genomes of these viruses and make them glow green, red, or blue when they infect a cell. This allows him to illuminate diseases and track the spread of viruses inside and between hosts.
One side of his work is mapping the parts of the genes that build viruses and cause disease. The flip side is trying to identify changes in the genes that can transform viruses from killers into vaccines.
Duprex grew up in Lurgan, a small market town outside Belfast. He takes pride in his roots, but the self-described "child of the Troubles" grew up thinking a lot about the inequities of the world, and is a proponent the idea of global health. He arrived in Massachusetts a decade ago on a Bill and Melinda Gates Foundation Grand Challenges in Global Health grant to work at Johnson & Johnson as principal scientist on a project to make heat-stable vaccines.
"Millions and millions and millions of people are alive today because of vaccines," Duprex says, "and they're not just the preserve of us in the developed world—they really have been sent to all corners of the developing world, and that's brilliant."
Duprex earned a BSc in biochemistry and genetics at the Pirbright Institute and Queen's University Belfast, and a PhD in molecular virology from Queen's University, where he became a senior lecturer before coming to BU in 2010.
A special focus of his team's research is understanding what allows an animal virus to jump to a human population or prevents that from happening. "You need to pick apart these processes slowly and systematically," he says. "Here's the virus and here's a human cell. Can it get in? Can it replicate? Can it get out to spread infection? And can it spread from this host to that host? Understand all of those stages, and you begin to identify the weak points, and it's potentially possible to stop it."
Gong, a MED professor of ophthalmology and of anatomy and neurobiology, arrived at BU in 1986 with a compelling backstory. Raised in China during the Cultural Revolution, she attended nursing school and worked as a nurse in the ophthalmology department of a city hospital. When China began to relax its social strictures, she earned an MD at Jiangxi Medical College and received additional training in ophthalmology. Then the real drama began.
"I went to Tibet as a volunteer after graduation," she says. "At the time, Tibet didn't have a train, so we took a bus, a whole week over the mountains to get to Lhasa. I was assigned to Lhasa City People's Hospital. I told the president of the hospital that I had additional training in ophthalmology, and wished to become an ophthalmologist. But I was told, 'We need a surgeon right now.'
"The first day I reported to the surgery department they told me, 'Two surgeries today,' so I went to hide in the dressing room to look at the textbook to review how to perform the operations," she says, shaking her head. "But you learn a lot and quickly in that kind of environment."
With an MS in ophthalmology from Peking Union Medical College, Gong landed a research fellowship at West Virginia University before coming to BU, where she earned a PhD in anatomy and became interested in studying the aqueous outflow system, which drains aqueous humor in the eye to maintain needed pressure and provide nutrition to the eye. Its blockage or constriction causes elevated intraocular pressure, a primary risk factor for the development and progression of primary open-angle glaucoma.
The technique she's developed to evaluate the structure and function of the system has helped in the testing of new drugs and surgical devices. Her work has been funded by numerous National Institutes of Health (NIH) grants.
"I think we've answered some questions, but then new questions emerged," she says. "Over time you learn to ask more clinical relevant research questions."
Besides Paul Duprex and Haiyan Gong, the Medical Campus faculty promoted to full professor are:
Pushkar Mehra, Goldman School of Dental Medicine professor of oral and maxillofacial surgery
Mehra specializes in the surgical treatment of obstructive sleep apnea, maxillofacial pathology, nerve repair, and complex functional and aesthetic facial reconstruction. He is department chair and associate dean for hospital affairs, overseeing the clinical training of postdoctoral residents at Boston Medical Center. A fellow of the American Association of Oral and Maxillofacial Surgeons and a Massachusetts delegate to the association, Mehra also serves on the Examination Committee of the American Board of Oral and Maxillofacial Surgery.
Rutao Cui, MED professor of pharmacology and experimental therapeutics and of dermatology
Cui's research targets cancer biology, focusing both on the molecular basis of melanoma development and potential treatments. He is director of the MED Laboratory of Melanoma Research in Cancer Pharmacology. He has received funding from the NIH, the US Department of Defense (DOD), and private foundations, and now has grants from the National Cancer Institute, the DOD, and the Melanoma Research Foundation. His recent research has focused in part on the correlation between having red hair and developing melanoma.
Noyan Gokce, MED professor of medicine (cardiology)
Gokce's research is focused on the study and treatment of obesity-related cardiovascular disease and the effect of adipose tissue on vascular biology. He is Boston Medical Center's director of echocardiography, chairs the NIH Section on Translational Research in Diabetes and Obesity, and has been elected to the American Society for Clinical Investigation. He is a past recipient of an NIH Research Career Development Award and has twice received the Cardiology Section's Excellence in Clinical Teaching Award.
Marc Lenburg, MED professor of medicine and of pathology and laboratory medicine and College of Engineering professor of bioinformatics
Lenburg, whose primary appointment is at MED, works with genomic technology and translational bioinformatics to detect and treat lung cancer, emphysema, and chronic obstructive pulmonary disease. He has developed computational methods for a commercially available gene-expression biomarker used in the clinical care of patients with suspected lung cancer and has received several NIH grants. He is the deputy director of BU's Clinical & Translational Science Institute bioinformatics core.
Pieter Noordzij, MED professor of otolaryngology–head and neck surgery
Noordzij's research is centered on medical and surgical management of disorders affecting the larynx and the thyroid gland, including voice and swallowing disorders. His work includes care of the professional voice and development of new techniques to treat vocal fold paralysis. His research on proton pump inhibitor therapy for laryngeal reflux is considered a landmark development in the treatment of nonspecific laryngitis. He is a past recipient of the Charles Vaughan Excellence in Teaching Award and the Didactic Teacher of the Year Award, both given by otolaryngology residents to a single faculty member
Lauren Wise, School of Public Health professor of epidemiology
Wise's work in reproductive and perinatal epidemiology focuses on the genetic and environmental determinants of uterine fibroids in African American women, as well as risk factors for delayed conception and adverse pregnancy outcomes. She is principal investigator of the Pregnancy Study Online (PRESTO), a web-based research study of time-to-pregnancy and birth outcomes being conducted in North America and Denmark and funded by the NIH. The study examines whether lifestyle factors such as diet, exercise, and medication use have an impact on fertility and pregnancy outcomes. She is a recipient of the ASPH/Pfizer Young Investigator's Award for Distinguished Research in Public Health, given by the Association of the Schools of Public Health.