Earth House Doubles as Environmental Classroom
New student residence teaches more sustainable everyday living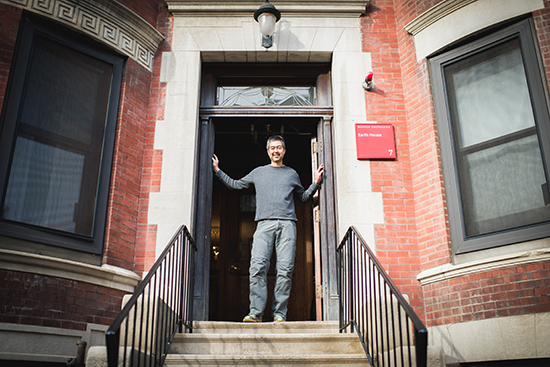 Vivien Chen takes a five-minute timer with her to the shower. So does Mark Holaday, and they both use watt-counters when turning on lights and electrical devices.
Neurotic? No: this drill is course work. Chen (CAS'19) and Holaday (SAR'16) are among 18 students in this year's pilot class at Earth House, the newest of BU's "living-learning communities" that tie a student residence with a particular academic interest and curriculum. (Earth House previously existed as a residential program for eco-minded students, without the curriculum and accompanying course credits.)
What makes the revamped Earth House, a conventional urban brownstone at 7 Buswell St., so innovative is that BU undergraduates study how the mundane events of everyday living consume resources, and how that living might be made more environmentally sustainable.
An open house for students interested in next year's class—applications are due February 1—will be held this coming Monday, January 25 (see information below).
"All that stuff that we have to get out of the way, like brushing our teeth or putting the coffee on—all those actions have consequences for the environment," says Earth House director Nathan Phillips, a College of Arts & Sciences professor of earth and environment. "Where did that water come from? Where did the electricity come from?…What's in that light fixture? Where did those electrons come from? Where do the water pipes come from? Where do the gas pipes come from? How do we connect our experience here to the water reservoir—where does the water come from?"
Residents study such questions during a yearlong practicum that includes living in the house and taking one class in both the fall and the spring semesters. The classes are "focused on learning about the house—how it works—and how the people living in there are interacting with the systems," Phillips says. Beginning next year, the practicum will offer four course credits—which students may apply toward a minor in sustainability if they wish—and will satisfy the CAS natural science divisional requirement. It's the first time a living-learning community has provided course credits.
During the second year, after students have moved out of Earth House, they take two sustainability-related classes and complete an independent study based on their residential experience.
"I was thrilled to join a community of young adults who share…a feeling of stewardship over the planet's changing conditions," says Chen. Besides alerting her to her ecological footprint, the program has taught her fun facts, such as: Energy usage is the highest around 3 a.m. for college students campus-wide. ("Who would guess?" she adds drily.)
Thanks to Earth House, resident assistant Holaday now shortens his showers and minimizes turning on lights. "I have certainly become more mindful of my energy and resource use," he says.
The independent study during the program's second year can be done anywhere, Phillips says. "You could be living in a different country, living in a completely different kind of environment. You could be on campus. Wherever you live, the idea is that what you learned in the first year in Earth House, apply it to this new situation. Let's say you're living in London on study abroad. How do they keep their water hot there, compared to how we do it here? Is it better? Is it worse…in terms of environmental impact?"
Faculty from the College of Engineering and the Questrom School of Business also teach Earth House's classes, partnering with CAS and sustainability@bu in overseeing the program.
Some other universities have residential houses for environmental students, but those tend to be designed already for energy efficiency, says Phillips. A key point about Earth House is its conventionality: students study their building the way it is to identify energy savings.
"We don't want a museum," he says. "We don't want something where students come in and marvel at an environmentally sustainable house and then go back to doing what they've always been doing. We're a planet of conventional homes, by and large. There are a few of us who have the solar rooftops, who have the electric vehicles, but it's something we all need to do."
"I am very excited about Earth House," says Elizabeth Loizeaux, associate provost for undergraduate affairs. She calls the program "a unique opportunity for sophomores and juniors from all majors to live in a close-knit, multidisciplinary community committed to exploring how to live daily lives in a more sustainable way."
The brownstone formerly was home to Wellness House, a health-oriented specialty house. Its students have relocated to some designated suites at Myles Standish Hall.
An open house for students interested in living in Earth House for the 2016-17 academic year will be held January 25 at Earth House, 7 Buswell St., from 5 to 7 p.m.