Interest in Computer Science Surges
Enrollment is way up, and more women are signing on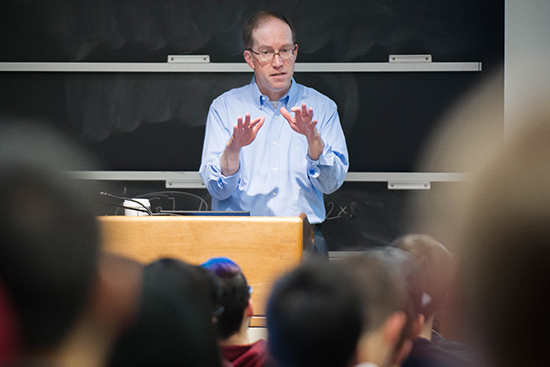 Computer science has long been a popular subject on campus—but not like it is today. Enrollment in the program at BU has more than quadrupled over the past five years.
"It's popular in a totally unprecedented way," says Mark Crovella, a College of Arts & Sciences professor and chair of computer science. Interest had previously peaked in 2000, he says, "and we have blown way, way past that."
Back at the turn of the century, when AOL was hot and Facebook founder Mark Zuckerberg was still in prep school, there were 368 computer science majors at BU. A decade and one economic meltdown later, in spring 2010, the number had dropped to 115. Since then, numbers have been upward bound. This semester there are 487 computer science majors, more than four times the 2010 number.
National enrollment trends follow a similar trajectory—high at the turn of the century, down in the years that followed, then up again recently. But the national rebound tends to match previous highs, while BU's has shot past them.
BU has 75 computer science minors and 39 students taking a joint major in math and computer science in 2016, up from 17 and 11 in 2010. And the number of non–computer science students taking programming classes has more than doubled.
"Certainly some of this is because there's incredible demand for it in the workplace, and we're working hard to connect our graduates up with companies that are hungering for them," says Crovella, who joined the department in 1994.
Programmers have been in high demand for years in sciences such as chemistry, biology, and physics. Lately the ability to crunch large amounts of data has become key in fields such as economics, political science, and journalism.
"The students are not all by any means planning to be computer scientists," Crovella says. "The big picture now is a pervasive understanding of coding as being something like reading and writing—it's a skill you just have to have in order to get your main job done."
Marketing and sales in many fields now rely heavily on data about customer purchasing behavior and social media, especially at a new generation of companies like Uber and AirBNB. And Crovella says there's also an underlying motive  driving students, who already spend much of their time sharing on Instagram and shopping on Amazon.
"I think students are well aware that what they see in their Facebook feed is a result of a programmer who made a decision to implement an algorithm that showed them certain things," Crovella says. "So that algorithm is important to them. It's about control and understanding how the world is working. This is just a much more personal thing than it was 5 or 10 years ago."
Increased demand for computer science education has been common on US campuses in recent years, but Crovella says BU helped accelerate the growth here—as well as a more moderate increase in the enrollment of women in computer science—with a major overhaul of the course Introduction to Computer Science 1 (CS 111) in fall 2014.
Dave Sullivan, a senior lecturer who has taught CS 111 since 2006, says some students would take the course and decide that the program wasn't for them. "Part of the reason is that traditionally the first course was completely focused on learning how to program, and it didn't give a sense of how that skill fits into anything else or ways you can use it to apply to other fields to solve interesting problems," he says.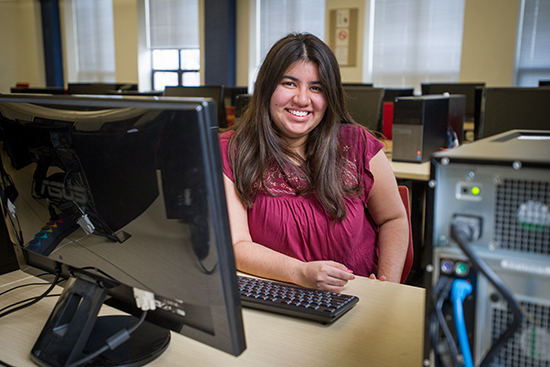 Influenced in part by changes at California's Harvey Mudd College, Sullivan and other faculty members revamped the course. First and perhaps most important, they changed the programming language used from the challenging Java to the more novice-friendly Python, allowing students to do interesting work faster. They also made the course more interactive and added nonprogramming segments.
Sullivan believes that the presence of female course assistants has encouraged more women to take the course. He says that enrollment of women in the program had fallen as low as 10 percent in the mid-2000s and has been up and down since, reaching a high of about 30 percent now. Crovella notes that 41 percent of students taking CS 111 this semester are women, which bodes well for future increases.
Navraj Narula (CAS'16, SED'16) was a sophomore English major planning to become a teacher in spring 2014 when she took a computer science course for nonmajors to fill a requirement. "I was just like, 'Oh, I'm going to get this over with; this is not something I want to do,'" Narula says. "But it actually turned out to be really great. I learned about SQL and Python, and I just found that these tools were very useful to me, and that I could use them in my own field if I wanted to."
Narula came back for CS 111 in the fall, and two years later she's graduating with a dual major in English education and computer science. "I just think it's fun being able to take a problem that's hard and break it down into steps and solve it bit by bit by bit," she says. "When it's done, it's a very rewarding feeling."
The department has taken other steps to make women feel more welcome, such as supporting the Women in Computer Science group, which was founded in 2012 and now has about 80 members. The group hosts a variety of programs on topics from technical interview preparation to computer science research to getting into grad school. 
"At the time the club was founded, the computer science major was much smaller and there weren't many women in it," says Jacqueline You (CAS'16), president of the group. "I was really inspired by the founders of the club. They had this enthusiasm for women in computer science and technology in general, and as an incoming freshman considering majoring in computer science, it was really inspiring to have role models like them."
She joined the club and chose the major. "As somebody who is now a senior, it is really heartening to see that there are now more women in the department," says You, who is headed to the School of Medicine and hopes to shape a career combining medicine and technology. "I'm hoping that will encourage more women to come into the field and feel more comfortable."
"As time went on, I noticed there were more opportunities available for women in the department, such as scholarships and clubs," Narula says. "That made me turn around and see that there are fewer females in the department. But I think it's great they're trying to encourage females to major in computer science."
Narula's career goals may be changing too. "I love to do data journalism, actually," she says. This semester she's doing a directed study in the field with Maggie Mulvihill, a College of Communication clinical professor of journalism, "and it's definitely something I'm thinking about."