Commencement Speaker: Embrace Your Fear of the Unknown Future
Former CBS executive Nina Tassler says life took her to unexpected joys
Any graduating BU seniors fearful about their future got reassurance from former CBS Entertainment chair Nina Tassler Sunday: "Fear can be a normal and highly motivating part of your journey."
Tassler (CFA'79, Hon.'16) should know. She broke her industry's seemingly bulletproof glass ceiling as the longest serving woman leader in broadcast history. She helped shepherd hits from The Good Wife to The Big Bang Theory to CSI. But the terror she felt at her own graduation, "that pounding in my heart, has been ever present," the BU trustee told 30,000 attendees at the University's 143rd Commencement.
On a sunny day when hands anchored mortarboards to heads (unsuccessfully at times) against gusty winds, Tassler's talk, focused on her lifelong career anxiety (while dropping some of Hollywood's biggest names), credited BU with teaching her the skills to reinvent herself and survive in a tough business. (She left the CBS chairmanship last year for nonprofit work and to publish a collection of essays by prominent mothers on raising strong daughters, although she remains an advisor to the network). Whether "taking a Holocaust class taught by Elie Wiesel (Hon.'74) or listening to lectures by Edward Albee (Hon.'10) or even attending a rally protesting tuition hikes…my goals were shifting, and the person I always felt I was was evolving, too."
She studied acting at BU to pursue a career in theater, but after graduation and a brief foray with the Roundabout Theatre Company in New York, Tassler moved to Los Angeles and could find work only as a talent agency receptionist, despite help from her best friend and former BU roommate, Geena Davis (CFA'79, Hon.'99). She choked down her fear that she'd rise no further, she said, until she was offered an agent's job at a well-known firm. She had to ponder her first career reboot: "If I became an agent, did that mean I had failed as an actor?"
Taking the job, she worked with Hollywood heavyweights like Morgan Freeman (Hon.'13), Julie Andrews, and Bruce Willis. Hollywood's sexism towards actresses and women agents filled her with more insecurity, but that spurred her to take her next job, developing new TV shows for Warner Brothers. She loved it, Tassler said, recalling how she helped transform a dense medical drama script into what became the long-running, Emmy-winning ER. ("Even George Clooney was scared" the show would flop, she said.)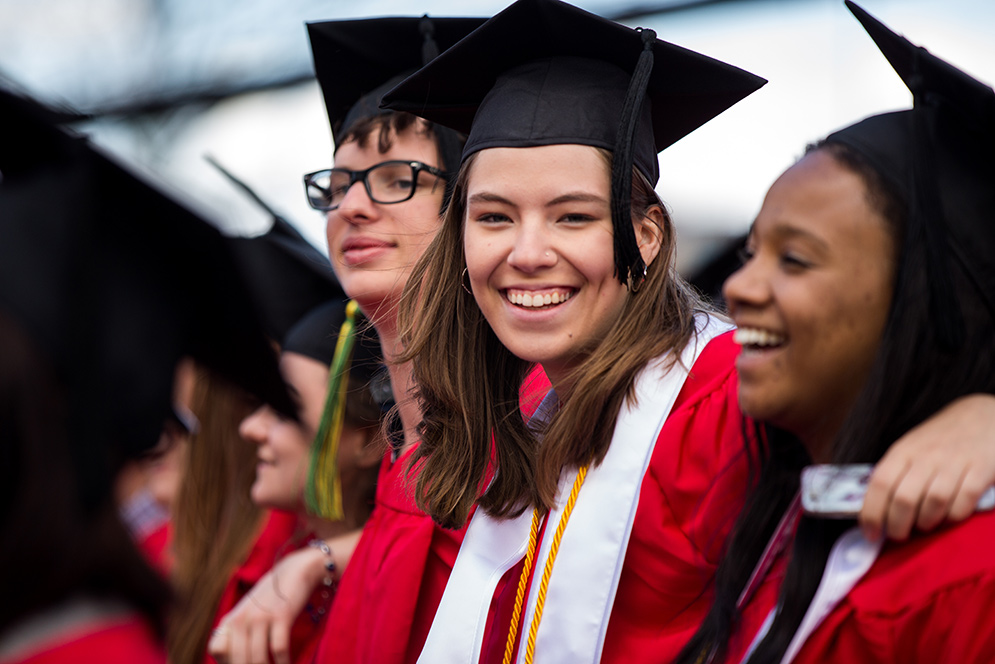 She joined CBS in 1997. In the ratings cellar at the time, the network under Tassler has risen to first place for 12 of the last 13 years. She made it a point to hire women and people of color to diversify the industry, while overseeing CBS's adaptation to revolutionary technological changes like streaming.
Her many career twists, she said, ratify the wisdom of the late comedienne Gilda Radner: "Life is about not knowing, having to change, taking the moment and making the best of it without knowing what's going to happen next."
She concluded with two bits of wisdom: "Kindness does not mean weakness, and you can't make mistakes in your 20s."
The Commencement student speaker, Debra Marcus (CAS'16), summed up how BU has changed her, a transfer student who spent her freshman year elsewhere, for the better. She enumerated transformative campus moments—a class on music and civil rights that introduced her to activists and songs she had never known, her experience in the First-Year Student Outreach Project, greeting incoming students, and an international student body that yielded friends from around the globe.
"We will walk out of here today as graduates of one of the few universities in the nation with cadaver labs for undergraduates," Marcus said, "a school with undoubtedly the swankiest two-story dining hall there is, a university with a staggering variety of people and perspectives, all connected by a mutual love of, and pride in, this school."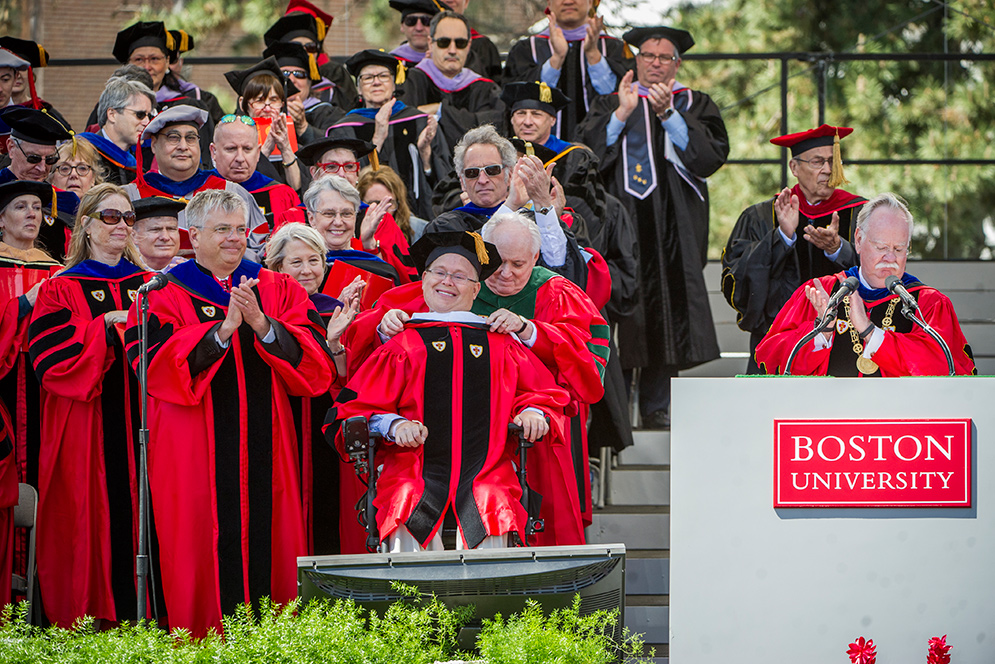 President Robert A. Brown presented Tassler with an honorary Doctor of Humane Letters. The other honorary degree recipients: Carrie Hessler-Radelet (CAS'79, Hon.'16), director of the Peace Corps, who gave the Baccalaureate address Sunday morning at Marsh Chapel, Doctor of Laws; US Energy Secretary Ernest Moniz (Hon.'16), Doctor of Laws; and Travis Roy (COM'00, Hon.'16), founder of the Travis Roy Foundation, which funds research on spinal cord injuries and assists those with such injuries, Doctor of Humane Letters.
Brown also presented the University's highest awards for teaching, the Metcalf Cup and Prize and the Metcalf Awards for Excellence in Teaching. This year's Metcalf Cup and Prize was given to Christopher Gill, a School of Public Health associate professor of global health, and the Metcalf Awards went to Manher Jariwala, a College of Arts & Sciences physics lecturer, and Erin Murphy, a CAS associate professor of English and women's, gender, and sexuality studies.