Taking Note
Student composers begin to make their mark
At the beginning, the score says simply, Exhale breathing only (inhale inaudibly when necessary).
Other aerobic instructions dot the 10-minute piece, which is not the usual fare for the Chamber Orchestra of Boston. The piece is titled And in each dying breath, we learn to survive. Its message for our breathless, chaotic age is "about the importance of exhaling and taking time and creating a space for that," says conductor and music director David Feltner.
Feltner commissioned the work for the orchestra's 15th anniversary concert at the First Church in Boston in the Back Bay, where it shared the bill with two Mozart concertos. But the composer is an unknown, a volunteer who's been helping with the orchestra's social media efforts. Anaís Azul (CFA'17) is also a College of Fine Arts student in composition and theory. And in each dying breath… is her first piece to be performed by an orchestra.
"I was really, really moved by how people were affected by it," Azul says. "I think that having music that allows us the space to breathe is something we need a lot more than I thought."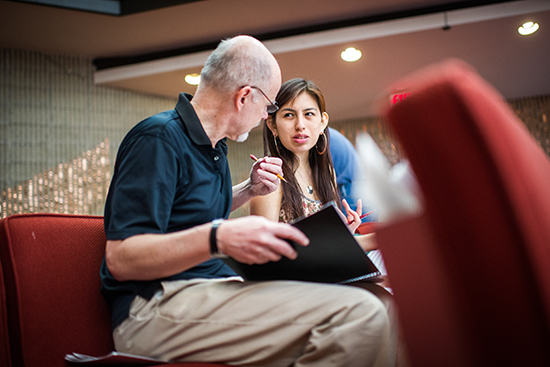 Azul is one of 30 students in the composition program at the School of Music, where the art of composition is vigorously alive, and where more than half of the students are undergraduates. Most apply to the composing program right from high school, sending in the required three scores. Many also submit recordings.
"They may have discovered their talent through playing an instrument," says Martin Amlin, a CFA professor of music and chair of the composition and theory department. "If they grew up taking piano lessons, they might have improvised and started to write down what they were playing." Amlin says others discovered composing through studying music theory.
In Azul's case, art runs deep in her family. Born in Peru (her full name is Anaís Azul Arias-Aragon), she moved with her family to the San Francisco Bay area at age four. Both her parents are visual artists, and she often found herself noodling around on gallery pianos. One day when she was seven or eight, her father asked if she wanted to take lessons. By the time she was 16, she was serious about composing.
Azul says she wants to bring social justice issues more into focus. She also wants to break down barriers between performer and audience and open up the concert stage to everyone. This year, the composing program has 25 male students and 5 female, and roughly a quarter are persons of color. "Having more diverse programming in concerts is a really awesome thing, and I'm so happy I was a part of that," Azul says.
"I knew she would bring something a little different, and that's both the exciting and the scary part of commissioning a new work."
She writes and performs in a variety of venues and idioms, some of them flavored by her Peruvian heritage—she also sings a terrific Amy Winehouse cover. Ketty Nez, a CFA assistant professor of music, composition and theory, says Azul "is bringing her own world, her own sonic world, into her writing."
"I knew she would bring something a little different, and that's both the exciting and the scary part of commissioning a new work," says Feltner. "You never know what you're going to get."
Azul says Feltner has been generous, taking the time to understand her piece so he could convey that understanding to the orchestra. "That's really useful for a composer," she says. "Sometimes we have ideas, and when we try and say them to more people, it just becomes sort of convoluted." 
Alfred Hitchcock thrillers and bouncing ideas
With the end of semester looming, Daniel Collins (CFA'19, CAS'19) sits on a metal folding chair in a CFA room, tapping away at his laptop. With his glasses and ponytail, he looks like just another student trying to finish an English paper about H. G. Wells. A few feet away, members of the JACK Quartet, a New York contemporary-music ensemble, sit in a half-circle, in jeans and sneakers looking more like they're from a rock band than classical musicians, except for their violins, viola, cello, and bows. They are sight-reading a handful of student compositions, part of a continuing relationship with BU's Center for New Music.
When it's Collins' turn, he moves to the front row and unfolds his score for Experiment in String Quartet—the title an homage to Wells' Experiment in Autobiography. The abrupt dynamics appear to challenge the four in a way they like. On a first pass, they stop often because of mistakes and to comment on notation. "If you're going to give someone 24 bars of rests, you ought to give them cues," suggests violinist Ari Streisfeld.
Collins says he "was quite honored to have my piece read by a professional ensemble, especially one as fiery in their virtuosity as the JACK Quartet."
Experiment has two musical narratives, one with the violins and cello racing like fugitives, the other with slower passages that Collins calls flashbacks. Given the piece's cinematic twists and turns, it's no surprise that the young composer loves Bernard Herrmann's scores for Alfred Hitchcock thrillers, which were family favorites. Collins, who started playing clarinet in fifth grade band and later switched to piano, was already composing by the time he started classes at a math and science high school for gifted students. He's not sure where this interest in composing came from, perhaps from movie soundtracks or the set of great composer LPs he found in his family's collection. But he has his sights set on a career writing music, not playing it.
Lara Poe (CFA'16, CAS'16) grew up in Newton, Mass., where, she says, "there was this piano hanging around the house when I was a kid, and I just started tinkering with it, and then I got lessons." By the time she was seven or eight, she was writing "little piano ditties." Now she will be leaving BU with a double degree in music and math. "How many universities have a high-level music program and a competitive science and math program?" she asks rhetorically.
Collins, a physics major as well as a music major, believes music has much in common with math and science. It's the disciplined thinking and the problem-solving aspect, he says, but it's also the creative aspect, which is often overlooked in math and science.
"How many universities have a high-level music program and a competitive science and math program?"
Inspiration matters, too. Collins says Experiment has roots in a BU visit by British composer Philip Grange, who discussed nonlinear pieces. As for Poe, her senior recital in early April featured a piece called Chroma-Fantasy, which was influenced by "all of these cool sounds" she'd heard at a new-music festival, notably some high, muted brass.
But she, like the other two, is reluctant to pin things down too much. "Random little ideas sort of bounce around in my head with all the other things that bounce around in my head, and I guess they start to snowball together eventually, and I start to try to piece them together in ways that make sense," she says.
Plans for the future
When people find out about his double major, Collins says, they ask him if he is going to be an acoustic engineer. Composing new music is not an easy path to fame and riches, or even necessarily to making a living.
Poe is heading to a master's in composition program at the Royal College of Music, where she and Azul spent semesters as part of BU Study Abroad's London Music Program, which Collins will be enrolled in this fall.
Most student composers will need a job to sustain them. Many will get advanced degrees and go on to teach. "A few, through their talent and hard work and maybe a little bit of luck, have made careers as composers," Amlin says.
Brooklyn-based composer Missy Mazzoli (CFA'02) has had her concert and operatic works performed by the Kronos Quartet and violinist Jennifer Koh. Mazzoli's Breaking the Waves, a commission from Opera Philadelphia, scheduled to premiere in September 2016. Blow It Up, Start Again, commissioned from Jonathan Newman (CFA'94) by the Chicago Youth Symphony Orchestras, has been performed by the Toronto Symphony Orchestra, the Cabrillo Festival Orchestra under the direction of Marin Alsop, and at the BBC Proms with the Royal Philharmonic Orchestra.
After Azul's "amazing" experience with the Chamber Orchestra of Boston, she was planning for a summer of collaboration with other artists—and not just musicians. She is thinking in broad terms about her senior recital on the horizon next year.
"I want it to be very interactive and collaborative," she says. "I would love to incorporate dance and poetry and visual arts alongside my music. I definitely want those things to be a part of my compositional process. Listening to other people's ideas really helps me grow mine, and hopefully collaboration helps them grow theirs."