Getting in: A Little Tougher Every Year
Purposeful action by administration raises the bar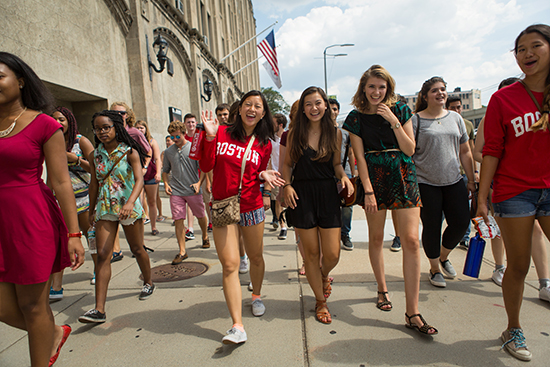 A strategic effort to raise the bar for admission to the University is yielding greater numbers of applicants to the freshman class and increasingly selective admissions. This year, for example, BU saw a record 57,433 students apply to the Class of 2020, as well as a 108 percent increase over last year in students applying for early decision.
"The numbers reflect the happy confluence of our growing reputation for excellence with prospective students' dreams and aspirations," says President Robert A. Brown. "I'm grateful for all the great members of our community who work so hard to deliver quality, quality that translates into very encouraging results in our recruiting and retention. The interest so many promising students have in attending Boston University is heartening."
University Provost Jean Morrison says the plan to boost selectivity was put in place in 2010, when the administration decided to "systematically decrease the size of the incoming fall freshman class" by 100 students per year. The targeted size of the incoming class arriving in fall 2016, for example, is 3,500 students. Also, says Morrison, for the most recent admissions season—fall 2016—the University added a second round of early decision, a move that doubled the number of students applying for early consideration. "This allows us a second chance to select students who are guaranteed to come to BU if they are accepted," Morrison says. "Early decision is the best way for students who know they want to come to BU to get in."
The University's growing stature and quality are attracting a more talented pool of applicants, she says. "As a result, and in conjunction with the changes we've made to our admissions processes, admission to our incoming fall freshman class is increasingly more selective," she says. "We have made strategic decisions that have affected the process and the growing reputation of the University…so BU is an increasingly competitive place. We have moved away from being a safety school—we are now the first choice for a larger and higher quality group of students.
"We are extremely pleased to see this continued increase, both in the volume and academic caliber of students applying to Boston University," the provost says. "These figures are very much a reflection of BU's enhanced recognition for excellence, from our sustained rise in national and international rankings to the seminal scholarship and foundational research discoveries that earn daily attention for our faculty and students."
Kelly Walter, associate vice president and executive director of admissions, says she is impressed not only by the size of the pool, but also by the applicants' academic and overall achievements—their average SAT score is 1913, and they have an average GPA of A-. "We will be making some very difficult choices over the next few months," Walter says. "It's a good problem to have, but very challenging given the caliber of the pool."
This year's applicants come from all 50 states, Washington, D.C., Puerto Rico, the US Virgin Islands, Guam, and American Samoa. The top five states students applied from are California, New York, Massachusetts, New Jersey, and Connecticut. And the pool is more ethnically and racially diverse—17 percent of applicants are underrepresented minority students.
About 22 percent of the applicants are international, hailing from 153 countries. The top five foreign countries BU received applications from are China, India, South Korea, Canada, and Taiwan. Applications also came in this year from countries that weren't on last year's list, including Kosovo, Afghanistan, Iraq, Angola, Eritrea, Namibia, Antigua, and Lesotho. "BU is definitely a global university, and we can see that in the applicant pool," Walter says.
While two rounds of early decision are common at small liberal arts schools, Walter says, the tactic is new to major research universities like BU. (New York University is BU's only peer institution offering two rounds, she says.) One of the advantages of early decision is that Admissions will have enrolled 30 percent of the Class of 2020 before students applying for regular admission are notified in late March.
She adds that she has seen a jump in the number of prospective students who expressed interest in learning more about BU this application season. Nearly 80,000 visitors passed through the Alan and Sherry Leventhal Center last year, she says, and attendance was up at the dozens of information sessions that BU Admissions hosts around the world.
Walter also commends the Admissions team for stepping up its social media outreach, using hashtags like #BUEarlyBirds and #BU2020 to connect with students, hosting virtual events, and profiling students on the Admissions Facebook page. "People responded very positively," she says. "With social media, you want to create buzz and excitement for students who are leaning in the direction of applying to BU."
"The ability to combine rigorous academics with practical experience (internships, research, community service), as well as the ability to combine intellectual interests, is very attractive to students today," says Laurie Pohl, vice president for enrollment and student affairs. "The steps we've taken—and continue to take—to access all of what BU has to offer is one of the reasons why interest in attending BU continues to grow."