A BUTI-ful 50th
Alums, dignitaries celebrate famed summer high school music program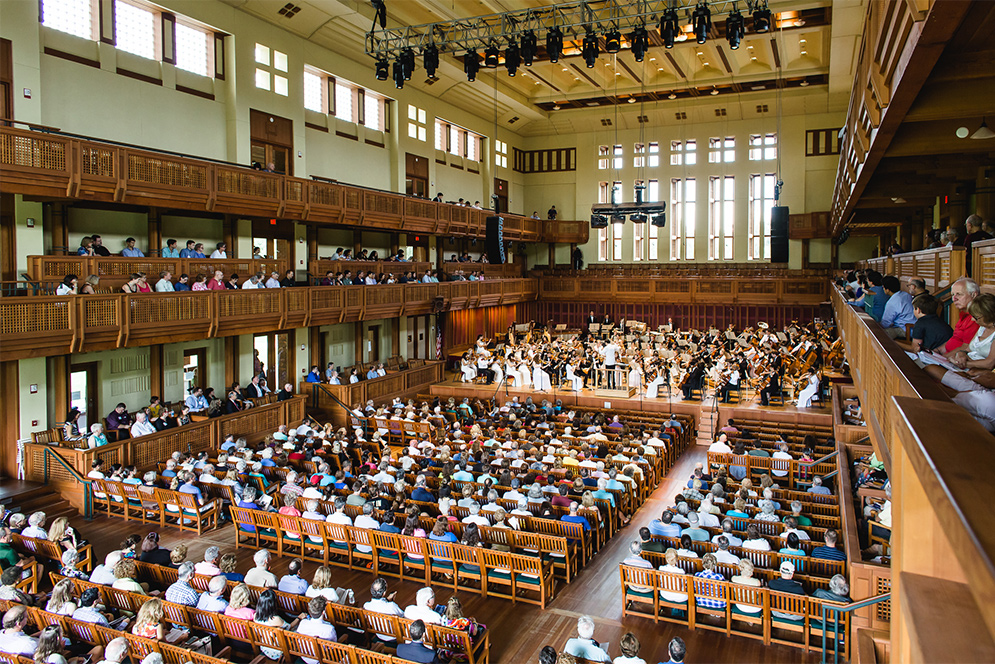 "It was the best summer of my life."
"A defining moment in my life that forced me to be better."
"This place sparks joy."
"It had the magic of Hogwarts without the evil."
These were just a few of the tributes and memories shared by alumni of Boston University's summer program for gifted high school instrumentalists and vocalists (many also BU alums), which has paved the way for careers at the top rungs of the music world. They returned to Lenox, Mass., on August 6 to celebrate the 50th anniversary of the College of Fine Arts Tanglewood Institute (BUTI).
Situated a mile from the Tanglewood Music Center and part of an verdant sweep of fields, hills, concert stages, and rehearsal studios, BUTI hosts 350 students for summers of rigorous practice, camaraderie, and as event emcee and BUTI alum Lauren Ambrose put it, "marinating in the music" and the example of the BSO.
The day began with a piano recital and a panel discussion and migrated to the Tanglewood Music Center, the summer home of the Boston Symphony Orchestra (BSO) (which numbers 15 BUTI alums among its musicians) for a student and alumni concert, followed by a reception, where accolades and wine flowed. It was a day marked by a parade of luminaries, from Ambrose, best known for her Emmy-nominated role as Claire Fisher in HBO's Six Feet Under, to National Public Radio personality Ron Della Chiesa (CGS'57, COM'59), voice of WGBH's BSO broadcasts, to orchestra conductors, opera singers, and composers who traveled from all over the country. University President Robert A Brown took to the concert stage and the podium at the reception, attended by Beverly Brown, Jean Morrison, University provost, Lynne Allen, CFA dean ad interim, and BUTI faculty past and present.
It was also a day of surprises—a plaque awarded to BUTI founder Wilbur Fullbright (GRS'60), a CFA professor emeritus of music and former School of Music director, who was unable to attend, and the announcement, by BUTI executive director Hilary Respass, of a scholarship named for longtime BUTI executive director Phyllis Hoffman (CFA'61,'67), a CFA professor and chair of the voice department, who is credited with being the soul of the life-changing program.
Place of growth, music, and mischief
It was hard to rub shoulders with someone who was not a talented musician or the parent of one. The alums, faculty, and former faculty—some career musicians, some not—returned to a cherished place of growth, music, and mischief, exchanging greetings and hugs and posing for photos. Ann Howard Jones, 24-year BUTI choral instructor and a CFA professor emerita and director of choral activities, a woman who launched a thousand careers, allemanded her way from embrace to embrace along the green and under the party tent. A panel of alumni, moderated by Hoffman, was not only a paean of gratitude (they struggled to respond when she asked what they would change at BUTI), but also an illustration of the creative lives outside performance and teaching that the young BUTI musicians have made. BUTI alum and vocalist Amy Matthews, for example, is now host of a string of home renovation shows on HGTV. But because it was BUTI, the high point of the day was the music.
The crowd at Seiji Ozawa Hall's Florence Gould Auditorium was filled to near its 1,200-seat capacity as BUTI alum Ken-David Masur, assistant conductor of the BSO, led a program of upbeat, soulful works by Wagner, Brahms, BUTI alum Lawrence Wolfe, and former Tanglewood general advisor Leonard Bernstein, with a rendition of "Make Our Garden Grow" from his musical Candide. With six BUTI alumni soloists and a chorus augmented by alumni (easily spotted by their many postpubescent decades and red carnations). The result, a thunderous choral finale, sent a rush of goose bumps through audience members who had been fanning themselves with their programs in the humid August heat. The female musicians wore white, lending an ethereal air to the proceedings. Ambrose gave a closing nod to all those "who have had their artistry and their hearts opened" by the BUTI experience.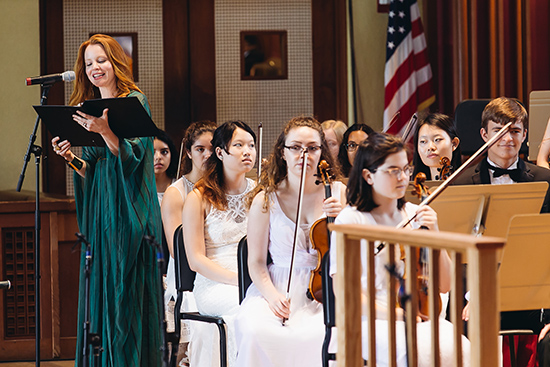 The concert, which included two pieces composed by alums for the occasion, featured several guest conductors, including Jones (Handel's Coronation Anthem #1), BUTI alum Samuel Z. Solomon, who teaches percussion at the Boston Conservatory, BU, and BUTI, and Katie Woolf (CFA'05), a choral conductor at Harvard and former member of the Marsh Chapel Choir, known as a musical innovator who has traveled the world combining musical performances with community service. Solomon conducted Pulses, Cycles, Clouds, a 50th anniversary composition by BUTI alum Nico Muhly, and Woolf conducted Frank Ticheli's choral piece Earth Song and two selections from Tarik O'Regan's Triptych. A Zoltan Kodaly string trio, Serenade, Opus 12, featured violinists Peter Zazofsky and Lucia Lin and violist and BUTI alum Steven Ansell, all members of the Muir String Quartet, in residence at CFA. Commissioned for the event, Timo Andres' spirited Land Lines was performed by an all-brass ensemble with the purpose, says the composer, "of setting some wild echoes flying." There was a dose of whimsy in the second alum piece, Wolfe's all-bass medley of his BUTI standouts, among them Beethoven's Ninth Symphony and Fifth Symphony. And in introducing Brahms' Academic Festival Overture, Masur, the son of former New York Philharmonic director Kurt Masur and a natural in warming up an audience, explained that the piece reflects Brahms' little known sense of humor and urged them to keep an ear open for some well-worn college and drinking songs.
A rare gem that makes a difference
"I am proud to call BUTI a member of the extended BU community," Brown told those gathered for the reception, the timeless lush backdrop of Tanglewood behind him. ("You're not looking at me, you're looking at the scenery," he joked.) He called BUTI "one of those rare gems that make a difference in people's lives." The BU president was one of many speakers who paid tribute to BUTI founder Wilbur Fulbright. In 1965, BSO musical director Erich Leinsdorf envisioned an educational outreach initiative by BU, based at the Tanglewood Music Center, and proposed it to Edward Stein, then CFA dean, who asked Fulbright to take charge of the project. BUTI launched its first season less than six months after that handshake, and has since evolved into an eight-week summer program drawing students from 14 to 22 who arrive at Lenox from all 50 states and many foreign countries. They study with BU faculty, participate in BSO master classes, and sit in on its rehearsals. Most important, said alums on the panel, it is a place where young people who felt marginalized back home ("geeky" was the operative word) by their musical talent and drive became part of a community of young people who shared their passions. BUTI advisory council member and alum Seth Johnson "was the best violinist in Minnesota when I came here," he said, and was humbled, inspired, and awakened by the community he found—each and every one the best of the best.
Taking her turn at the podium, Allen heaped praise on Hoffman for her 22 years of "a talented juggling act" that nurtured BUTI's diversity and international reach, its prominence in the community (the BUTI young people's choir has sung for three Boston Pops concerts), and overall, for "putting BUTI on the map." Presented with a BUTI cake (and a superhero cape), Hoffman expressed her pride not only in the talent honed in the studio sheds dotting the vast lawns, but in the fact that so many BUTI alums are "performing acts of social conscience."
As Respass and Hoffman are fond of saying, the arts play a crucial role not just in entertainment, but also in character development, intellectual growth, and competence. "I think STEM should be STEAM," said Hoffman, making a plea for adding arts to the mix of science, technology, engineering, and math (STEM) in the conversation about young people's success in today's world.
Before the guests drifted off, Della Chiesa, dressed in eye-popping shades of orange, returned to the podium to offer a line from Broadway lyricist Cy Coleman: "The best is yet to come."