GSU Plaza Hosts Annual Arts Fair Tomorrow
Dozens of BU and Boston-area arts programs on hand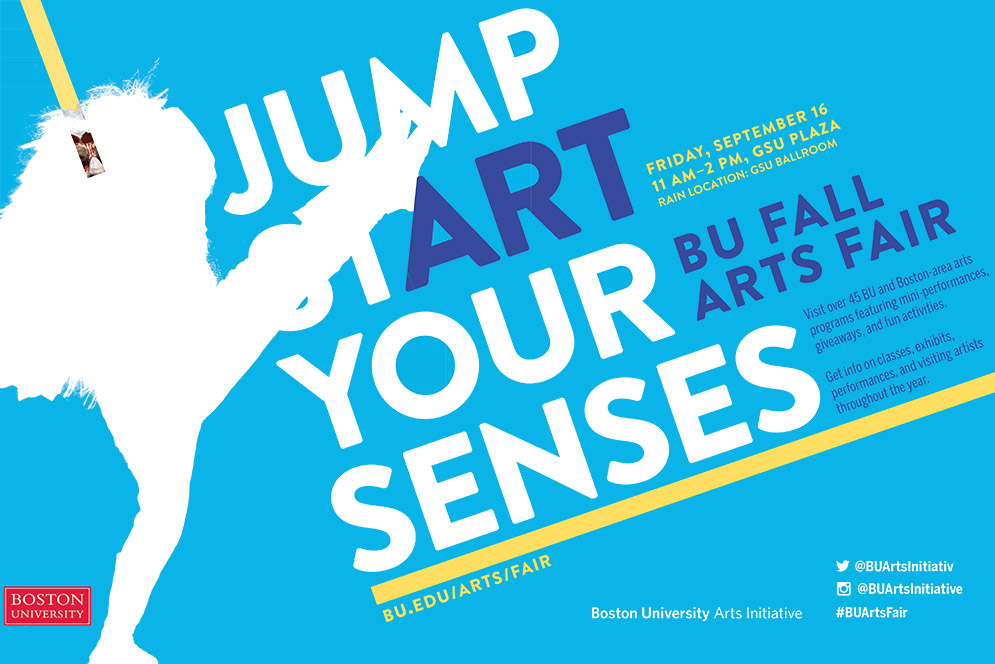 Nearly every student who passes through BU will be touched by the arts at some point in his or her time here. Home to over 60 student groups dedicated to dance, visual arts, theater, and music, BU offers dozens of arts-related programs. And there are multiple arts-related venues: the 808 Gallery, the Faye G., Jo, and James Stone Gallery, and the Tsai Performance Center, to name just three. The University is a hotbed of artistic activity and endeavors, and add the world-class museums and theater, ballet, and opera companies in Boston, and your opportunity to be part of an artistic endeavor is substantial.
Not sure where to start? Stop by the GSU Plaza tomorrow from 11 a.m. to 2 p.m. for the second annual Arts Fair, sponsored by the BU Arts Initiative, and meet representatives from some 60 on- and off-campus arts organizations. Among them will be Boston Playwrights' Theatre, which showcases plays written by BU's MFA playwriting students; BU Bands, which includes the Marching Band, Pep Band, and Jazz Ensembles; a cappella groups like the coed BosTones and the all-female Sweethearts; dance troupes like the BU Belly Dance Society and Fusion Hip Hop Dance Troupe; and BU's only long- and short-form improv group, Liquid Fun.
Some of the Boston area's most prominent arts organizations will be on hand: the renowned Boston Ballet and the Tony Award–winning American Repertory Theater, for instance. Several museums will have a presence, such as the Museum of Fine Arts, the Institute of Contemporary Art, and the Isabella Stewart Gardner Museum—all free to BU students with a valid BU ID. Find a list of all participating organizations here.
"This is an opportunity at the very beginning of the year to showcase all of the amazing arts opportunities and programs—both at BU and in Boston—that we hope our students in particular will take advantage of," says Ty Furman, managing director of the BU Arts Initiative. "We want to build student engagement in the arts and to raise the visibility of the arts at BU."
The Arts Fair was launched last year as a one-stop-shopping event, replacing the BU Arts Crawl. The fair was so successful that organizers decided to hold it every year.
"For most folks, it provides a little more visibility. The crawl was a good idea, but in some cases, it just didn't work. Some people didn't get a lot of traffic, and others did fine. With the fair, all the traffic is in one place," Furman says.
Last year's fair had a stage with scheduled performances, which diverted attention from participating organizations, Furman says, so it was eliminated. This year, student organizations are encouraged to informally "burst into song or dance wherever there is space."
In addition, the BU Music Library is planning interactive sight-singing and sight-reading music challenges, and will have a CD and vinyl giveaway. And the BU Hooping Organization will provide hoola hoops for visitors to try out.
There will also be giveaways, such as colored pencils, ID wallets, a portable chalkboard and chalk, and a chance to get a temporary tattoo. Students can also stop by the BU Arts Initiative table for free Boston Symphony Orchestra College Cards, which provide no-cost admission to performances and open rehearsals at Symphony Hall during the academic year.
"BU has an amazing amount of programming and resources available to students," Furman says. "A lot of it is fun, but a lot of it is also really thoughtful and meant to encourage an engagement with art beyond simply passing by and noticing it. We have really cool things that happen every year, so we want people to know about them."
The BU Arts Fair is tomorrow, Friday, September 16, on the GSU Plaza (rain location: GSU Metcalf Ballroom, second floor), 775 Commonwealth Ave., from 11 a.m. to 2 p.m.
Liz Vanderau can be reached at vanderau@bu.edu.