Brunch Bets: Article 24
Brighton eatery encourages diners to "eat, drink, relax"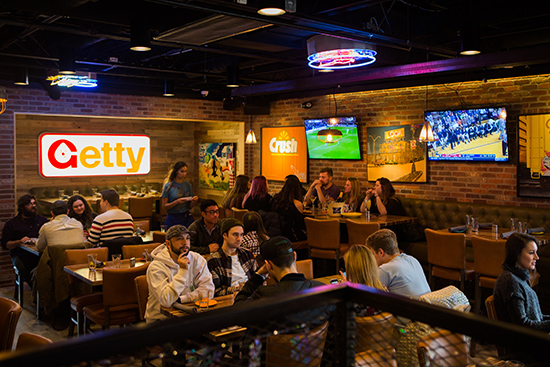 When Article 24 opened in Brighton in June, it arrived to much fanfare. Zagat, the restaurant bible, had already named it "one of Boston's 11 most anticipated restaurants for spring," and since opening, the restaurant has been attracting a steady crowd, drawn to its food, tequila bar (called Bandito, located downstairs), and live DJs. The restaurant has also become a popular meeting point for brunch lovers on weekends, which was why we found ourselves there on a recent Sunday morning.
Despite ample seating (the restaurant, located directly across from Mahoney's Garden Center on Western Avenue, seats about 130), we had to wait in line for about 20 minutes, having failed to make a reservation in advance.
As we were led to our seats, we admired the exposed brick walls covered with artwork by local artists; a giant "Getty" sign illuminated the back of the restaurant.
The staff—and many customers—were decked out in Patriots gear, in anticipation of that afternoon's game. With 12 high-definition TVs, including eight surrounding the generous bar, you can watch a game from anywhere in the restaurant. But be warned: when games are on, it gets loud.
Now, about the food. Executive chef Mark Allen has worked rigorously to create more than two-dozen brunch offerings. Among the delectable choices: teacher's pet pancakes ($10), buttermilk pancakes with syrup, chocolate chips, and spiced honey butter; fried chicken and waffles ($14); and mac fritters ($6), topped with a sweet-and-spicy orange sauce similar to sriracha. Seeking something different, we settled on the cornflake-crusted French toast ($11). The entrée packed a kick, courtesy of the spiced honey butter, and was covered in a drizzle of crunchy cornflakes. Each piece of toast featured a slice of brûléed banana but only a few drops of syrup, prompting us to ask for more. Nonetheless, every bite was a combination of fluffy and crunchy. It was definitely worth the price.
We were curious about what was easily the most unusual option on the menu, the Lobster MacMuffin ($13). Consisting of three eggs, scrambled and served with lobster, mozzarella cheese, and bacon on a toasted English muffin, it sounded too good to pass up. In truth, it was really a fancy bacon, egg, and cheese sandwich. While the crisp bacon and soft, mushy eggs meshed well, we could barely taste the lobster—there appeared to be almost none in the dish. The waiter explained it was a "relatively" new item that was still a work-in-progress.
Thankfully, the entrée came with hash browns, which rescued it; the potatoes were a dark, tawny color and had a crisp yet soft texture, and were salted perfectly. They were easily among the best hash browns we've ever had.
While we didn't indulge in any of the alcoholic offerings, there's plenty to choose from at brunch: Bloody Marys, screwdrivers, greyhounds, mimosas, even a shot of tequila, all priced at $5 each. Article 24 also offers a 21+ entrée, aptly named the Bad Kid's Pancakes, which are served with Irish cream and coffee liqueur. And for those who are feeling particularly festive, Article 24 offers a Bucket O' Bubbles option ($30), a bottle of prosecco "and all the fixins." The restaurant politely stipulates that two or more people are necessary for them to place this order.
There's no disputing that Article 24 has brought some much-needed energy to a stretch of Brighton that has long been overlooked. If you're looking for a good place to gather with friends for a weekend brunch, Article 24 won't disappoint.
Article 24, 458 Western Ave., Brighton, is open Monday to Friday, 11 a.m. to 2 a.m., Saturday and Sunday, 10 a.m. to 2 a.m. Phone: 617-254-2424. Takeout is available. The restaurant accepts all major credit cards. Take an Uber or Lyft or take an MBTA Green Line "B" trolley to Harvard St; the restaurant is about a 20-minute walk from there.
This is part of a weekly series featuring Boston lunch and brunch spots of interest to the BU community. If you have any suggestions for places we should feature, leave them in the comment section below.
Emmanuel Gomez can be reached at mannygo@bu.edu. Follow him on Twitter at @MannyQueso.