Alzheimer's Start-up Gets $1.49 Million from NIH
Research taps Klotho protein's potential to protect against neurodegenerative disease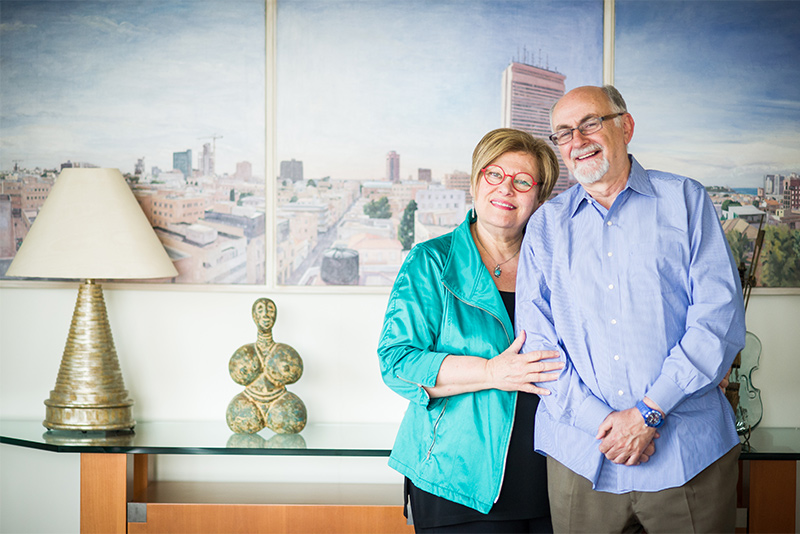 Carmela Abraham came home one day three years ago from her lab at Boston University School of Medicine (MED), where she has been researching Alzheimer's disease for nearly three decades, and told her husband, a retired entrepreneur, that she wanted to start a company.
"I said to Menachem, 'I believe we have the scientific seed for something that can be developed into a drug for Alzheimer's,'" she recalls. "It was becoming increasingly challenging to get federal academic research grants and I told him maybe it would be easier to fund this project as part of a start-up."
Menachem, who has co-founded and helped build three successful technology companies in Boston since the mid-1980s, volunteered to handle the business part of the project. "Immediately, he got very excited," says Carmela, who is a MED professor of biochemistry and pharmacology and experimental therapeutics. "He loves start-ups."
So, in 2015, the Abrahams founded Klogene Therapeutics, Inc. with Carmela's medicinal chemistry collaborator, Kevin Hodgetts, director of the Harvard Medical School-affiliated Laboratory for Drug Discovery in Neurodegeneration (LDDN) at Brigham and Women's Hospital. Klogene, which will develop novel therapeutics for Alzheimer's disease, grew out of Carmela's work on Klotho, a large, multi-functional protein produced in the kidneys and brain that circulates in the blood and cerebral spinal fluid and may protect against Alzheimer's and other neurodegenerative diseases. In a collaboration that spanned years, Carmela Abraham and Kevin Hodgetts and their team, MED senior research scientist Ella Zeldich, MED research assistant professor of biochemistry CiDi Chen, and LDDN instructor Xiao Wang, have developed novel small molecule compounds that boost Klotho levels in the brain. This intellectual property is being licensed from BU by Klogene and is the initial basis for its drug development program.
In May 2016, the company won a $1.49 million Small Business Innovation Research grant (SBIR) from the National Institute on Aging of the National Institutes of Health (NIH). "I dedicated the last 36 years of my career to Alzheimer's disease research and I do not intend to stop until we have a treatment or a cure," says Carmela. "I am more optimistic than ever that we will succeed."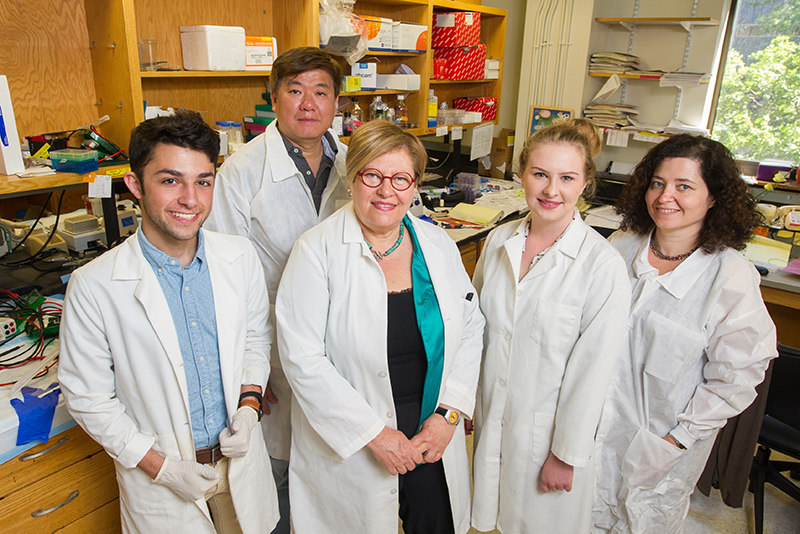 Carmela Abraham and Kevin Hodgetts act as consultants to Klogene, while Menachem is working full time as the company's unpaid CEO. Their new partnership is the latest chapter in the Abrahams' 47-year marriage, one that brings together her distinguished career as a scientist and passion for research with his business acumen in pursuit of a way to treat, or prevent, Alzheimer's disease.
They met half a century ago, in high school in Israel, after their families both emigrated from Romania. Their parents belonged to the wave of Eastern European Jews who, having survived the Holocaust and resettled in Israel, were investing all their hopes in their children and their futures as college-educated professionals.
Carmela and Menachem were classmates in a rigorous four-year program, affiliated with Tel Aviv University, that combined the last two years of high school with two additional years of demanding college-level training in chemical or electrical engineering. The aim was to produce 20-year-old graduates with the technical and scientific know-how to help build a still-developing Israel into a powerhouse.
"As immigrants," recalls Menachem, "your idea is to get a profession so you don't depend on your parents, who are struggling."
"It was a very exciting time," says Carmela, who fell in love with chemistry (and, toward the end of the program, with Menachem), graduating with an associate's degree in chemical engineering. "I'm a very molecular person," she says. "I try to understand everything at that level." Menachem earned his associate's degree in electrical engineering.
After she and Menachem were married in 1969, she earned her bachelor's degree in biology at Tel Aviv University and gave birth to their son and daughter, all while taking care of her elderly father, whose heart was failing (Carmela was 18 when her mother, who had been ill for years, died). Menachem, meanwhile, served a four-year term in the Israeli Army and was then deployed in a tank brigade to Egypt and the Sinai Peninsula during the 1973 Yom Kippur War.
After the war, she became a research assistant in immunology and physiology labs at the Technion-Israel Institute of Technology while Menachem pursued his bachelor's and master's degrees in electrical engineering there.
In 1980, the young couple and their two children made their first trip to the United States, a month-long cross-country vacation during which Menachem was offered a job in Boston with the fast-growing Digital Equipment Corporation. Later that year, Carmela landed a position as a research assistant in the lab of Dennis Selkoe, a professor of neurologic diseases at Harvard Medical School who was a pioneer in the study of a disease she had never heard of, Alzheimer's. In 1982, Selkoe and his colleagues broke new ground when they developed a method to isolate and describe the abnormal plaques and tangles from the brains of Alzheimer's patients.
Carmela eventually went to graduate school, earning her PhD in neuroscience at Harvard Medical School in 1989. BU recruited her as an assistant professor, with her own lab, and she began her own work on Alzheimer's and other neurodegenerative diseases. "In 1980, I can say almost nothing was known about Alzheimer's," says Carmela, whose research has been supported by the NIH and the Alzheimer's Drug Discovery Foundation. "Over the years I saw everything unfolding in front of my own eyes—all the discoveries. I kind of grew with it."
Her team at BU was the first to publish research, in the journal Glia, in 2008, showing that Klotho levels are lower in the aged brain. Several years later, in a Biochemistry Journal study,  Carmela suggested that small molecules that cross the blood-brain barrier and enhance Klotho protein have the potential to become novel therapeutics for age-related and other neurodegenerative diseases by protecting neurons against damage caused by abnormal protein aggregates, such as the clumps of amyloid protein in Alzheimer's disease. In subsequent Cell Reports and Journal of Neuroscience studies, Carmela and her collaborators showed that increased levels of Klotho are associated with improved cognition in humans and mice.
A few years ago, Menachem raised the possibility of his wife's retirement. Perhaps they could go back to Israel, where their daughter, son-in-law, and three grandchildren moved six years ago. But Carmela didn't want to retire. With all the advances in Alzheimer's research, and the rapidly increasing numbers of people with the disease, her work felt even more compelling and urgent.
"Drug development takes a long time," she says. "If everything goes perfectly with our project at Klogene, we may be able to start clinical trials three years from now."
"I realized she had no intention to retire—ever," says Menachem. "She told me she couldn't imagine not going to the lab every day. She loves what she does. I'm okay with it. I'm busy helping her now and I am having a blast. All these years, I've been following her work very closely, and I wanted to learn. It's a lot more challenging than computers and electronics and at this point, it's more important that we make a difference."