Alumni Weekend 2016 Honors Trailblazing Terriers
Distinguished grads share their stories, inspire next generation
Growing up in Virginia, Joel Christian Gill developed a knack for storytelling—by fibbing to his friends that he owned all the newest and coolest toys. He pretended that like Harry Potter, he "was just one giant-on-a-motorcycle away from a major adventure at Hogwarts—when I was just a poor kid from the projects," he said at a panel discussion titled African American Storytelling in Sequential Art, held on campus during Alumni Weekend, September 28 to October 1. As an adult, Gill's imagination led him to tell more truthful, meaningful stories—such as that of Bass Reeves, a frontier hero and black deputy US marshal—in his acclaimed graphic novel Strange Fruit: Uncelebrated Narratives from Black History (Fulcrum Publishing, 2014).
In addition to participating in the panel discussion, Gill (CFA'04), chair of foundations at the New Hampshire Institute of Art, received a Distinguished Alumni Award from the College of Fine Arts at a ceremony emceed by Emmy-winning actor Michael Chiklis (CFA'85) September 30. Gill was among many alums from a wide range of professions honored throughout the weekend.
On Saturday, three alums were celebrated at the Best of BU Luncheon & 69th Annual Alumni Awards. The Alumni Awards are BU's highest honors for alumni.
Golden Globe–winning producer Bonnie Arnold (COM'78) wondered if there had been some mistake as she accepted her 2016 Distinguished Alumni Award. "It is really not the school that should be honoring me," said the copresident of feature animation at DreamWorks Animation. "It is I who should be honoring the school. There's no question that I wouldn't have had the career I've had without BU, because I wouldn't be the person I am."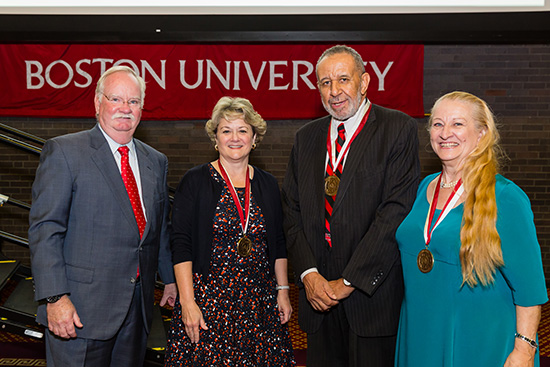 Ruth A. MacFarlane Hunter (ENG'64, Questrom'86) was praised for her groundbreaking work as she received her Distinguished Alumni Award. A longtime engineer at the US Department of Transportation's Volpe National Transportation Systems Center, she was the only female undergraduate in her College of Engineering aeronautical engineering class, and she graduated as class valedictorian.
The third Distinguished Alumni Award was presented to civil rights activist and retired Methodist minister Gilbert H. Caldwell (STH'58), who screened his documentary From Selma to Stonewall: Are We There Yet?—about the relationship between the civil rights and LGBTQ movements—on Thursday at the School of Theology. The 82-year-old Caldwell used his acceptance speech to affirm his commitment to activism, saying, "I want to be involved in the struggle until I die." He signed off by leading a packed room in an impromptu rendition of a freedom song popular during civil rights marches, "Woke Up This Morning (with My Mind Stayed on Freedom)."
Alums attended a host of other events over the weekend, including a pregame cookout and men's ice hockey exhibition game against the University of Prince Edward Island Panthers, which the Terriers won 10–2; a networking event and panel discussion with distinguished alums; and a conversation about diversity and inclusion led by Kenneth Elmore (SED'87), associate provost and dean of students. On Friday, Elmore received the Ida M. Johnston Award from the School of Education, given annually to an alum for outstanding service to SED, their profession, or the community.
Over four days of festivities, award ceremonies, and panels, Terriers learned about important work fellow alums are doing around the world. At SED's Distinguished Alumni Awards, International Alumni Award recipient Rachel McCormack (SED'95), a professor of literacy education at Roger Williams University, spoke about her organization, Books for Refugees. While in Europe to observe school programs for multilingual populations in fall 2015, McCormack visited refugee camps in the Netherlands. She learned that camps in Europe have few resources for refugee children in their native language and decided to start a program to deliver Arabic-language children's books to them.
"I've learned that it doesn't take much to make a difference, and if I can make the difference in one refugee's life, I am grateful," she said.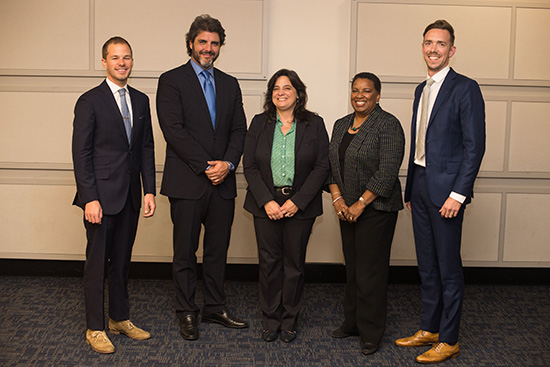 Longtime friends also reunited on campus. Judie Friedberg-Chessin (SED'59), a former head of the BU Alumni Association, travels from New York every year for Alumni Weekend. But this time was special, she said, because she reconnected with friends she hadn't seen in some time at the 50th Reunion & Golden Terrier Luncheon. "I have never seen so many people turn out for the luncheon," she added—including an alum who graduated back in 1939.
Alumni Council member Peter Cocolis (ENG'64) attended the luncheon with his wife, Lorraine Cocolis (SAR'63). "It was gratifying to see so many of my generation reconnecting with BU and other Golden Terriers," he said. "When the 50th reunion class received their Golden Terrier pins, you could feel the excitement and enthusiasm."
But Alumni Weekend doesn't stir up Terrier pride in just alums. Tyler Grove (COM'16,'17) attended the College of Communication's Distinguished Alumni Awards on Thursday to hear the stories of the five recipients: Carlos R. Bardasano (Questrom'94, COM'97), senior vice president of original content at Univision Communications, Inc.; Mariette DiChristina (COM'86), director of editorial and publishing for Nature Research magazines at Springer Nature and editor-in-chief of Scientific American magazine; Oscar-nominated director Henry Hughes (COM'06); Sylvia Stevens-Edouard (COM'74), executive director of the Albert Schweitzer Fellowship; and Distinguished Young Alumnus winner Nooka Jones (COM'10), marketing manager and team lead at Google Creative Lab in New York City. Calling the recipients awe-inspiring, Grove said, "Alums like these help current Boston University students achieve their goals."
Julie Butters can be reached at jbutters@bu.edu. Andrew Thurston, who can be reached at thurston@bu.edu, contributed reporting to this article.