What Are You Wearing This Spring?
Student magazine spotlights fashion, gives a taste of the business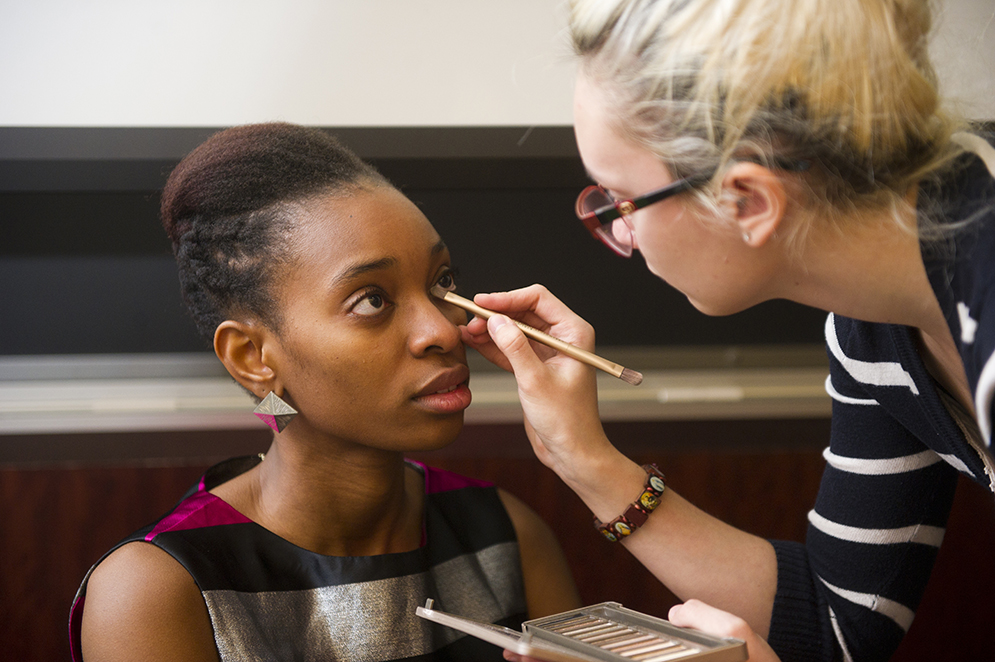 Classroom protocol typically frowns on a student sticking a foot on the blackboard chalk tray. Yet Clare Stonich strikes an unabashedly jaunty pose, her right foot on a stool, her left on the tray, right arm bent at the elbow and a piece of chalk held cigarette-like between her fingers. Wearing a spring ensemble of three-quarter-sleeve T-shirt and striped pants, Stonich offers several poses for a fellow student who is taking her picture.
For a few hours on this late-winter weekday, the College of Arts & Sciences astronomy lecture hall is dedicated to stars of fashion rather than of the heavens. Stonich (COM'18) and other student models had entered in street clothes; after an hour at the hands of makeup artists (also students), lips are redder, cheeks more blushed, lashes more highlighted, and hair more sprayed. A seminar's worth of students—almost 20 models, stylists, and production personnel—labor on the shoot, in what Cris Cordero (COM'16) playfully describes as chaos. But it is a chaos carefully choreographed by Cordero, vice president and creative director of Off the Cuff, BU's student fashion magazine.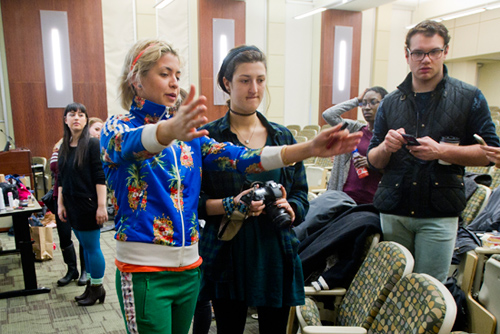 Cordero herself is a sartorial rainbow in blue sweat jacket with floral designs and bright green sweatpants. She shapes strands of a model's hair here, adjusts a shirttail there, sends an update on the shoot to OTC's Snapchat fans, and oversees the photography. The theme of today's spread—combinations of striped clothes that college students can get away with—requires models to adopt what Cordero admits are stereotyped roles: a straight-A student, an athlete, a "princess," and a shy technology enthusiast. (No men modeled for this particular shoot, but OTC does use them.) That last part falls to Stonich, whom Cordero urges to adopt a more "nerdy" facial expression at the blackboard. Her frown-like attempt elicits giggles and an amused smile from the model herself.
Blending fashion spreads and articles dispensing such information as "Winter Break Trends" and "Return of the Platform Shoe," OTC's proclaimed mission is to "celebrate the creative collision among fashion, art, and diversity."
Translation One: "We try to feature attainable high fashion," says managing editor Elyse da Silva (COM'16). "We don't want to try to sell, like, Louis Vuitton, to our readers, because a lot of them can't afford it." OTC's editors say attainable includes retailers like H&M, Forever 21—and Goodwill. "Your entire wardrobe can be from Goodwill," editor in chief Vince Calvi (COM'16) says, "and you can still look better than half the people who are walking down the streets in Hermès and Louis Vuitton and Versace." (The editors say there's no specific fashion style that defines BU students, although you sometimes can tell a Terrier's school by his or her clothing, from business casual and preppy at the Questrom School of Business to trendy at the College of Communication.)
Translation Two: while some shoots spotlight fashion styles, others highlight the emotions in models' faces and are as much about as art as fashion, Calvi says. Hence Stonich's nerdy look.
Earlier this semester, aspiring models filled out cards explaining the types of shoots they would, and wouldn't, do. Stonich says she's open to all shoots, because "I trust the taste and judgment of the e-board, knowing they would never ask me to do anything particularly absurd or ridiculous." In one instance, though, some readers objected to the executive board's judgment. Last spring, a spread about traditional fashion in Nigeria, India, and Japan, with models from each nation wearing another country's clothes, drew charges that the models appropriated someone else's culture.
"What was intended," Calvi says of the feature, "was to take the ethnicity of the person out of the clothes and…appreciate the clothes for what they are." Adds da Silva, "We try to be as culturally sensitive as possible, but sometimes, people can be a little nitpicky."
Off the Cuff has more than 150 staffers, about a third of whom are models who work as needed. The publication is student-run from start to finish: not just the actual photo sessions, but the business, editorial, and production sides as well. The goal is not only to provide an outlet for fashion passion, but also to give students a taste of actual fashion publishing. The magazine posts a full online issue once a semester, updated occasionally with recent shoots.
"We try to run Off the Cuff as much as an actual, real-world publication as possible," says Calvi, who cofounded the magazine in 2013. (BU has a student Fashion and Retail Association that focuses on the business end of fashion, he says, but other than sharing some student members, the association and OTC are unconnected.) The magazine's staffers know about professional fashion publishing from research, internships, and connections. One's mom is a creative director who has worked at big-name fashion brands, and "she's been able to provide how real-world photo shoots go," Calvi says.
"Modeling for Off the Cuff is a great way for me to take a step outside my academic world of engineering and express art through fashion with an amazing group of people," says Aniekan Inoyo (ENG'15), one of the models for the lecture hall spread.
Calvi, who shows up for an interview in a V-neck lavender sweater, argyle socks, and cheetah shoes, is fervent about fashion. And opinionated: during the interview, he amicably describes da Silva's fashion sense as "basic," explaining, "You're following the trends, but the cheap trends."
"Hey," she objects. "I'm not that basic."