Campus Rape Film The Hunting Ground Screens Tonight
Panel discussion to follow documentary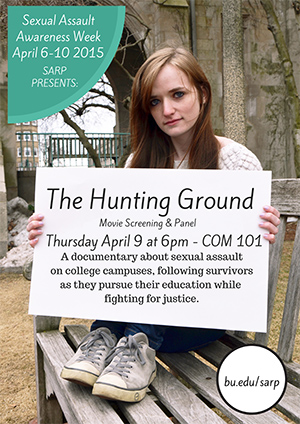 The BU community is invited to a free screening tonight of The Hunting Ground, this year's hard-hitting documentary about two women who were raped while students at the University of North Carolina at Chapel Hill. Shocked and disappointed by the administration's response to their complaints, the women filed a Title IX lawsuit against the school in the first steps of an effort that evolved into a national campaign.
The screening, presented by the Sexual Assault Response & Prevention (SARP) Center as part of BU's Sexual Assault Awareness Week, will be at the College of Communication at 6 p.m., followed by a panel discussion moderated by Cherita Cloy, a SARP crisis intervention counselor.
The critically acclaimed film is fueled by the anger of the victims, less at their rapists than at the college administrations that failed them. It blames schools for covering up assaults, especially those by athletes and fraternity members, some with histories of sexual assault, all this in the interest of keeping crime statistics down, admissions up, and alumni donations flowing. It features numerous interviews with women who say they were let down and often badly harmed by their school's response to their assaults. The two victims and protagonists, Andrea Pino and Annie Clark, lead a growing group of those who are determined to change the status quo.
Title IX of the US Educational Amendments Act of 1972 prohibits discrimination "on the basis of sex" and requires schools to investigate all reports of sexual assault. Last spring, the US Department of Education Office of Civil Rights announced that 55 colleges and universities—including BU—were being investigated for possible violations of Title IX regarding how they dealt with sexual violence and harassment complaints. That number has subsequently grown to 104 colleges and universities.
SARP director and crisis intervention counselor Maureen Mahoney says the center is showing the film because the topic impacts everyone at BU. "What I'm hoping is that students will watch the documentary and then ask questions of those of us on the panel, in terms of what makes BU different from the schools that have not handled situations well," Mahoney says. "Questions like, 'How will I know, if something happens to me or has happened to me, if I am in good hands?' 'What is the process that happens?' 'How do people handle this?'"
In addition to moderator Cloy, the postfilm panelists are Mahoney, Kerry Buglio, CAS assistant dean for advising and academic services and a deputy Title IX coordinator, and Peter Torchio, a BU Police Department detective sergeant. Mahoney says no one will have to stand up in front of the audience to ask a question. As SARP's Facebook page for the event explains, "At any time before or during the event, you can submit anonymous questions with this link: bit.ly/1NvcVzR. To ask a question with your phone, text SARPBU425 to 22333 to join the Poll Everywhere session and then submit your anonymous question."
Kenneth Elmore, dean of students, says the BU community must not be afraid to talk about the issue of campus rape. "We can't be afraid to say to a student, 'Be informed so you can get the help you need, but also so you can hold us—and we can hold each other—to task on this,'" says Elmore (SED'87). "We want to be as good as we can be about how we address sexual misconduct and sexual assault in particular."
Just last week, Elmore says, he and BU Title IX coordinator Kim Randall had a candid conversation with a group of students, who brought up such questions as why police aren't involved in some cases, what political ramifications there can be, and the importance of confidentiality.
"I think we laid everything right out there, and I think the students laid it right out there too," Elmore says. They all walked away better informed "and, in a real positive vein, with people feeling as though this is an ongoing dynamic, nuanced, and complex issue that we've just all got to continue to work on, and struggle with in some cases, but to work with each other on—students, faculty, staff, everybody."
BU students were recently asked by the University to participate in a confidential survey about issues surrounding sexual assault. The survey ended March 31, and in the coming months, the results will guide University efforts to improve its response to the issue.
The Hunting Ground will be screened tonight, Thursday, April 9, at the College of Communication, Room 101, at 6 p.m., as part of BU's Sexual Assault Awareness Week, in conjunction with the student-led Center for Gender, Sexuality & Activism.