Terriers Looking to End Beanpot Drought
Men's, women's tournaments kick off tonight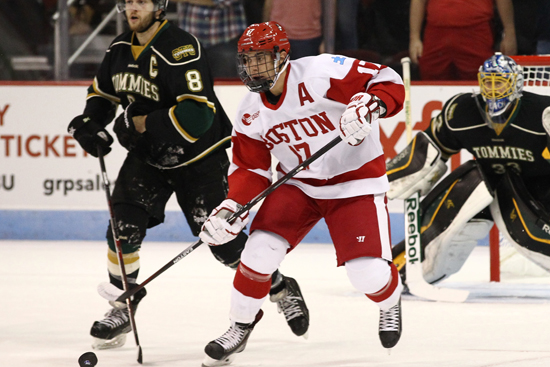 The beginning of February heralds the arrival of one of Boston's most storied sporting events: the Beanpot Tournament. Since 1952, the BU, BC, Harvard, and Northeastern men's varsity hockey teams have faced off for a chance to win bragging rights as the best team in town. The women's Beanpot tradition, not quite so venerable, dates back to 1979.
Men's Ice Hockey
The 63rd men's Beanpot Tournament, postponed from last night because of Monday's snowstorm, begins tonight at TD Garden, and with three of the four schools playing ranked in the top 20 nationally, it promises to be highly competitive.
The Terriers, currently number two in the NCAA, face a formidable competitor when they play number four Harvard at 5 p.m. Tonight's winner will advance to the Beanpot final next Monday at TD Garden against either number 14 Boston College or Northeastern.
The Terriers have won 29 Beanpots since the tournament began. When they take to the ice tonight, they intend to move one step closer to making it an even 30. The team hasn't won a Beanpot title since 2009, when BU defeated Northeastern 5-2, and has had a humiliating three last-place finishes over the past four years.
But this year fate is on their side. BU enters the Beanpot with a 16-4-4 record (11-2-2 Hockey East) after a dismal showing last year, with only one win on the road. As a result of that rocky season, the Terriers adopted "Never Again" as their rallying cry this season. The team is currently ranked at the top in Hockey East.
"I think we're just a good team all around with a lot of chemistry. We have a solid young class. It's looking good so far, but we have a lot ahead of us," says center Danny O'Regan (COM'16).
This season's success has been bolstered by consistent scorers like O'Regan, Jack Eichel (CGS'16), and Ahti Oksanen (COM'16). Eichel, a projected top-two pick in this year's NHL Entry Draft, leads the team in points, with 40, including 15 goals. O'Regan has a team-high 17 goals, and Oksanen has adjusted well to his new role as forward after playing a season of defense freshman year.
But two of the team's four losses this season have come against Beanpot teams—Harvard and Boston College. The Terriers lost 3-2 in overtime to the Crimson just before Thanksgiving, and will be looking to avenge that loss tonight. They split a pair of games with Boston College earlier this season, beating their Comm Ave rival 5-3 in early November at Chestnut Hill and succumbing to them at Agganis Arena 4-2 January 16.
The team is not only aiming for an end to a six-year Beanpot title drought, but is counting on a victory giving them the momentum they need to enter the season's home stretch.
Women's Ice Hockey
The BU's women's ice hockey Terriers, who have advanced to the NCAA Frozen Four twice since 2011, are looking to capture their first Beanpot title since becoming a varsity program a decade ago. The number seven Terriers face a formidable challenger when they take on fourth-ranked Harvard in the second semifinal of the 37th women's Beanpot Tournament tonight at the Bright-Landry Hockey Center at Harvard  at 8 p.m. The Terriers are hoping for a repeat of 2012's Beanpot opening round, when they bested the Crimson 5-2.
A surprise victory against Harvard would propel the Terriers to the Beanpot final next Tuesday against either number one Boston College or Northeastern, currently unranked.
Despite being the underdog, the Terriers (17-6-2 overall, 12-4-0 Hockey East) are confident they can pull off a dramatic upset thanks to key players like two-time Olympic gold medal winner Marie-Philip Poulin (CAS'15) and forwards Sarah Lefort (CGS'14, SAR'16) and Kayla Tutino (COM'16). The three began playing on the same line last month, earning 13 goals, 16 assists, and 29 points among them in the seven games since.
Poulin has enjoyed a stellar season after taking last year off to train for, and compete in, the Sochi Winter Olympics last February. To date, she has scored 17 goals and 30 points in just 20 games. Lefort is second in goals, with 15, and Tutino is tied for team lead in assists, with 16. The Terriers have also received plenty of support from freshman Victoria Bach (CGS'16), who has tallied 14 goals.
For years, the women's Beanpot was dominated by Harvard and Northeastern. Between them, the two schools have won 29 of 36 Beanpots. Since 2006, however, Boston College has claimed five titles.
The Terriers are determined that this is the season they'll finally claim a Beanpot title.
"It's a big tradition, there's a lot of history, and it's something we want to be a part of it," Tutino says. "We want to see the women's team engraved on the Beanpot trophy."
"We'd like to break that jinx," says head coach Brian Durocher (SED'78), "and see if we can put another date up on the banner next to the 1981 club team that won a long time ago,"
The BU men's ice hockey team takes on Harvard in the first round of the 63rd annual men's Beanpot Tournament tonight, Tuesday, February 3, at 5 p.m. at TD Garden, 100 Legends Way, Boston. Boston College and Northeastern play the second semifinal game beginning at 8 p.m. Ticket prices and information can be found here. The winners of each game will meet in the Beanpot final next Monday, February 9, at TD Garden at 7:30 p.m. The losers play in the consolation game at 4:30 p.m. The games will be televised on NESN.
The BU women's ice hockey team goes up against the Harvard Crimson in the first round of the 37th annual women's Beanpot Tournament tonight at 8 p.m. at Harvard's Bright-Landry Hockey Center in Cambridge. Northeastern and Boston College play in the first semifinal game, at 5 p.m. Tickets are available at the Harvard online ticket office. The winners of each game will meet in the Beanpot final next Tuesday, February 10, at Harvard's Bright-Landry Hockey Center at 7:30 p.m. The losers play in the consolation game at 4:30 p.m. The games will be streamed live on ESPN3.
Andre Khatchaturian can be reached at andrekha@bu.edu.