The Bard Meets Baseball
Romeo and Juliet staged as a vaudeville comedy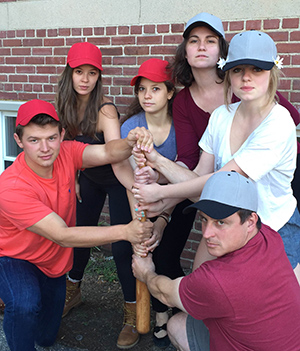 A free outdoor production that reimagines Shakespeare's classic star-crossed tragedy Romeo and Juliet as a vaudeville comedy fueled by a certain famous baseball rivalry? Sounds like can't-miss summer fun to us. And it offers the added advantage of providing audiences a chance to see a number of recent CFA alums and current students at work.
The Boston-based Anthem Theatre Company's Romeo VS. Juliet, which debuts tonight at Joan Lorentz Park in Cambridge, offers a mash-up of the Montagues and the Capulets with 1920s- and 1930s-era baseball and songs of the period sourced from the Library of Congress, including "Hitting 1.000 at the Game of Love."
"The conceit is that Juliet is the star pitcher for the Capulet team and Romeo is the Montague team's hottest hitter. They meet in a fateful at-bat," says director Bryn Boice (CFA'16), an MFA directing student. The production is being staged tonight through Sunday and again next weekend, June 26 to 28.
The Red Sox–Yankees feud was the original inspiration for the comedy, adapted by Anthem associate artistic director Johnny Kinsman, who also plays Coach "Friar" Lawrence and by day works as a Boston Duck boat driver.
"Johnny did an amazing job of adapting the script to baseball lingo; he even stayed within the confines of iambic pentameter out of great respect for the Bard," Boice says. "It has an old-timey vaudeville feel. It's also a bit like playing dress-up as a kid. We're throwing feather boas in the air and dancing with bats as canes. It's a lot of fun."
The production features a number of CFA students and grads, all of whom play multiple roles, often of the opposite gender. Sometimes different actors play the same character, depending on who else is on stage. But the primary casting has Ellen Humphreys (CFA'15) playing Romeo and Abby Knipp (CFA'17) as Juliet. Also in the cast are Maria DeCotis (CFA'15), Laura Detwiler (CFA'15), and Ben Salus (CFA'16), who each have several parts. The stage manager is Sarah Wallace (CFA'17).
Anthem artistic director Boice has worked with all of the BU students and alums at one time or another. "We speak the same language so I know I am in good hands, and I think, vice versa," she says.
The ties between Anthem's founding members sound a little like a plot line from a Shakespearean romance. Boice and her husband, Michael Poignand, started the company in New York with their friends Kinsman and Lindsay McConchie, who are also husband and wife. Poignand and Kinsman grew up together in Concord, Mass. McConchie hails from Lincoln and met Kinsman at the Concord Youth Theatre more than a decade ago. Boice is from Kansas City, Mo., and met Poignand when both were working in theater in New York.
The company, whose mission is to "produce engaging and entertaining works that compel audiences to make theatergoing a regular part of their lives," relocated to Boston in 2013. That year, they produced a four-person version of Shakespeare's A Comedy of Errors and a musical version of Charles Dickens' A Christmas Carol at the Boston Center for the Arts.
Anthem Theatre Company's Romeo VS. Juliet runs June 19 to 21 and 26 to 28 outdoors at Joan Lorentz Park, at the corner of Broadway an Ellery Streets, Cambridge, and is free and open to the public. The park is in front of the Cambridge Public Library. Friday performances are at 6:30 p.m. and Saturday and Sunday at 2 p.m. Take an MBTA Red Line train to Harvard Square. More information is available here.
Joel Brown can be reached at jbnbpt@bu.edu.