Paul Farmer, Doctor to the Poor, Speaks Today at BU
Reporting on global health as CGS Stone Distinguished Lecturer
The doctor to the world's neediest is in today, and his prognosis for the patients is: improving, but with much further to go.
"We forget to say the main message of global health is that we're doing well," with life expectancy up, fewer deaths from war and among children, and heartening drops in global poverty, says Paul Farmer, who will speak about The Current State of Global Health this afternoon in Jacob Sleeper Auditorium. 
Farmer will give the 25th annual Stanley P. Stone Distinguished Lecture. The series, which sponsors notable speakers in the College of General Studies' academic fields, is supported by Stanley Stone (CGS'64, Questrom'66).
Farmer, founding director of Partners in Health, the medical care provider to the poor, says last year's Ebola crisis in Africa wiped out the health systems in stricken nations, and universities like BU are vital players in addressing that.
Farmer says he will use the Ebola eruption to spotlight the progress and problems in the developing world. First reported in March 2014, the outbreak was declared over by the World Health Organization last May, although with the warning that it could recur. More than 11,000 have died from the disease, mostly in Liberia, Sierra Leone, and Guinea.
"Exactly a year ago, on November 4…it was very difficult to move back and forth between the United States and Africa because of politically motivated notions of quarantine," Farmer says. In June 2014, he visited Sierra Leone, where he knew three doctors—"by November," he says, "two were dead or dying of Ebola."
Today? "We brought down Ebola, but it took out the health system along the way. We're not reporting many Ebola cases because the health system has not been rebuilt" in the three ground-zero countries.
Farmer is crusading for universities like BU and Harvard—he is Kolokotrones University Professor of Global Health and Social Medicine and chairman of the global health and social medicine department at Harvard Medical School—to commit financial and human resources to the rebuilding task. Noting BU's work in battling the outbreak and at its National Emerging Infectious Diseases Laboratories, he says that "it's amazing how many resources Harvard and BU have in medicine and public health."
By contrast, he recalls a speech some months back by the University of Liberia's president about its medical school. "He said, 'Well, a year ago we had only 25 members of the faculty. We lost five to Ebola.'"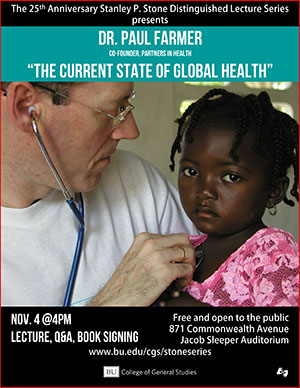 While massive forces, including the fallout from past colonialism and African civil wars, caution against utopian hopes, Farmer cites the example of Rwanda, which has emerged from a horrific genocide 21 years ago to rebuild its health care system. There have also been worldwide strides since 2000 against once unbeatable diseases like AIDS and malaria, he says.
"There is nothing at all that we see that is beyond the scope of human intervention.…The biggest threats are not these forces," he says. "They're a failure of imagination and a lack of persistence."
Farmer heads Brigham and Women's Hospital Division of Global Health Equity and is a special advisor to the UN secretary-general. He has written, cowritten, or contributed to several books, the latest, Reimagining Global Health: An Introduction (University of California Press, 2013) he coedited.
Launched in 1987 to serve the poor in Haiti, Boston-based Partners in Health now works there and in Peru, Russia, Rwanda, Lesotho, Malawi, and the United States, where it has run programs from Boston to the Navajo Nation.
Paul Farmer will give the 25th annual Stanley P. Stone Distinguished Lecture at 4 p.m. today, Wednesday, November 4, in the CGS Jacob Sleeper Auditorium, 871 Commonwealth Ave. After the lecture, Farmer will answer questions and sign his latest book. Admission is free and open to the public.