Nightlife: Sacco's Bowl Haven
Obscure New England sport meets restaurant and bar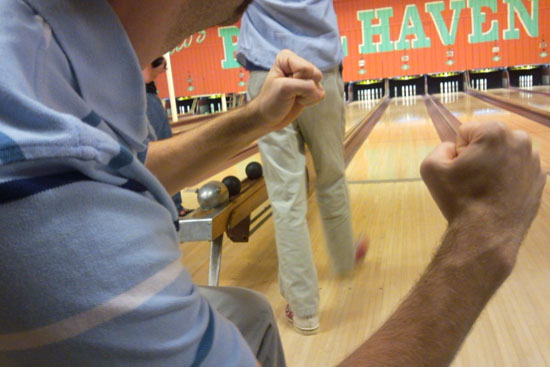 Nothing says New England quite like candlepin bowling. As ubiquitous to the area as lobster, baked beans, and the Patriots, the sport has remained a regional specialty since it was invented in Worcester, Mass., in 1890 (Boston newcomers, used to tenpin bowling, are often flummoxed when they first lay eyes on the small balls and slender pins). Itching to learn more about the game, we recently headed over to what may be the best candlepin alley in the Boston area: Sacco's Bowl Haven in Somerville.
Sacco's has been a Davis Square institution since 1939, when candlepin bowling was at the height of its popularity. At one time, the Sacco family owned 19 candlepin alleys, but over the years public interest waned, and the family slowly closed or sold all but the Somerville location. In 2010, it was sold to the Flatbread Company, a local chain specializing in gourmet, organic flatbread pizzas. Determined to preserve the bowling alley, Flatbread closed some lanes to accommodate its bar, restaurant, and giant clay ovens.
Today, the combination of retro bowling, gourmet pizzeria, and bar has made it a popular Boston area nightlife destination and a favorite for families with young kids.
We witnessed that popularity on a recent Saturday night. The cold winter chill had drawn a huge crowd seeking a cozy night out: the result, an unbelievably long waiting list—an hour for the dining area and more than four hours for a lane. The host advised us that for a walk-on spot, it's best to avoid peak bowling times. (Lane reservations are available only to groups of eight or more.)
When we returned on Tuesday night, the crowd was much smaller, but we still had to wait a half hour for a lane. We signed in and headed to the restaurant area for a drink and a bite while we waited.
We grabbed a table and proceeded to fuel up. The Flatbread Company is true to its name: aside from a few desserts and a couple of salads, the menu consists of eight signature flatbread pizzas, available small or large. But with an emphasis on whole food and high-quality ingredients—think organic vegetables, imported cheeses, and homemade charcuterie—it was impossible to choose just one, so we ordered two.
Our first choice was the Coevolution (small $9.75, large $17.75), organic bread dough topped with a robust blend of kalamata olives, rosemary, red onions, fire-roasted red peppers, and garlic aioli. It arrived screaming hot. While a typical pizza oven bakes at 500 degrees Fahrenheit, Flatbread's clay ovens reach a scorching 800 degrees, resulting in a blistered crust, crisp on the outside and light and airy inside. The stringy, whole-milk mozzarella and smooth Vermont butter goat cheese added a rich creaminess to the tangy olives and peppers. In short, the Coevolution was a hit.
Next was our more orthodox pick: the pepperoni and mushroom flatbread (small $9.50, large $17.75). The organic mushrooms and homemade nitrate-free pepperoni were tasty and likely better for our health too, but the real standout was the wood-fired cauldron tomato sauce. Bursting with the bright flavor of tomatoes, this was one sauce even grandma would approve of.
Our lane was ready by the time we finished. We headed over to an area featuring lacquered wooden benches. Candlepin bowling has the same objective as the modern-style bowling most people are used to. Players score points by lobbing a ball at pins arranged in a triangle formation at the end of a wooden lane with the aim, of course, of knocking them down. But the similarities end there. A candlepin ball is no larger than a grapefruit, and the pins are markedly different as well. Unlike the exaggerated curvature of typical bowling pins, both sides of the long, skinny pins are identically tapered and resemble large candles, hence the name. Think of playing an extended game of skee ball, and that's kind of what candlepin bowling is like.
Bowling at Sacco's is a throwback to another era. The mechanics are quaint and delightfully low-tech. Bowlers keep score with paper and pencil and pins are dispensed at the push of a button. But the game is considerably more difficult than standard tenpin bowling. You'd think a ball that fits in the palm of your hand would give you better control over your aim, which might be true if the pins were 10 feet away. But maneuvering a ball along a 60-foot-long bowling alley requires a considerable amount of force and skill. Add to that the fact that there are no bumpers and that the candlepins have a maddening tendency to rotate back into an upright position and you have a clue why candlepin bowling is considered a difficult game.
Our performance was hilariously bad. When the final pins cleared, we walked away with a measly top score of 97, out of a possible 300. Despite this, the old-school night out left us in good spirits and thinking that Sacco's motto—"The way it was is the way it is"—is the way bowling ought to be.
Sacco's Bowl Haven, open Monday through Saturday, 9 a.m. to midnight, and Sunday, 9 a.m. to 10:30 p.m., is at 45 Day St., Somerville, Mass. Lane rental is $25 an hour; shoe rental is $2. By public transportation, either take the 47 bus from Comm Ave at University Road seven stops to Central, switch to an outbound MBTA Red Line train toward Alewife, and get off at Davis Square or take a Green Line trolley to Park Street, switch to an outbound Red Line train, and get off at Davis Square. Sacco's accepts lane reservations for groups of eight or more; smaller groups are accommodated on a first-come, first served basis in designated walk-in-only lanes. Make reservations at 617-776-0552. 
This is part of a series featuring Boston nightlife venues of interest to the BU community. If you have any suggestions for places we should feature, leave them in the Comment section below.
Paula Sokolska can be reached at ps5642@bu.edu.