Nightlife: Escape the Room
An hour to escape a locked room by solving puzzles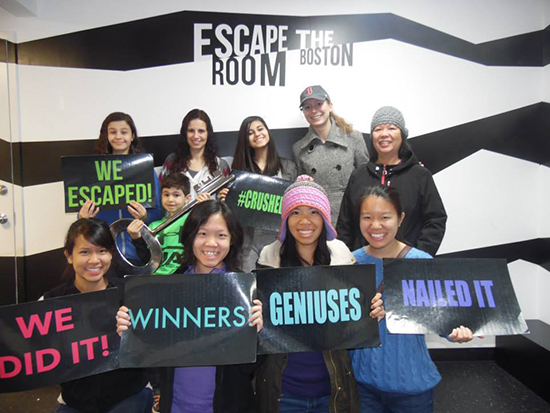 Imagine you're the last one at work in the office. It's a Friday night, the clock finally strikes 5 p.m., and you head for the door to discover you're locked in with no key in sight. Sound terrifying? Well, people are actually paying good money to enact this nightmarish scenario, and as we found out, it's great fun. Welcome to Escape the Room Boston, an interactive puzzle-solving game that traps visitors in a one-room office with just 60 minutes to solve a series of challenging brainteasers and escape.
Those eager to test their puzzle-solving chops must preregister online for a time slot. Each session accommodates a team of 10 people, and if your group isn't big enough to fill all the slots, chances are you'll find yourself playing with strangers, as we did during our recent visit. We admit that the idea of being locked in a confined space with a group of people we'd never met was off-putting at first, but we were soon grateful for the additional brainpower.
Our host greeted us and outlined the rules for playing. We'd have to solve a series of puzzles and decipher a number of clues hidden throughout the mock office. If successful, we'd discover the key that unlocks the office door.
We filed inside to a sparsely furnished room—a tall bookcase stood against one wall, a desk along another. Other props included locked filing cabinets, a mailbox, even a motivational poster. We quickly learned that none of these items was quite what it seemed.
Some puzzles were hidden in plain sight, while others were harder to uncover and even required the dismantling of some furniture. The whole point of Escape the Room is to foster teamwork (you won't win without it), and our team pooled our collective talents to find and then make sense of countless clues, including small jars of paint, four games of tic-tac-toe, a random quarter and a compass, a crumpled toner test sheet, and a black velvet shroud riddled with strategically placed holes. The puzzles' intricacy varied wildly and demanded a range of problem-solving skills. In the end, everyone contributed something.
With only an hour to escape, we were all feeling pressured, and the stress was intensified by a mounted screen that constantly counted down the remaining minutes. Luckily our host was watching our struggles on a TV monitor in another room and offered critical guidance when it seemed we were hopelessly stuck. At one point we were certain we had discovered the code to unlock a safe, but it refused to work. Just as we were about to give up, the countdown screen flashed with a message: "Don't forget to #poundit"—a reminder from our host that after entering the code, we needed to hit the pound key. Hints like these kept the momentum going.
Before we knew it, there were fewer than 10 minutes left on the clock. Finally, with only three minutes to spare, we solved the last puzzle and were able to claim victory—a rare achievement as it turns out. (Only 15 to 20 percent of teams successfully find the key before the hour is up.) Our host returned and offered to answer any questions we had about the game before setting us up for a winners' photo.
Escape the Room was founded by former math major and puzzle fan Victor Blake in 2013, based on the popular online game of the same name, and has become a hit in New York, Phoenix, Philadelphia, and Houston, as well as Boston. For now, Escape the Room Boston offers just The Office version of the game, but plans are under way for spin-offs that have become popular elsewhere, including escapes from an archaeological dig, a Victorian-era home, and an elaborate theater.
Escape the Room is at 33 West St., third floor, Boston. Tickets are $28 and must be purchased online in advance. Times vary, but games are every Wednesday through Sunday. Find a full schedule and purchase tickets here. By public transportation, take any inbound Green Line trolley to Park Street station.
This is part of a series featuring Boston nightlife venues of interest to the BU community. If you have any suggestions for places we should feature, leave them in the Comment section below.