Nightlife: Adult Night at LEGOLAND
LEGOLAND Discovery Center hosts a special evening for grown-ups the third Wednesday of each month
Last year's smash box office hit The LEGO Movie proved once and for all that LEGO isn't just for kids. To date, the film has earned more than $250 million in domestic sales and nearly $500 million overseas—much of that driven by adults.
So when word came that the company was opening its first East Coast LEGOLAND Discovery Center in Somerville, adult fans were overjoyed. But when the indoor amusement park/arcade opened last spring at Assembly Row, the new 45-acre commercial development in Somerville that houses an outlet mall as well as a multiplex, several eateries, a 200-room hotel, and a waterfront park, grown-up fans of the plastic bricks were dismayed to learn they could only buy a ticket if accompanied by a child under the age of 16.
Happily, LEGOLAND Boston's master builder, Ian Coffey, helped launch Adult Night, an event just for those 18 and up, on the third Wednesday of each month. Each Adult Night features a different theme: tonight's is Vegas-inspired games, with a LEGO twist. We stopped by last month when the theme was Star Wars, a fitting subject given how many LEGO sets now feature characters from the film franchise.
The night we visited, lines of visitors trying to buy tickets were already spilling out onto the sidewalk prior to the evening's official 7 p.m. start time. It's best to buy your tickets in advance online (information on how to do that is included at the end of this story) to guarantee admission, as walk-up tickets aren't always available. If you are buying tickets the night-of, plan to arrive as early as possible. Tickets cost $23.
In keeping with the night's Star Wars theme, we saw a number of staff and security guards dressed as Darth Vader, which caused something of a photo frenzy throughout the evening. R2-D2 also made an appearance, gliding through the facility via remote control. Guests were encouraged to partake in a free raffle for Star Wars–themed paraphernalia.
Once guests had handed in their tickets, they were escorted upstairs to the main attractions. The first stop was MINILAND, a breathtaking replica of many Boston and area landmarks constructed using over 1.5 million LEGO bricks. Among the buildings included are replicas of Government Center, the Massachusetts State House, Gillette Stadium, Faneuil Hall, the Old State House, and Fenway Park, to name only a few. To cap it off, the whole scene is surrounded by a LEGO-made Charles River and Massachusetts Bay, replete with racing boats. Every few minutes, the lights dim to simulate the city after sundown.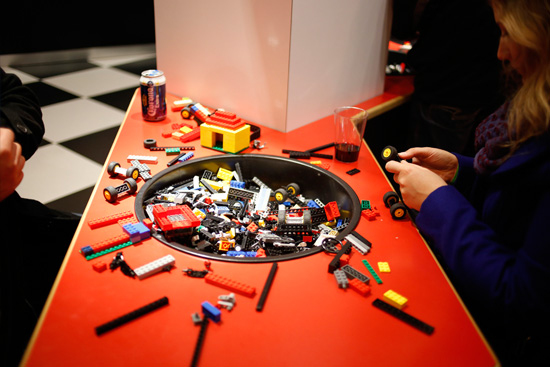 LEGOLAND also features two small rides. Merlin's Apprentice Ride is a small indoor rollercoaster that allows visitors to see all of LEGOLAND from up high. Visitors are encouraged to pedal as fast as possible in order to get the best view. The other ride, the Kingdom Quest Laser Ride, is more suitable for children. Guests jump into a chariot and use a combination of lasers and LEGOS to help capture a kidnapped princess. Not the most appealing attraction for adults.
Another popular site is LEGOLAND's 4-D Cinema. The audience has the option to pick from three short LEGO movies inspired by the 2014 film. The theater adds another dimension to these 3-D films by allowing audiences to feel elements like wind, snow, and rain. The movies run throughout the evening.
Other cool features to check out are LEGO Racers and LEGO Friends. LEGO Racers offers visitors a chance to build small racecars out of LEGO and then test them on a racetrack. (Times are recorded to the hundredth of a second, so don't even think about cheating.) If your vehicle isn't up to snuff, then it's back to the drawing board. LEGO Friends offers a quieter venue and is definitely more kid friendly. It's set up like a dollhouse where guests can sit and play with LEGO blocks away from the more hectic venues within the complex.
You can also take a factory tour that allows you to see how LEGO bricks are made—everything from mixing and heating to molding. And if all that building stokes your appetite and thirst, there's a small café offering an assortment of tasty treats. A kid's meal ($15) includes a choice of a turkey and cheese or ham and cheese sandwich, chips or a fruit cup, and a drink. Each item in the kid's meal can be purchased separately. Small salads ($4), vegetable cups ($4), a hummus and pretzels cup ($3), Greek yogurt ($2.50), and bottled juice ($2.50) are also on the menu. Beer and wine is available for purchase for those 21+.
And what, you ask, would a LEGOLAND be without a gift shop? LEGO enthusiasts will be happy to know that the first floor features a gift shop offering more than 900 sets and products, including quirky items like LEGO jewelry. The store is open seven days a week and offers specials each month. Those with a LEGOLAND Discovery Center annual pass (strongly recommended if you're going to be returning with kids on a frequent basis) receive 10 percent off any purchase. Admission to the shop is free.
Adult Night at the LEGOLAND Discovery Center is held on the third Wednesday of each month from 7 p.m. to 9 p.m. Tonight's Adult Night has a Vegas theme. Tickets are $23 per person and can be purchased either online here or in person. Address: 598 Assembly Row, Somerville, MA 02145. To get there via public transportation, take an MBTA Green Line train to Park Street and switch to an outbound Orange Line train toward Oak Grove; get off at Assembly Station.
For more information about LEGOLAND Discovery Center Boston, click here.
Brandon Lewis can be reached at bmlewis@bu.edu.