Modern Retelling of Chekhov's Uncle Vanya at BU Theatre
Uncle Jack has lighthearted moments, serious themes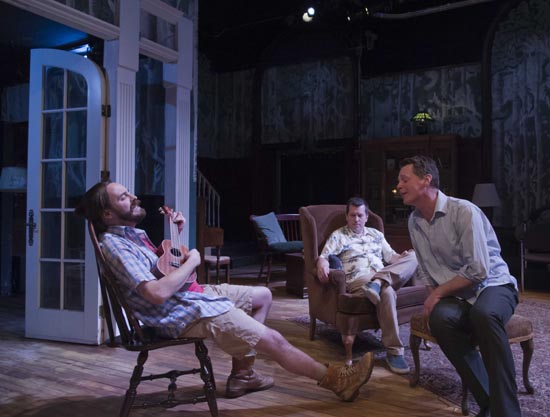 Call this the year of Anton Chekhov, reimagined. Boston theater audiences were treated to a comic mashup of the great Russian playwright's works last month with the Huntington Theatre Company's critically lauded production of Christopher Durang's Vanya and Sonia and Masha and Spike. Now comes Uncle Jack, a modern retelling of Chekhov's classic tragicomedy Uncle Vanya, by Michael Hammond, a College of Fine Arts assistant professor of theater. 
The play, on stage at the BU Theatre through Sunday, is a coproduction with the Boston Playwrights' Theatre (BPT) and the Boston Center for American Performance (BCAP), in partnership with the Boston University New Play Initiative and the School of Theatre.
Uncle Jack is about a group of (mostly) theater folk living on a Berkshires estate that's home to a once-thriving, now financially precarious theater company. The titular character, superbly played by John Kooi, is a neurotic, paranoid, sarcastic former actor who manages the struggling company with the help of his lovelorn niece, Sonya, portrayed by Maria DeCotis (CFA'15). The cast also includes Will Lyman (CFA'72) as Jack's brother-in-law Derek, the company's haughty artistic director; Michael Kaye (CFA'95,'99), a CFA assistant professor of theater, as Wolfe, the bitter country doctor who spurns Sonya's advances; Madeleine Lambert as Derek's wife, Elena, the object of Jack's and Wolfe's desire; theater veteran Nancy E. Carroll as Clare, the play's voice of reason; and Timothy Spears (CFA'06,'16) as Tug, the estate's caretaker, whose pseudo-philosophical soliloquies give him the aura of a Shakespearean wise fool.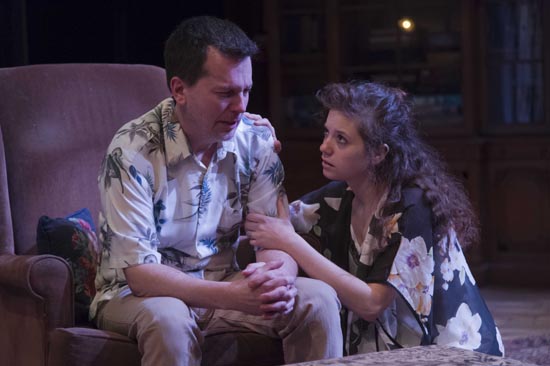 Hammond says that he used Chekhov as a roadmap when writing the play, modernizing the dialogue, characters, and environment, but maintaining Vanya's basic structure, story arc, and themes. The result is an understated, witty, engaging story that simultaneously entertains and asks the audience to reflect on what it means to live a purposeful life. "It's a modern reinvention of the story that I think audiences will find both funny and ultimately moving," says Kate Snodgrass (GRS'90), BPT artistic director and a CAS professor of the practice in playwriting. "I loved it the moment I heard it. It's about some very funny, self-absorbed people—and we all know more than one of those."
Described as a comedy, Hammond's play has several lighthearted moments and clever quips, but many of its themes are serious, such as unrequited love, alienation, and the need to belong. Hammond says these are issues he has contemplated in his own life. "I think this play is about me and people my age who are questioning the choices they've made in their lives and are beginning to have doubts that their lives have meaning," he says. "They are struggling to somehow either correct that or reconcile themselves to that before it's too late."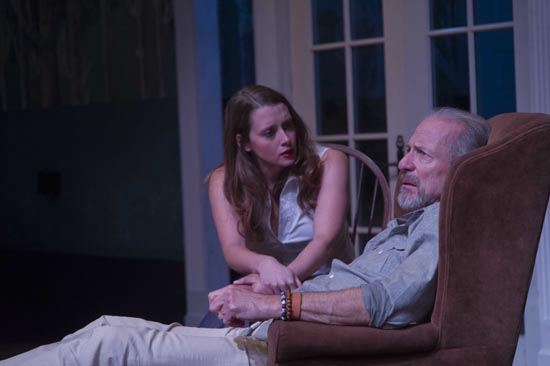 Uncle Jack has been a deeply personal journey for the playwright. The idea for the production came out of a difficult period of transition in his life. "Four or five years ago, I had left a creative home that I had been a part of for a long time, and it was an ordeal," he says. "That change forced me to question my commitment to the theater and my own ambition. I really had my doubts about whether I had been living my life meaningfully." One of the ways he conquered his self-described funk was by reading Uncle Vanya and relating to the existential struggles of its characters. That in turn inspired him to try his hand at writing a new version of the Chekhov masterpiece, moving the setting from the crumbling estate of a renowned professor to the crumbling estate of a Berkshires-based theater company and putting it in modern times.
If anyone is qualified to stage a play set in the theater world, it's Hammond. A former member of the renowned theater troupe Shakespeare & Company, he is no stranger to the world his characters inhabit. Over the course of a prolific, multidecade career, he has worked as an actor, playwright, director, and teacher, roles that he says he loves equally, because they allow him to fulfill his passion for theater. "Whether I'm teaching or directing or writing or acting myself," he says, "I'm trying to create a space where people can speak the truth and the audience can witness people speaking the truth. And that fundamental goal applies regardless of what particular hat I'm wearing at the time."
Hammond says he relates most closely to Jack, whose inner turmoil is revealed through the course of the play, and to Wolfe, the sardonic and philosophical doctor in the midst of an existential crisis. "I was invested in both of them and their points of view," he says. "And in effect, they represent an ongoing debate inside me all the time—between the romantic, sometimes mystical side and the fiercely intellectual, analytical side."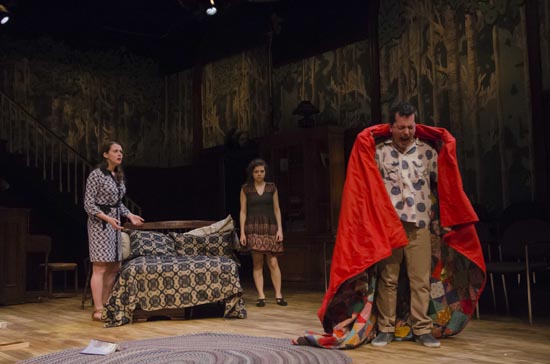 The playwright acknowledges having mixed feelings while he was mounting the production. "It felt exhilarating and like the opportunity of a lifetime one moment and agonizing the next," he says. "Sometimes it seemed to be coming together and working beautifully, and it was a lot of hopes and desires coming to fruition. And when things weren't working so well, it was oh my God, why did I ever think I could write a play about this? That's just what it's like to be an artist most of the time."
He needn't have worried. The play has earned positive reviews from the Boston Globe and WBUR. Five years in the making, the world Hammond has created is one where love is pain, beauty is a downfall, daily existence is an epic struggle, yet hope still manages to persist. Ultimately, Uncle Jack is the embodiment of what Pulitzer Prize–winning playwright Thornton Wilder meant when he said, "I regard the theater as the greatest of all art forms, the most immediate way in which a human being can share with another the sense of what it is to be a human being."
Uncle Jack is playing at the BU Theatre Lane-Comley Studio 210, 264 Huntington Ave., Boston through Sunday, March 1. View performance times here. General admission is $30; $25 for seniors and groups of 10 or more; $15 with a CFA membership; $10 for students; and free at the door for anyone with a BU ID, subject to availability. Purchase tickets here. Take an MBTA Green Line trolley to Copley and switch to a number 39 bus to the Symphony stop.
Samantha Pickette can be reached at pickette@bu.edu.