Meet Vanya and Sonia and Masha and Spike
Huntington stages Durang's rollicking riff on Chekhov
Act I, Scene I: A wilting country estate. Vanya and his morbidly depressed sister Sonia rail against this dull, pointless life and a world not worth venturing out of the house for.
Hilarity ensues.
You don't have to be steeped in the dramas of Anton Chekhov to leave Christopher Durang's Vanya and Sonia and Masha and Spike aching from laughter. A mash-up of the great 19th-century Russian playwright, Durang's comedy, currently being staged by the Huntington Theatre Company, won the 2013 Tony Award for Best New Play under the direction of the late Nicholas Martin, the Huntington's artistic director from 2000 to 2008. The current production is a tribute to Martin, a longtime collaborator of Durang's who died in April 2014.
The Huntington is remounting the production on the BU Theatre main stage "in the spirit of Nicky's original production on Broadway, the greatest way to memorialize his great work," says Peter Dubois, the Huntington's artistic director. The play's director, Jessica Stone, has recreated the blocking and pacing used by Martin, who earned a Tony nomination for his direction. Durang, the multiple-award-winning author of a string of acclaimed comedies, including Beyond Therapy and Sister Ignatius Explains It All for You, "is one of the great comic voices of our age," says Dubois.
The play opens as Vanya and Sonia's uneventful, bucolic life at their family home in Bucks County, Pa., is upended when their glamorous movie star sister Masha shows up with her boy toy Spike. Masha's over-the-top affectations and demands dominate the weekend, and the siblings' comic dance "pays loving homage to Chekhov's classic themes of loss and longing," according to the Huntington's website. "In my twenties, I read Chekhov's plays and loved them," says Durang. "My impetus for Vanya… was the realization that I am now the age of Chekhov's older characters. I found myself wanting to write a comic play—not a parody, but its own thing. So I took themes and characters from Chekhov and put them into a comic blender." The New York Times praised Durang's play as "deliciously funny…comic acting raised to the level of high art," when it debuted on Broadway with a cast that starred Sigourney Weaver and David Hyde Pierce.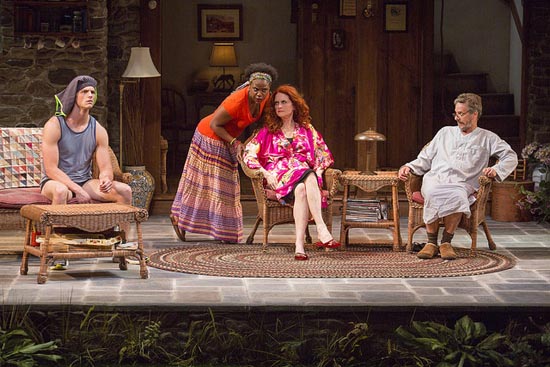 The Huntington cast includes Candy Buckley (Cabaret and Thoroughly Modern Millie on Broadway) as Masha, and Marcia DeBonis as the sorrowful Sonia. Vanya is portrayed by Martin Moran (Spamalot and How to Succeed in Business on Broadway), and Masha's too-sexy-for-his-shirt boyfriend is played by Tyler Lansing Weaks (Macbeth on Broadway). Allison Layman and Haneefah Wood round out the cast as next-door neighbor Nina and the family's housekeeper, Cassandra, respectively.
A veteran stage actor as well as a television, film, and stage director, Stone is returning to the Huntington as director after performing in its productions of She Loves Me, Betty's Summer Vacation, and Springtime for Henry.
The Huntington Theatre Company's production of Vanya and Sonia and Masha and Spike runs at the BU Theatre, 264 Huntington Ave., Boston, through February 1. Tickets may be purchased online, by phone at 617-266-0800, or in person at the BU Theatre box office. Patrons 35 and younger may purchase $25 tickets (ID required) for any production, and there is a $5 discount for seniors. Military personnel can purchase tickets for $15, and student rush tickets are also available for $15. Members of the BU community get $10 off (ID required). Call 617-266-0800 for more information. Follow the Huntington Theatre Company on Twitter at @huntington.