Star Search
BU's Coit Observatory open to the public tonight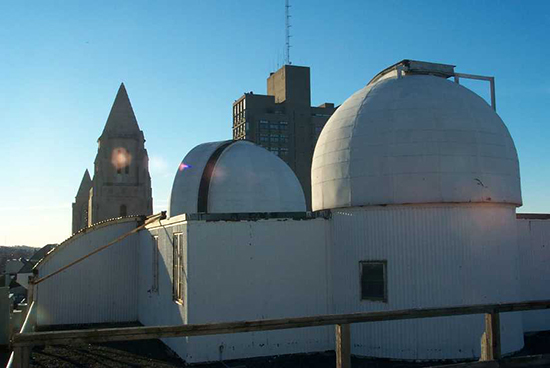 Many people are unaware that BU is home to an observatory that offers fantastic glimpses of the night sky. Usually reserved for astronomy students, the Coit Observatory, on the roof of the College of Arts & Sciences, is open to the public every Wednesday night, weather permitting. So stop by tonight at 8:30 p.m. to peer through one of the observatory's refracting or reflecting telescopes for a close-up view of the moon, Mars, and other heavenly bodies.
Observatory staff will begin the public open night with a short introduction, pointing out those celestial bodies and constellations of special interest at this time of the year.
The observatory is named for Judson Boardman Coit, a BU assistant professor of astronomy in the 1880s, who was a pioneer in the field. BU did not have astronomical equipment at the time, so Coit brought his students to a tiny pay-to-use telescope at the Boston Common, covering the fees himself. After acquiring its first telescope, Boston University built its first observatory in 1890 on the roof of a former church on Somerset Street housing the College of Liberal Arts and administrative offices. The observatory was later moved to 725 Commonwealth Avenue. The original telescopes are now in storage, but a more complete history of the astronomy department and its studies can be found on the fifth floor.
While at the observatory, take some time to enjoy the breathtaking views of the Charles River, Cambridge, and downtown Boston. The observatory closes at 9:30 p.m., leaving you free to grab a late dinner.
The Coit Observatory, on the College of Arts & Sciences roof, 725 Commonwealth Ave., hosts free public open nights every Wednesday from 8:30 to 9:30 p.m. in the spring and summer and from 7:30 to 8:30 p.m. in the fall and winter. Take the stairwell to the left of Room 520 to the roof. The event may be canceled up to two hours in advance because of cloudy skies or rain, so check the Twitter feed or call 617-353-2630.
Ashley Mayrianne Jones can be reached at ashjones@bu.edu.