Fall Alcohol Hospitalizations Nudged Up
Halloween, more students summoning help contributing factors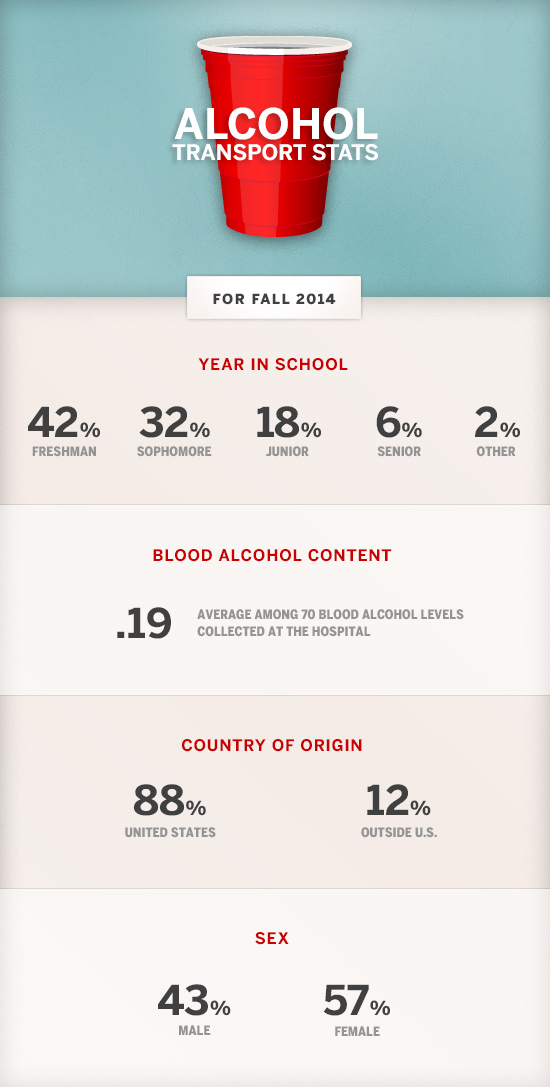 During the fall 2014 semester, 112 BU students were transported to local hospitals for acute intoxication, an uptick University police say is partly attributable to the fact that more students are summoning help for drunken peers than in the past.
The previous fall saw 89 BU students sent to the hospital, according to Student Health Services. The higher number in this past fall included "high amounts of transports around Halloween," which fell on a Friday, BU Police Department Captain Robert Molloy says, noting that weekend trick-or-treating typically involves students treating themselves to more alcohol.
Transports "leveled off as the semester came to a conclusion," he says, adding that "we have been involved in bystander training, where students are urged to call the police for intoxicated students." More transports may reflect students taking that initiative, according to Molloy.
The younger the class, the larger its percentage of hospitalized students last fall, with a plurality (42 percent) of the total being freshmen, data from Student Health Services show. Seniors made up just 6 percent of transports. (See accompanying chart above.) The data also show that 88 percent of transported students were US citizens and the remainder international students. A majority of transports, 57 percent, were women, who are affected by alcohol more rapidly than men because of physiological differences between the genders. Women students also outnumber males, and that could be a factor in the disparity.
Blood alcohol levels, collected for 70 of the transports, averaged .19, according to the data. Massachusetts law deems a blood alcohol level of .08 or higher in most cases as too drunk to drive.
Molloy credits stepped-up enforcement as another contributor to the surge in the number of people charged with alcohol and drug law violations last fall. That total, 57, compares to 15 in fall 2013. The increase followed a change, in January 2014, to an earlier-than-usual stationing of plainclothes officers around campus, as well as starting those patrols at earlier evening hours. He says the changes meant police "were able to detect underage students carrying alcohol" in greater numbers than before.
"We will review our activities for the previous year and review upcoming calendars" to brainstorm enforcement strategies in 2015, Molloy says. "We plan to do this for the spring semester when working with the Boston and Brookline police departments.…We need to not only partner with local police, but also rely on Residence Life, housing security assistants, and our students to help us in this effort to reduce excessive and underage consumption of alcohol."
Students may contact the SHS Wellness and Health Education services if they or a friend have questions about alcohol or drug use.