Nightlife: Escape Velocity at Artisan's Asylum
An interstellar solve-the-puzzle game in Somerville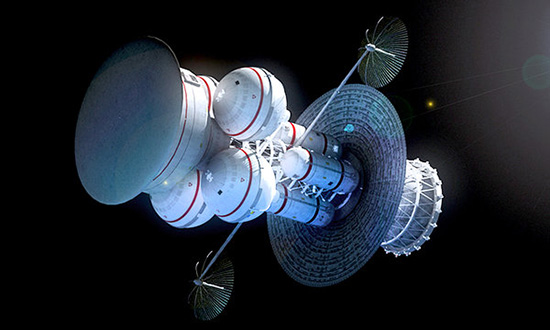 The latest entry in the "escape the room" puzzle craze to hit the Boston area transports players to outer space, where they must solve a series of interactive puzzles to save themselves before time runs out.
Escape Velocity, which opened last month and ends November 22, is in a section of Artisan's Asylum, a nonprofit offering professional-level design and fabrication tools for public use and daily classes in such areas as programming, woodworking, screen printing, and jewelry making. It was created by a team of live action role players who transformed the area into a 30×30 foot replica of a luxury spaceship, the Exodus.
We went recently to see what the experience was like. It was our first venture into this realm of fantasy and we had no idea what to expect.
The playscape is a set of three makeshift rooms with lighting, sound effects, and props designed to feel like a sci-fi movie set. Each session is about an hour and up to 10 players can participate per session.
The premise: a group of passengers have boarded an interstellar luxury liner in 2145 to travel to Argus IV ("the planet of nothing but white sand beaches"). Despite the spaceship's perfect safety track record, something goes wrong. Turns out the main engineer has been slacking and the starliner is now in danger of crashing.
After the game was explained to our group of eight, we started playing. Solving five separate puzzles would open the emergency exit door, allowing us to escape to rescue pods. The lights went out and sirens sounded, and we frantically searched for the code that would unlock the door to our first puzzle. The puzzles are interactive and require participants to not only find the pieces to the puzzle itself (bricks, codes, keys), but complete the rather difficult brainteasers.
We found the instruction sheets incredibly dense and the puzzles more challenging than expected. Had it not been for the others in our group (who had science/engineering backgrounds and previous experience with other puzzle hunts), we likely would have been there well beyond the allotted hour.
We split into two groups to solve the puzzles as quickly as possible. The first was what's called a "paint-by-numbers" puzzle similar to Sudoku. We had to figure out the correct combination of flip switches, from a grid of 25 on the control panel, that would activate the panel—a task much harder than it sounds. Fortunately, an MIT student figured out the puzzle design and activated the correct switches.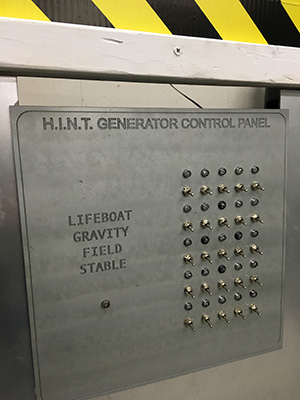 Next was finding a series of wooden blocks hidden throughout the spacecraft. Once found, we had to put them together so the corresponding colors matched up.
Our group successfully completed the mission in 42 minutes: our guide said the record time thus far had been 34 minutes.
The overall experience was slightly underwhelming. After we completed the five puzzles, we stood in the control room wondering what to do next. We expected to move to another room to replicate our escape to the safety of the lifeboats. As it turned out, that didn't happen. The game was unceremoniously over.
While this is a fun and challenging alternative to a standard night out, Escape Velocity isn't for everyone. The experience is a little dark and claustrophobic, and if you're not a fan of Sudoku or Rubik's Cube, you're probably not going to like it. Some in our group thoroughly enjoyed the adventure, however. The $20 price is also a bit steep given that some people complete the puzzles in just over half an hour.
For those seeking to quench their thirst after completing the escape mission, Aeronaut Brewing Co. is right next door.
Escape Velocity is at Artisan's Asylum, 10 Tyler St., Somerville, through Sunday, November 22; phone: 617-284-6878. The escape puzzles are held Wednesday to Friday at 5, 7, 9, and 11 p.m., Saturday at 2, 4, 6, 8, and 10 p.m., and Sunday at 2, 4, and 6 p.m. Purchase tickets, $20, here. Take an MBTA Red Line trolley to Porter Square and walk about 20 minutes. Aeronaut Brewing Co., 14 Tyler St., Somerville, is open Tuesday to Friday, 5 p.m. to midnight, Saturday, 2 p.m. to midnight, and Sunday, 2 to 8 p.m.; closed Monday.
This is part of a series featuring Boston nightlife venues of interest to the BU community. If you have any suggestions for places we should feature, leave them in the Comment section below. 
Jennifer Bates can be reached at jennb7@bu.edu.