Does Gender Affect a Person's Attention to Art?
UROP study: men may prefer street art, women museums and galleries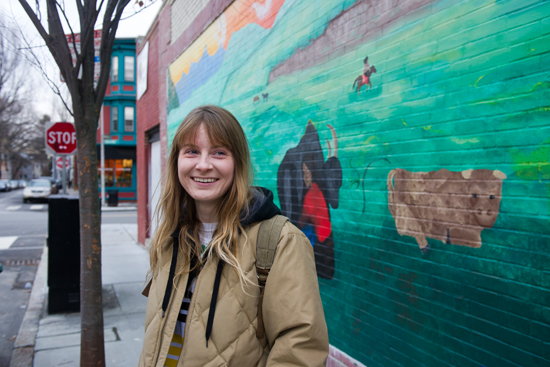 Which would you rather savor: a painting by the Spanish master Goya at the Museum of Fine Arts or the glass mosaic of Masonic symbols gracing the outside wall of the Grand Lodge of Masons in Boston?
Your answer may say less about your artistic tastes than about your gender.
Preliminary research by Emma Kalff (CAS'15) suggests that men might notice and remark on art in public spaces (on buildings and in parks, for example) more so than women. But while women are more likely to stroll by public art without a glance, that stereotype of the guy being dragged along by a gallery-going girlfriend may have some basis: women linger longer over art in privately owned environments such as galleries and museums.
"The difference is much more subtle in public settings than in private settings," where men sprint through while women take their time, says Kalff, whose ongoing Undergraduate Research Opportunities Program study is overseen by two sociologists at the College of Arts & Sciences—Japonica Brown-Saracino, an associate professor of sociology, and Ashley Mears, an assistant professor of sociology.
A sociology major who paints as a sideline and minors in art history, Kalff stresses that this possible gender difference is just that—a possibility—and that more research, which she's undertaking, is needed to confirm and explain it. "Do women walk with others, including children, more often than men," she asks, "and does this limit their ability to focus on public art and make them especially appreciative of quiet moments in galleries and museums?"
Or might it be, as Brown-Saracino speculates, that women "perhaps have to be more aware of their circumstances" in public to keep safe, and thus can't afford distraction by public artworks?
Kalff notes that museums and galleries erect a "hierarchy" that puts art and artists on a pedestal, something that doesn't happen with publicly displayed art. "There are big, detailed paintings in these huge, gold frames, and you have to pay to get in, and there are guards standing there watching you, and there are plaques telling you what the painting means. And that hierarchy is entirely dismantled in public. You can walk by and make your own interpretation of what's going on."
The research was arduous. Kalff compiled a two-inch-thick sheaf of field notes last summer and fall, when she planted herself for two to four hours at a time in 10 public and 10 private art spots—rain or shine—in Boston. Public art sites included the Masonic lodge exterior, the New England Holocaust Memorial, and a sculpture in South Boston, Aqueus Humor, featuring three stainless steel circles with mosaics of marine life and scenes of fishing and shipping. Spectators can spin the circles and thereby cause the images to combine in different ways and change, like a kaleidoscope. (During her hours-long stakeout, only men played spin-the-wheels, Kalff says.)
Kalff's private art locations included three wings each in the Museum of Fine Arts and the Institute of Contemporary Art, plus art galleries in Boston from Newbury Street to Roxbury.
She chose places where she thought she could get a mix of demographic and age groups; choosing sites just in, say, college student–heavy Allston wouldn't do. (Kalff already was aware that studying art observers in a single city limited her research.) Once at a spot, she'd look at the art for herself and record her impressions and scope out the approaches and exits to the work. Somewhat removed from the setting, scribbling furiously, and sometimes facing multiple onlookers to note and record, she had to accept that "definitely, people slip by." But plenty did not get by: she estimates that she took notes on 500 people.
Of course, Kalff doesn't know what people are thinking as they hover over or hotfoot it from different art venues. She'll try to get at that in another part of the research, when she is interviewing a dozen residents, half from Cambridge and half from Roxbury, approached during the morning rush hour at subway stations. Her questions drill into how her interviewees appreciate art in different settings: Have they ever visited an art museum? Do they consider graffiti an art form? What are their immediate thoughts when Kalff shows them a photo of a public mural and another of a painting in a frame? What do they consider the ideal place to display art?
The most eye-catching aspect of public art is its creation, says Kalff, who bases that assertion on a third part of her fieldwork: she herself painted a mural on the side of a rug store (with the owners' permission) in Cambridge, Mass., while noting the reactions of passersby. "After it's created, the landscape completely just swallows it up," she says, "and it becomes kind of unquestioned." Anecdotally, it seemed that more men than women stopped to ask about her work, she recalls.
Kalff says her project spotlights the distance between an artist's vision and the audience that will see that vision represented in oil or metal or glass. "All visual art starts as a seed in somebody's mind, and art is a skill…to close the gap between what is in your mind and what comes out in material reality," she says. "Not only is it difficult for the artist to master that skill, but it's difficult to figure out where to display it."