David Carr, 1956–2015
COM prof and New York Times columnist dies unexpectedly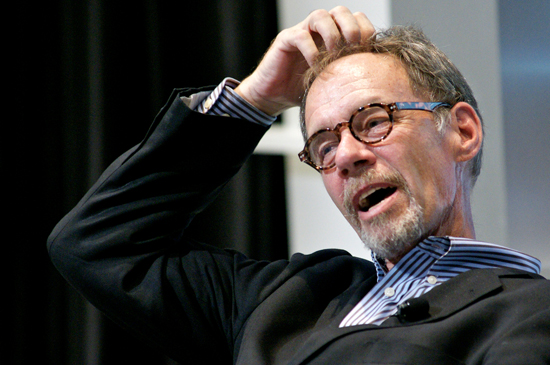 David Carr, BU's Andrew R. Lack Professor and New York Times business columnist and culture reporter, collapsed in the newsroom of the New York Times about 9 p.m. last night, and was taken to St. Luke's-Roosevelt Hospital, where he was pronounced dead. He was 58.
Since he arrived at the New York Times in 2001, Carr had been a business reporter covering publishing, a general assignment reporter, and for the past eight years a media columnist. He attended the University of Minnesota, and was a former editor of the now-defunct Twin Cities Reader and the Washington City Paper. His memoir, The Night of the Gun: A reporter investigates the darkest story of his life. His own, chronicles his personal struggle with cocaine addiction and his recovery.
Carr was the first holder of the Lack Professorship, established with a gift from Andrew R. Lack (CFA'68), CEO and director of the Broadcasting Board of Governors. And even though Carr spent just over a year on the College of Communication faculty, he made his mark on the curriculum by creating a contemporary and entrepreneurial journalism course Press Play: Making and distributing content in the present future.
"David's death is an immeasurable loss to his family, his friends, his colleagues in journalism, and all of us here in COM," says Thomas Fiedler, dean of COM. "He brought unique talents to Boston University and was just at the beginning of what I know would have been a brilliant new career as a teacher and inspiration to his students.
"David designed his course to encourage his students to grab the possibilities created by new communication technologies, to embrace change rather than shrink from it," Fiedler says. "He asked a lot of his students and he gave them even more in return. He was a truly unique individual, one who battled his own demons in ways that were inspirational to the rest of us."
Fiedler (COM'71) has released the following statement, reflecting on the unique circumstances and good fortune in Carr's appointment to COM:
"David came to COM almost as the result of wishful thinking when we were searching for the perfect candidate to become the first Andrew R. Lack Professor. Several of us were at a lunch that Mr. Lack hosted tossing about the names of people who might fit the vision of the Lack Professorship, that is, a person with a unique ability to understand and explain the changes, good and bad, that were occurring in the communication fields as a result of emerging communication technologies. Someone—probably Andy Lack—remarked that the person we were searching for would have to be on David Carr's speed dial; it would have to be a person whom David would call when he was seeking insight into some development. Not in our wildest dreams did we think at that moment that David himself would be interested in this position and would find a way to join Boston University.
We have been fortunate beyond words to have had him here as a teacher, colleague, and friend even for such a short time. Although his work has been cut terribly short, he already has had a profound impact on all of us."
Carr's Times readers knew him as a keen observer of the media landscape and the business and technological forces transforming it. His students and colleagues knew him as a humble, kind, and generous friend and mentor.
I don't know what to feel right now but I will say this. Working with @carr2n has been the most enlightening part of my professional life.

— clinton n. (@voxels) February 13, 2015
Outside of my family, handful of people I'd crawl through shards of glass to help. David was one of them. And i was 1 of thousands for him.

— Seth Mnookin (@sethmnookin) February 13, 2015
David Carr was the most generous journalist I've ever known—nobody more willing to help his brethren. That was only one of his gifts

— Joe Nocera (@NoceraNYT) February 13, 2015
In a discussion last year with Lack and Fiedler, Carr said of his chosen profession:
"The dirty secret: journalism has always been horrible to get in; you always have to eat so much crap to find a place to stand. I waited tables for seven years, did writing on the side. If you're gonna get a job that's a little bit of a caper, that isn't really a job, that under ideal circumstances you get to at least leave the building and leave your desktop, go out, find people more interesting than you, learn about something, come back and tell other people about it—that should be hard to get into. That should be hard to do. No wonder everybody's lined up, trying to get into it. It beats working."
Watch the full conversation below.
A version of this article appears on the BU College of Communication website.
Jonathan Surmacz can be reached at jsurmacz@bu.edu.