GRS Student Remembered for "Kindness, Generosity, and Humor"
Daryl Carr, ex–Peace Corps volunteer devoted to social justice, found dead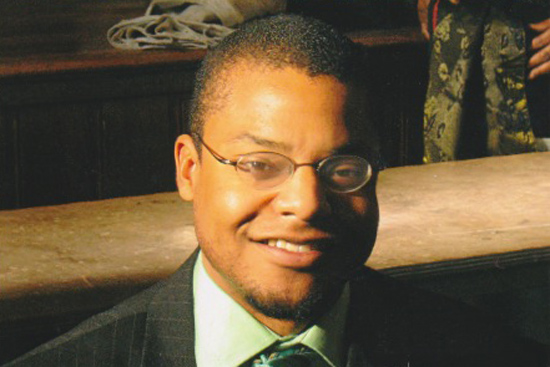 The body of a 30-year-old Boston University graduate student was found early Saturday morning on the Charles River ice beneath the BU Bridge. Daryl Carr (GRS'17), a PhD candidate and teaching fellow studying sociology, was identified by police shortly after midnight. His body had been spotted by passersby near the DeWolfe Boathouse. His death is being investigated by State Police, who say there is no suspicion of foul play and no reason to believe there is a risk to the community.
Carr, a Middle East scholar who spoke Turkish, Arabic, German, and some Spanish, was a teaching fellow in the introductory class Principles in Sociology and expected to complete his PhD in 2017. He graduated from Roger Williams University in 2007 with a BA in political science, before spending two years in Jordan teaching English as a Peace Corps volunteer. In 2013, he earned an MA in Middle Eastern studies from the University of Texas at Austin. His research focused on national identity, state formation, and citizenship laws in Jordan, Syria, and Lebanon.
Carr's advisor, Julian Go, a College of Arts & Sciences professor of sociology, says Carr arrived at BU fluent in Arabic and eager to become a sociologist of the Middle East. Go says Carr hoped to better understand social problems there so he could contribute to the region's struggles for social justice.
"He met this task with determination and commitment, and always impressed me with his sincere scholarly curiosity and his ability to master complicated theories and methods," says Go. "He was a true pleasure to have in class and to work with. He always brought unique insights to the table, whether in the seminar room, the department hallways, or at the BU Pub. But perhaps more importantly, he also brought his kindness, generosity, and humor. His smile was infectious. We will miss him."
Nazli Kibria, a CAS professor and chair of sociology, remembers Carr as unassuming, intellectually intense, and deeply engaged in his work. "He had a very clear idea of his interests," says Kibria, who knew him from the Seminar on International Migration she taught last spring. "He knew where he wanted to take them."
Kibria spoke with Carr last week at a department event, she says, and he told her he was planning to apply for a fellowship to conduct research in Turkey next year.
Brenda Carr, Daryl's mother, says her son had always been gifted and always had a deep concern for social justice. "He was a loving and kind and gentle man," she says. "He was very gifted and very humble, always thinking about things and analyzing things."
Virginia Sapiro, dean of Arts & Sciences, says Carr's death is a terrible loss for the BU community. "It is such a tragedy to lose a bright young member of this academic community," says Sapiro. "It touches all of us in some way. I am especially moved to see how this community comes together—faculty, staff, and students alike—to remember, to grieve, and to give each other peace and comfort."
A celebration of Daryl Carr's life will be held on Saturday, February 28 from 3 p.m. to 5 p.m. at Bell Funeral Home, 571 Broad St., Providence. Support is available for students through the Dean of Students Office, 617-353-4126; from Marsh Chapel chaplains, 617-353-3560; from clinicians at Student Health Services Behavioral Medicine, 617-353-3569; and from Sexual Assault Response & Prevention Center crisis counselors, 617-353-7277. The Faculty & Staff Assistance Office, 617-353-5381, can provide confidential counseling to faculty, staff, and their families.