Commonwealth Shakespeare Company Stages King Lear
CFA alum Will Lyman to star as Shakespeare's tragic king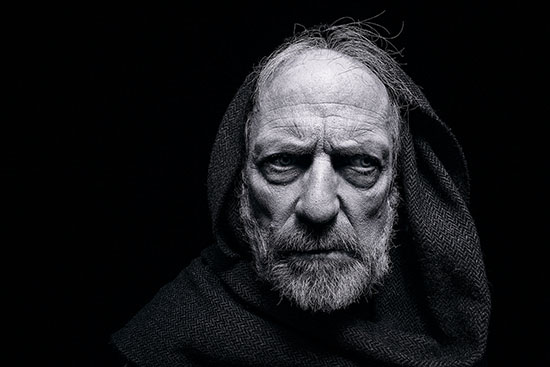 Since its founding two decades ago, the Commonwealth Shakespeare Company (CSC) has become one of Boston's preeminent cultural institutions, best known for its free productions of Shakespeare's plays each summer on the Boston Common.
To celebrate its 20th anniversary, the company is mounting a production of King Lear, starring noted actor Will Lyman (CFA'72), the narrator of the long-running PBS documentary series Frontline. Performances begin tonight, Wednesday, July 22, and continue through Sunday, August 9.
A harrowing depiction of a man's descent into madness after he disperses his kingdom to two of his three daughters and is betrayed by them both, Lear is considered one of the greatest plays in the English language. Lyman has won three Elliot Norton Awards, one of them for sustained excellence, in 2013. He says he has been thinking about taking on the role for at least a decade and was drawn to the play because "it talks about our important connection to the things we know and what happens when those things prove false…and, of course, it's about greed, lust, power, and ultimately, love. It's about who we are."
To prepare for his performance, he says, he did extensive research—reading and rereading essays and interviews from actors and directors who had done the play, as well as such books as Marchette Chute's Shakespeare of London and Neil MacGregor's Shakespeare's Restless World and watching videos on Youtube.
Lyman is no stranger to the CSC, having appeared in previous productions of Hamlet (Claudius), Julius Caesar (Brutus), and The Tempest (Prospero). In addition, he is a member of the company's board. "I love this company, and I love playing on the Common," Lyman says. "There's nothing like it."
"King Lear is one of Shakespeare's monumental plays," says CSC founding artistic director and Lear director Steven Maler. "There's good reason I've waited 20 years to take it on. As with the greatest of Shakespeare's history plays, Lear blends the political and the personal, interweaving a country's destiny with the very human frailties of those charged with shepherding its future. The play reveals what it means to be human—our responsibilities to ourselves, our family, and our fellow human beings."
For those new to the annual Shakespeare on the Common performances, plan to arrive early. Crowds begin gathering several hours before curtain time to get the best views of the stage, which is next to the Parkman Bandstand. An added incentive to arriving early is a jazz concert sponsored by the New England Conservatory that precedes most performances. A complete list of concerts can be found here. Productions are free, but donations to help support future productions are encouraged. You can rent a chair for $5 or bring your own or a blanket. On-site food vendors offer an array of dining options, or bring your own food; alcohol is not allowed on the Common. Mosquito repellent is a good idea and an umbrella in case of rain.
The Commonwealth Shakespeare Company's production of King Lear runs from July 22 through August 9 at the Boston Common's Parkman Bandstand, across from the AMC Loews Boston Common Movie Theater on Tremont Street. Performances are Tuesday through Saturday at 8 p.m. and Sunday at 7 p.m. Admission is free, although a donation of $10 is encouraged. Chair rentals are $5 plus a $5 deposit. Weather may delay or cancel performances. Check the weather hotline, 617-426-0863, Facebook, or Twitter two hours before the show for cancellations. Take the MBTA Green or Red Line to Park Street or the Orange Line to either Chinatown or Downtown Crossing.