Journalist Captive in Iran Given Hugo Shong Reporting on Asia Award
Washington Post writer honored by COM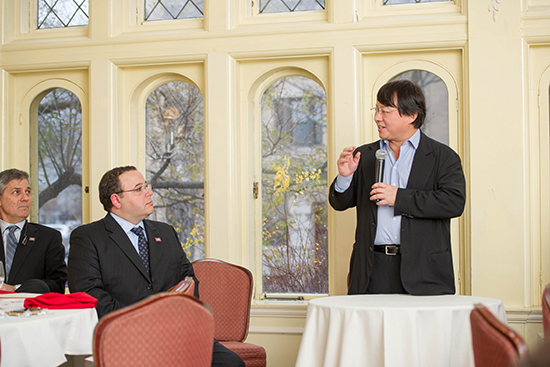 For the last 506 days, Washington Post Tehran bureau chief Jason Rezaian has been imprisoned in an Iranian jail, held on vague charges that include espionage. His employer, his family, and the international journalism community have condemned his imprisonment, contending that the charges are fabricated and his continued detention violates international law. He has now been detained longer than any previous Western journalist in Iran.
Yesterday, Rezaian was honored with the 2015 Hugo Shong Reporting on Asia Award, given by the College of Communication to an individual who has displayed the highest standards of international journalism on matters of importance specific to Asia. This is the sixth time the award has been given since it was established in 2005. Rezaian's brother, Ali Rezaian, accepted the award at a luncheon at the Castle.
"We want to bring your attention to both a tragedy and a travesty," Thomas Fiedler (COM'71), dean of COM, said at yesterday's event. "Our hope is that by presenting this award to Jason, in a small way we can bring attention to this and perhaps lead to a positive result." Throughout the ceremony, speakers commended Rezaian's reporting for giving readers a fuller understanding of what Iranian citizens' everyday life is like; his last story before being imprisoned was about the growing popularity of baseball in the country.
In July 2014, Rezaian and his wife, Yeganeh Salehi, were arrested at their home in Tehran, charged with espionage, and imprisoned. While Salehi was released after 72 days, her husband was tried in May and convicted in October, and he remains in a Tehran prison—at times in solitary confinement—based on charges that have never been made public, and facing a sentence that has not been announced. Rezaian has been able to meet with his wife and mother a few times a week, but his supporters say they are worried about his physical and mental condition.
Speaking to a crowd of journalists, professors, and students, Ali Rezaian said his brother was aware he had received the COM award. He thanked those in attendance and said that the last 17 months he's spent campaigning on his brother's behalf would not have been possible without support from journalists, politicians, and activists from around the world.
"While journalists investigate and report the truth, the fact is in many parts of the world this is seen as an unacceptable threat to governments and other power centers," Ali Rezaian said. "While we here in the United States and the Western world often take for granted that following the law and reporting the truth is safe from prosecution and persecution, in many parts of the world, these facts are irrelevant."
He said that his brother had expressed concern in the past that Western media were perpetuating stereotypes at the expense of the Iranian people, and in doing so, have kept readers from understanding Iran's complex society.
Rezaian's boss, Washington Post foreign editor Douglas Jehl, spoke at the ceremony. "Among the tragedies at this critical time in history," Jehl said, "is also the fact that his voice, which is so important, has been silenced."
After Ali Rezaian and Jehl spoke, Fiedler moderated a brief discussion. He asked Jehl whether he believed the Obama administration has been doing enough to help the imprisoned journalist. "We've been grateful throughout for the public statements that the US government has made," Jehl responded. He noted that during the first year Rezaian was detained, the United States and Iran were meeting regularly to negotiate a fair deal. "But whatever they're doing isn't working," he said, "and there is more that can and should be done from the highest levels of the US government to convey a sense of outrage and convey to Iran that there must be consequences for this kind of activity."
A professor in the crowd asked what the Washington Post was doing to publicize Rezaian's case. Jehl said that confronting a government that is "behaving badly" is a tricky decision, because increasing public attention "risks raising the value of the hostage." He said that for months his paper's response was subdued, but that when it was clear that wasn't working, they had to ramp up their efforts to get Rezaian released. Over the last month, for instance, the news ticker outside the Post's headquarters has shown only the number of days that Rezaian has been imprisoned.
At the end of the event, BU trustee Hugo Shong (COM'87), executive vice president of the International Data Group, said he was touched when Fiedler told him that Rezaian was the recipient of this year's award, adding that when the journalist was released, he would like to hold another ceremony to present the award to him in person.
"Journalists don't get too many financial awards," Shong said, "but they really help make the world better, so they deserve recognition."
Interested in helping Jason Rezaian? Use the hashtag #FreeJason on Twitter and sign the petition here.