BU Adopts Opt-Out Open Access Policy
Follows 23 AAU peers, affirms widest sharing of faculty research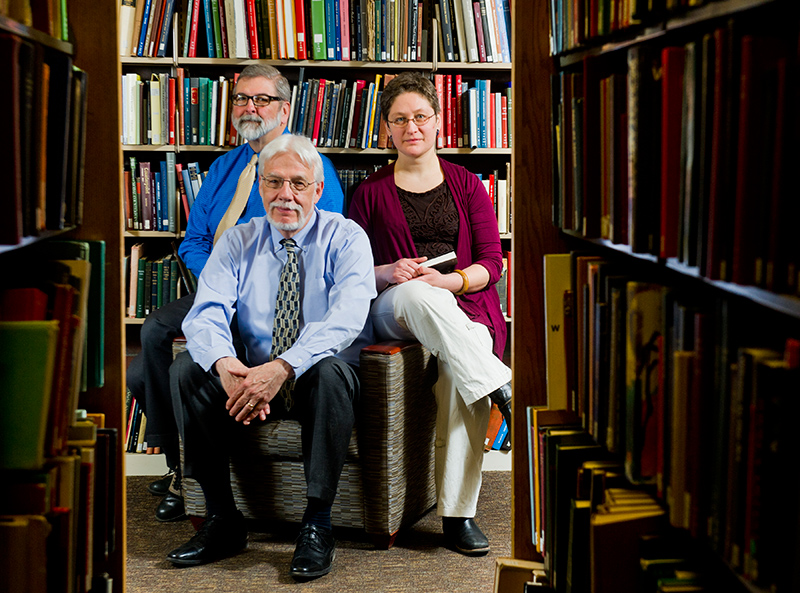 Following the example of 23 of its peers in the Association of American Universities (AAU) and strengthening its commitment to the widest possible online sharing and dissemination of its research and scholarship, Boston University has adopted an Opt-Out Open Access policy for faculty scholarly articles. The policy, which was recommended by the Faculty Council and approved by the University Council, went into effect in mid-February.
"Moving to an 'opt-out' policy for archiving our scholarly work is an important statement by the faculty on the importance of the dissemination of our research results for the public good," University President Robert A. Brown wrote in a recent letter to the faculty. "I hope that we embrace this change and make self-archiving a part of the culture at Boston University."
In 2009, the University adopted an "opt-in" Open Access Resolution and committed to establishing an institutional repository for archiving material that would be freely available to anyone with access to the internet. Today, that repository, OpenBU, contains over 1,400 scholarly articles. Well over 4,000 scholarly papers are published annually by Boston University faculty, according to Vika Zafrin, institutional repository librarian at Mugar Library.
"BU faculty engage in research and scholarship to stimulate discovery, foster innovation, and solve society's most pressing problems," says Gloria S. Waters, vice president and associate provost for research. "Communication of results is an essential component of the process that benefits our students and faculty by accelerating the pace of discovery, facilitating collaboration, and enhancing visibility. This policy reinforces our commitment to sharing and disseminating the work of our faculty in the widest possible way."
Judging from the experience of other institutions, the opt-out policy will significantly increase the number of scholarly articles in OpenBU. "We're here to help the faculty distribute the products of their scholarly research as widely as possible," says Jack Ammerman, associate university librarian for digital initiatives and open access. He adds that he and Zafrin will assist faculty in navigating any issues, such as copyright, that may be involved with archiving their work on OpenBU. (For information on the new policy, how the repository works, and open access in general, click here).
James Schmidt, a BU College of Arts & Sciences professor of history, philosophy, and political science, and a scholar of European intellectual history, says Zafrin helped him create a portfolio of his own articles on OpenBU.
"As someone who works on the Enlightenment, I have a natural sympathy for the idea of the greatest possible distribution of knowledge," Schmidt says. Open access, he adds, also benefits him as a scholar. "I would like to have as broad a readership as possible," he says, "and I think paywalls tend to prevent that, at least for certain independent scholars or scholars at universities that cannot afford all the luxuries that we have at this University in terms of subscriptions to JSTOR (an academic database) and Project MUSE (a database of humanities and social sciences articles)."
Opt-out open access policies, which are being adopted by an increasing number of universities (Harvard University and the Massachusetts Institute of Technology became the first two AAU members to adopt the policy) and journals as well as by charitable foundations and by funding agencies such as the National Institutes of Health, is intended to make scholarly work freely available to anyone with an internet connection, free of charge and free of most copyright and licensing restrictions.
The movement for open access has been bolstered by the spiraling subscription rates for scholarly journals and other serials that increasingly burden BU and other university libraries. "What libraries provide is open and free access to the scholarly record for the University community," says Robert Hudson, university librarian. "We connect faculty, students, and researchers to information in the most efficient way. We gather information, or provide access to it, by building collections or connections for the University."
"However," he adds, "we are paying enormous amounts to provide that access. Increasingly, information has become a commodity in many disciplines, where publishers exercise exclusive rights gained in agreements with authors. We're buying back the research that has been done at the University for use, in some cases, by the very faculty or researcher who authored the article."
A report by the Association of Research Libraries, which represents 125 university research libraries in the US and Canada—including BU—found that between 1986 and 2012, expenditures on subscriptions for journals and other serials had gone up 456 percent, or more than four times the consumer price index.
Some numbers for BU:
University-wide expenditures on library materials for fiscal year 2014: $11.5 million.
Eighty-five percent of the total, or $9.775 million, goes for periodicals and serials.
Of the amount spent on periodicals and serials, 90 percent (or $8.8 million) pays for electronic access.
BU subscribes to about 53,000 journals and serials, of which only 5,000 arrive in paper format.
Under the opt-out policy, deposits into OpenBU of final author manuscripts of peer-reviewed and other scholarly articles would be the default, and open access to the materials a matter of course unless a faculty member opts out by completing a waiver form on a per-article basis. Such waivers would be granted automatically.
Megan Sullivan, associate dean for faculty research and development at BU College of General Studies and an associate professor of rhetoric, is a supporter of the new policy. "I guess I can see how people could have various feelings about this—some might be afraid of a 'Big Brother' kind of thing—but I don't think that this is what this is about," she wrote in an email. "I think it is consistent with what BU is trying to do in general (i.e., One BU, let others know what we do, etc.)."
For the most part, scholars and researchers write scholarly articles without payment. They are motivated, not by money, but to share knowledge, establish a reputation, gain grants, and to build a record of publications and citations that is essential for promotion and tenure.
"The reason authors like open access is that we get so many more readers," says David M. Ozonoff, a BU School of Public Health professor of environmental health and cofounding editor of the open access journal Environmental Health. "And it's very good for the University because it means that BU's scholars will be able to be widely read and that their work will be accessible."
"Open access is good for the researcher as they're looking for external information they need in the course of their work," Zafrin says, "and also as they're disseminating the original work they've produced. Recognition, citation, and impact on the field play a role on both sides of that. With open access, someone can discover your work on the other side of the world. It connects you to a lot more people. It gets you more collaborations. In addition to all of that, it's good for BU on many levels to showcase our entire scholarly portfolio. These levels include but are not limited to PR and benefit to society."
Traditionally, authors submit their articles to journals, which send them out for peer review that in most cases is unpaid. The author subsequently makes revisions. The journal then copy edits the article, and formats and distributes it. Journal publishers have depended on subscriptions to cover the costs of printing, marketing, and distribution of scholarly papers. The journals control access to the published papers because they often hold exclusive copyrights.
Zafrin notes that the journals "obtain copyright from authors, who are in many cases unaware that this part of the contract is negotiable, and that partial rights may be assigned in lieu of transferring copyright to a publisher wholesale." She adds that the policy "creates a preexisting condition to contracts that faculty sign. Even if the author transfers the article's copyright to the publisher in the course of contract negotiation, that is subject to BU's preexisting license." (For more information on Open Access at BU, click here).