Bible 101 for Children
Part of Marsh Chapel intern program for students considering ministry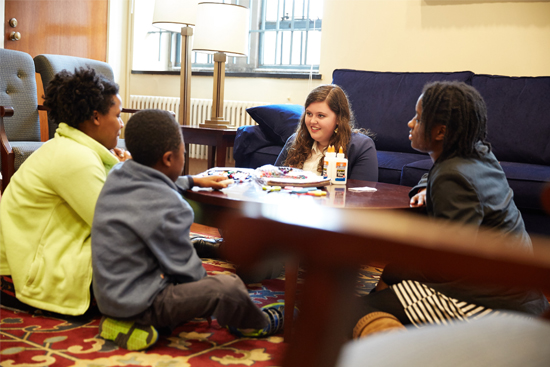 The sibling trio clustered on the basement floor with Jaimie Dingus had just read the parable of that most ungrateful child, the Prodigal Son. Dingus (CAS'17) teaches Marsh Chapel's Sunday religious education program for kids of the adult worshippers in the chapel upstairs, and she wanted to tease out the story's moral.
How do you suppose the obedient older brother feels about the lavish feast the father throws for his penitent child? she asked. "Jealous," replied 13-year-old Cierra Brown. "I would be mad at my brother and kind of mad at my father," agreed Dingus. "But I think if we remember that Jesus teaches us that we love our neighbor, in this case our neighbor is the son who made the mistake and spent all the money. And Jesus taught us that even though he made a mistake, we still have to forgive him and love him anyway."
Markers, scissors, glue, and paper spill across the coffee table, and the children then turn to create a craft based on the story: drawing a picture of the father as he joyfully hugs the returning son. Cierra's seven-year-old brother, Ellis, added some nonbiblical flourishes to his. ("I don't think he stuck his tongue out at him," Dingus chuckled.)
As she does most Sundays throughout the academic year, Dingus put the children—there are often more attending than just this one family—through a drill of opening prayer, chitchat about the past week, Bible story and lesson, craft, and closing prayer. They did this under the gaze of Howard Thurman (Hon.'67), Marsh Chapel's iconic dean from 1955 to 1966—the first black dean of chapel at a major American university—whose portrait hangs on the wall. Thurman ran a children's religious education program in his day, a discarded tradition at Marsh, staffers say, until Dingus resurrected it in 2013 through the chapel's undergraduate internship program for students contemplating ministry or lay religious work.
Dingus, who plans to become a Unitarian Universalist minister, is building on her experience as a summer camp counselor back home in Virginia. "I love to work with kids, and my mom was director of religious education at my home church," she says. Religious education "was something that I felt I could do well and would be a really fun and meaningful use of my time."
The ministry discernment internship is overseen by the husband-and-wife team of the Rev. Jennifer Quigley (UNI'08, STH'11) and Rev. Soren Hessler (UNI'08, SED'11, STH'11,'18), chapel associates at Marsh. The four interns chosen annually (some stay with the program more than a year) are paid $10 an hour for 10 hours of work a week. Another intern this year helps with Marsh's Sunday liturgy and is exploring creating a Lutheran campus group; a third works with the chapel's LGBTQ ministry; and the last assists Marsh's Interfaith Council, a multidenominational discussion and service group.
The internship is open to students of any denomination, Quigley says; of the dozen who've gone through since the program's inception, four were Methodist, two Catholic, two Unitarian Universalist, and four a smattering of other denominations. "We really are committed to this and think that there's something special that happens when you bring people from different denominational backgrounds together," Quigley says. "We think that people do better, learn more, and learn how to articulate their own faith tradition better when they're working with one another."
Interns meet with Hessler one-on-one weekly for theological reflection and to discuss their internship. They also meet regularly as a group with Quigley, for sessions ranging from different religions' rituals to preaching to financial literacy for students facing seminary tuition. Because interns help with Marsh's Sunday service, they've all been Christian, although Quigley says Marsh is open to non-Christian interns who would be comfortable assisting the chapel's worship.
"This internship has helped me discern ways that I can be involved in religious life and worship planning as a layperson," says Kasey Schultz (CAS'17). A Lutheran, she works with Lutheran chaplain Jessica Chicka (STH'07,'11,'17) to organize weekly vespers.
The program has reinforced Dingus' desire to join the clergy and "to have a large, successful religious education program at my congregation" once she's ordained, she says. "It's always good to have practice and experience working with children. It gives me another thing that I can do, that I'm good at" in that church of the future.
Angela Brown, whose children attended the Prodigal Son class, appreciates what an intern does as well. "It gives the children a sense of belonging," she says. "They can come to church, and there's something there for them they can enjoy that's geared to their level."