After 24 Years, Ann Howard Jones to Leave Podium
A legacy of accolades, glorious music, and gifted protégés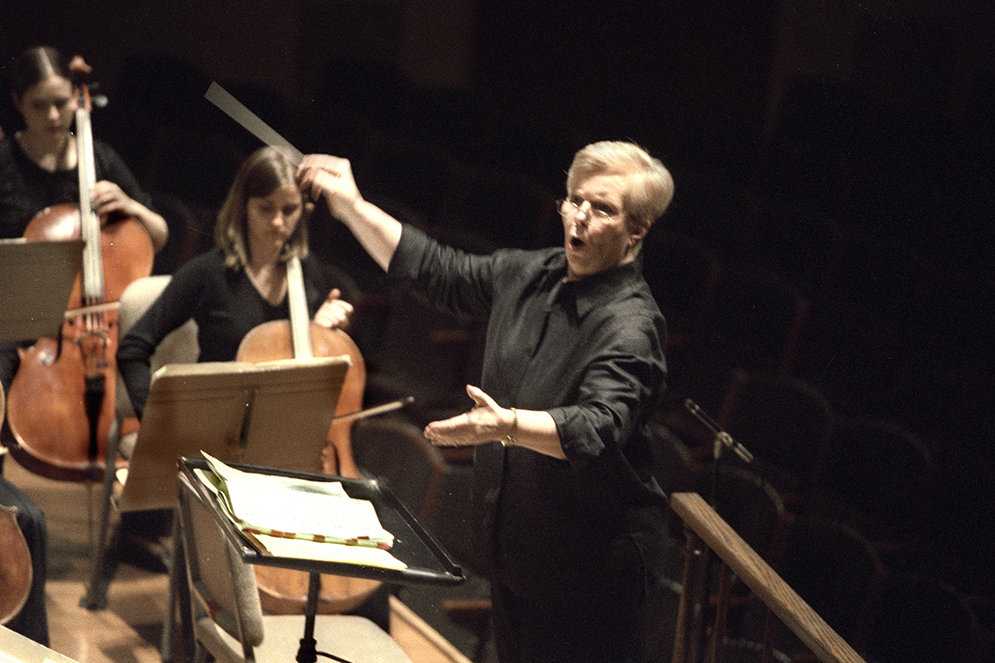 There is a crop of young, passionate choral conductors currently working across the United States who have something in common beyond their love of the canon of Bach, Verdi, Brahms, and Britten: they are protégés of Ann Howard Jones. After nearly a quarter century as a College of Fine Arts professor and director of choral activities, Jones will spend one last summer leading a chorus of gifted high school students at the BU Tanglewood Institute (BUTI) before becoming a professor emerita and laying down her baton. But she plans to keep it handy. In the coming academic year, she will return to teach and conduct on invitation, when her schedule allows.
That schedule, at least for a while, will mean a spell of much needed downtime alternating with much longed for travel. "I'm hoping I can rest up enough and get the wanderlust out enough so I can organize a writing project or two," says Jones, who was given an engraved glass bowl at her last turn at Boston's Symphony Hall podium in April, when the BU Symphony Orchestra and BU Symphonic Chorus performed Gustav Mahler's Symphony No. 2, often referred to as the Resurrection Symphony.
"Professor Jones revivified choral music at BU on her arrival some 24 years ago, bringing the Symphonic Chorus into prominence and attracting singers from every unit of the University," says Richard Cornell, director ad interim of the School of Music and a CFA professor of music. Cornell refers to his colleague as "a national force for choral art. With regular annual concerts in Symphony Hall, she has brought the experience of great choral music to thousands. At the School of Music Professor Jones established one of the finest graduate choral conducting programs anywhere and trained a new generation of brilliant conductors, many of whom now hold important academic or professional positions. The work of that new generation of choral directors now extends her legacy. Her shoes will be very hard to fill."
Among Jones' long list of professional honors are the Robert Shaw Award, presented by the American Choral Directors Association in 2011, and more recently, the 2014 Distinguished Service Award from Chorus America. In 2003 she was the recipient of a Metcalf Award for Excellence in Teaching, one of BU's highest teaching honors.
Although known to the greater BU community for presenting a classical symphonic choral repertoire, from the stirring requiem masses of Verdi and Brahms to Haydn's oratorio The Creation, Jones has been an innovator. In addition to launching the CFA choral conducting program, she and her colleagues decided last year that instead of a big chorus all the time, "we'd carve that chorus into small groups, madrigal, duets, trios, quintets, and for big concerts they'd sing all together," Jones says. "It's been extremely successful."
Jones' close friend and longtime colleague Scott Allen Jarrett (CFA'99,'08), Marsh Chapel director of music and School of Music director of choral activities ad interim, came to BU in 1997 as a master's student in conducting. "Though Dr. Jones had only recently established the graduate degrees in conducting at BU," Jarrett says, "her regard and reputation as the very best in our field was enough to make BU my only choice for graduate study."
He recalls clearly their first meeting. "It was early December 1996 at the Houlihan's restaurant across from the Woodruff Arts Center in Atlanta. Dr. Jones was commuting weekly in those days, assisting Robert Shaw (Hon.'94) with regular preparations with the Atlanta Symphony Orchestra and Chorus. She kindly agreed to meet me in advance of a Messiah performance, and over a generous three hours, plotted the course of the rest of my life on a paper napkin. That course would include assisting her at BUTI the coming summer and serving as her rehearsal assistant and accompanist for the next five years at Boston University." (Jarrett would officially audition at BU later that winter.) "Now," he adds, "nearly two decades later, hardly a rehearsal, performance, or meeting passes without the voice of Ann Howard Jones in my ear.
"She has a singular sense about people and can recognize the 'stuff' of them in an instant," he adds. "What may not yet be present musically and emotionally, she can cultivate at just the right pace, challenging students and helping them to discern and align passions with skills and abilities."
"The best, the brightest, the most talented"
A handsome woman with cropped white hair, who favors simple, tailored clothing, Jones possesses a gravitas that commands students' respect and a playfulness that earns their affection. When she speaks of her students, her face lights up. "If Boston University could have been more fortunate, I don't know how," she says. "We have the best, the brightest, the most talented. I never had to lower my standards. My students came up to whatever level I wanted to extract. If we can teach it to them and let them know what they're capable of, they always measure up." And Jones has always been emphatic about the school's uncompromising demands. "If you think majoring in music is about Glee, and you don't get that it's intellectual," she says, "once you hit the ground with music theory at 8 a.m., you think, whoa—you're going to get BU's rigor as a music major."
This clarity extends to her leadership within the faculty and the work of the greater University. "She's keenly aware of, and ardently promotes, matters of academic integrity and institutional values. Her experience in our country's finest performing arts and higher education institutions has forged a prescience and wisdom that serves to lift every conversation," says Jarrett. And further, she is a musician who models "elegance, integrity and discipline—from her signature conducting gesture to the refinement of her rehearsal pacing and planning to the thrill of the moment of performance."
One thing that helped make BU a perfect fit for Jones is the fact that her conducting colleague David Hoose, a CFA professor of music and director of orchestral activities, "stepped aside so graciously to let me conduct a mainstream performance once a year—no discussion," Jones says. "He's unlike almost everyone else. We have good friends who are choral conductors at other schools who say, 'How come I can't do that?'"
The reason, she says with characteristic frankness, is that "the guy who's the orchestra conductor would never let me, a woman, conduct." It's been "enormously empowering." She often hears from former students bemoaning how few women are conducting the number of major 18th-century works she has conducted. "Other places just fade in comparison," Jones says.
"Few in our field wield the baton as skillfully as Ann," says former conducting student Michael McGaghie (CFA'05,'10), now an assistant professor of music and director of choral activities at Macalester College. "Her gesture synthesizes elegance, command, clarity, and idea. Just watching her work is a conducting lesson unto itself. When preparing my own music, and thinking about how to show various things, I often find myself asking, WWJD? (what would Jones do?). I still marvel at how expressive she can be at 40 beats per minute—it's not easy. Ann's technique is so good because her underlying musicianship is stellar. Every motion she shows from the podium stems from her knowledge and sophisticated interpretation of the score." McGaghie recalls singing Benjamin Britten's War Requiem: "From the first rehearsal, it was immediately clear that Ann knew this incredibly complex piece inside and out, as though she'd composed it herself."
Treating everyone with gracious respect
Jones' retirement comes at a time when career opportunities for musicians and conductors, professions that have always been fiercely competitive and for most a labor of love, have been thinning to crisis levels. Many opera companies are folding and a number of orchestras report being more financially strapped than ever before. But BU continues to attract high-quality vocal performers and conducting students, says Jones. She has seen a change in demographics during her tenure at BU, with "fewer kids willing to stake their futures on a career like this—but I'd say we have higher quality and smarter, if fewer, students." Conducting students come to BU with a considerable amount of musical experience, she says, "attracted to our substance and quality." And students who graduate from the program get jobs, so "the word is out that it's a quality program."
"Ann modeled professionalism for us," says McGaghie. "She showed us how to work together as musicians and colleagues. She treats everyone with gracious respect—students, faculty, total strangers."
After earning a bachelor's, a master's, and a doctorate in music at the University of Iowa, Jones' first job was teaching music at a community college in California. "I was engaged to my husband-to-be and thought, I'll do this for a year," recalls the conductor, who up until then had never ventured west of the Missouri River. She had majored in vocal performance and music education; not only were there no degrees offered in conducting, but at the time she just assumed that a conducting career was out of her reach. "I was prepared to be a music teacher. That's what I thought people did when they studied music," says Jones, who went on to become a Fulbright Scholar.
Back when she learned how to conduct, the discipline was honed through observation and imitation. She's seen her share of flamboyant characters and their theatrical gesticulations, but leans toward conductorial restraint for herself. She began at the podium as an apprentice, but these days, she says, there is a pedagogy of conducting: "We know which gestures are effective; the basics are there to be taught."
Before arriving at BU in 1993, Jones says, choral music here was almost an afterthought. If CFA wanted to do the Mozart Requiem, an easel was put out on the building's sidewalk urging singers to sign up. She came with the tacit understanding that at that time BU was a solo place, geared toward grooming opera singers.
"I started with only a symphonic chorus. There was a great orchestra at BU and I thought, we could showcase a chorus with a big orchestra faster than we could get a small choir finessed to the finest detail. For a year all we did was symphonic chorus, and then the faculty said, don't you think students could benefit from a smaller chorus? and I said yes. I didn't even have to push it."
Now, as she prepares to step away from the podium after nearly two and a half decades, colleagues say her legacy will continue to be felt by those whose lives she's touched. "For those of us who are privileged to number Ann Jones as a friend, we cherish that quality that brightly beams to even the most remote seat in Symphony Hall," says Jarrett: "an unbridled joy for the life worth living and the urgent cultivation of beauty in all things."