Take Your Mind Out for a Spin
Thurman Center program for intellectual, curious students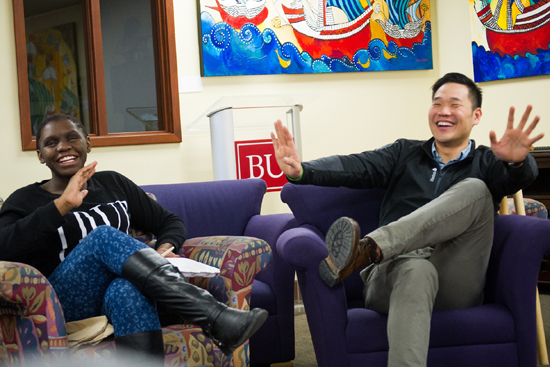 Imagine that all men are gone. Fathers, brothers, uncles, boyfriends—gone. In the course of a night, every Y chromosome–carrying human male has ceased to exist, vanished into thin air. So, what's next?
That was the topic of discussion at a recent gathering of Agora: The Mind Market, a weekly open-forum discussion series hosted by the Howard Thurman Center for Common Ground. Agora meets most Fridays, inviting students to engage in thought-provoking dialogue about topical issues.
The topic, titled The Extinction of Man, has been inspired by an article in The Guardian by Bryan Sykes, a professor of human genetics at the University of Oxford, arguing that the Y chromosome (which determines sex in many species) is deteriorating and will disappear altogether in about 125,000 years. The article, first published in 2003, has continued to send shock waves around the globe and has gone viral. Sykes predicts the number of genes in the Y chromosome will continue to decrease until males no longer exist.
"Rather than get into the nuances of science, let's think about what would happen if tomorrow we woke up and all men were gone," says Agora founder Christian Cho, assistant director of the Howard Thurman Center, to the dozen plus students gathered. "What would it look like socially?"
An underground sperm black market, the acceptance of hairy legs, communes of women raising children together, and humanoid sexbots are just a few of the scenarios put forth. While those initial musings might sound comedic, they lead to serious discussions about the possible rise of eugenics, changes in standards of beauty, the questioning of pair bonding in relationships, and whether the taboos surrounding sex would vanish in a world where heterosexuality is no longer an option.
What would US leadership look like? One student hails the end of patriarchy, another googles who our new Commander-in-Chief would be if there were no men. In case you were wondering, one of the two highest ranking female cabinet members, Penny Pritzker, current secretary of commerce, would be president and the other, Kathleen Sebelius, now secretary of health and human services, would be vice president.
Some theorize about what the impact would be on other aspects of society, such as the entertainment industry, with one saying that we'd return to the practice of acting current in Shakespeare's time, where men played all roles—but instead, it would be women taking on male roles.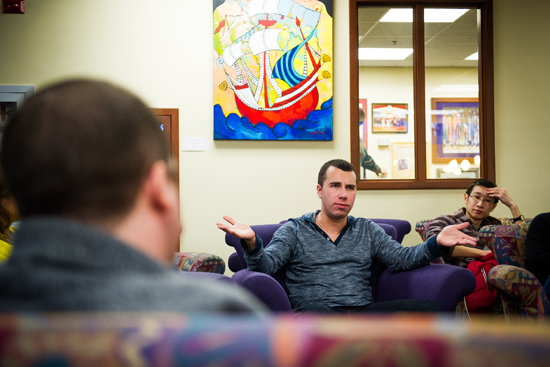 Most of the Agora discussion topics are inspired by current headlines. "It's really all over the place. It depends on what's going on in the news," says Cho, who leads the event. New Jersey Republican Governor Chris Christie's recent Bridgegate scandal inspired Does Power Corrupt? and Halloween offered an opportunity to explore the ethics of racially stereotypical costumes with Appropriate Appropriation. Most recently, the dramas of the Winter Olympics—among them Russia's antigay legislation and the culling of stray dogs in Sochi—prompted Controversies of Olympic Proportions. Topics range in both gravity and genre and are announced a few days in advance on the program's website.
Cho started Agora a year ago to fill the void left by the cancellation of Coffee and Conversation with Dean Elmore, a weekly forum held by Kenneth Elmore (SED'87), dean of students. "I heard from students that they wanted a space where they could have open discussions," Cho says. The event's title comes from ancient Greece: the agora was a central location where people gathered to discuss important topics.
Compared to its predecessor, which often drew standing-room-only crowds, the conversations at Agora take place among a much smaller group, 12 to 15 students, comfortably filling the center's couches.
"Coffee and Conversation was so big—it was less of a conversation. The vibe here is totally different," says Julian Haller (SED'14). The group's size allows for the easy sharing of ideas among interested people with varied opinions. Everyone gets a chance to share thoughts without having to raise a hand. No one protests during the world without men conversation when one student says, "Hold on, let me jump in here." Everyone's ideas are welcome, even if they result in disagreement.
"We definitely get passionate, but no one hates each other," says Matt Clarkin (CAS'14). "You can hash things out and have a rational conversation."
"The students are very welcoming and excited to see new faces with fresh opinions," Cho says.
Agora is just one of several programs offered by the Howard Thurman Center. Among others are Tea Time, Courageous Dialogue, and a book club, which encourages students to explore literature and exchange opinions about what they've read.
Agora's casual structure—students often arrive late or pop in for just part of the conversation—makes it accessible. "You leave with your mind completely split open and a new perspective on things," Haller says.
Agora: The Mind Market meets most Fridays, from 3 to 5 p.m., in the Howard Thurman Center for Common Ground, George Sherman Union, 775 Commonwealth Ave., lower level. There is no meeting today; the next session is Friday, February 28, with a discussion titled The Moral Responsibility of Pop Artists. A list of past and upcoming conversation topics can be found here. All are welcome.
Paula Sokolska can be reached at ps5642@bu.edu.