Saying Goodbye to BU's Former "First Lady"
Jasmine Chobanian remembered as a patron of the arts and humanitarian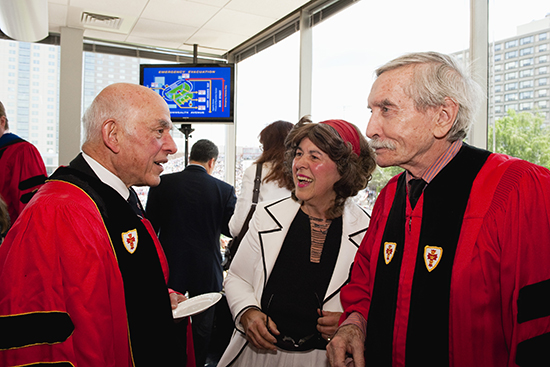 Jasmine Chobanian, who was regarded as the "First Lady" of Boston University during the many years that her husband Aram V. Chobanian, MD, served in University leadership, both as dean of the School of Medicine and the ninth president of Boston University (2003–2005), died last Friday after a brief illness.
"Jasmine was our beloved first lady of the Medical Campus," says Karen Antman, provost of the Medical Campus and dean of the School of Medicine. "She was a smart, savvy, warm person who started out life in the technical sciences but clearly also was deeply committed to the arts. We on the Medical Campus will miss her."
Jasmine Chobanian was a much-loved patron of the arts and a humanitarian. She served on the board of trustees of Boston Ballet and was active in efforts to provide aid to the people of Armenia. In November 2005 the University's Women's Council announced the establishment of the Jasmine Chobanian Scholarship Fund and sponsored a gala honoring Chobanian for her many contributions to the University. Boston Ballet dancers Melanie Atkins, Pavel Gurevich, Roman Rykine, and Larissa Ponomarkenko performed selections from The Nutcracker, and then-provost David Campbell sang four lieder, accompanied by his wife, pianist Claude Hobson.
"Jasmine was a vivacious and caring emissary for Boston University, as she supported Aram in his roles as longtime dean of the School of Medicine and then president of Boston University," says President Robert A. Brown. "The University has lost a true friend."
A graduate of Brown University, Chobanian was a talented painter, and studied with Conger Metcalf at the Boston Museum School, now the School of the Museum of Fine Arts, Boston. She worked for many years as a researcher at Thorndike Memorial Laboratories at Boston City Hospital. Chobanian is being remembered by friends as someone who lived life to the fullest: a world traveler, voracious reader, fascinating raconteur, nature lover, bird watcher, and sports fan.
Caroline Apovian, professor of medicine and pediatrics at the School of Medicine, says Chobanian "was at the center of the movement on the Medical Campus to unite the arts and the sciences. She encouraged many of the faculty and students to pursue their creativity, specifically in music, but also in the other arts as well. She will be deeply missed by many."
Robert Witzburg, associate dean and director of admissions at the School of Medicine says Jasmine Chobanian was a remarkably warm and caring person. "She had her own presence at BUSM and the University, quite independent of her prominent husband, Aram," says Witzburg. "Her smile would light up a room, and she had that rarest of attributes: the ability to respect everyone she met and to instantly put them at ease. All of us who were privileged to know Jasmine will miss her dearly."
Jasmine Chobanian was born in Pawtucket, R.I., the daughter of the late Charles and Zabel (Russian) Goorigian. She is survived by her husband of 59 years, Aram V. Chobanian (Hon'06), president emeritus of BU, and their children, Karin Chobanian Torrice of Natick, Mass., Lisa Chobanian Ramboeck of Bronxville, N.Y., and Aram Chobanian, Jr. of Brookline, Mass. She is also survived by her grandchildren, Marc and Vanessa Torrice; her sisters Nectar Lennox of Cumberland, R.I., and Marie Vartanian of Agawam, Mass.; and her sister-in-law, Ruth Chobanian of Cambridge, Mass., as well as a large number of nieces, nephews, and friends.
Funeral arrangements are being made through the Bedrosian Funeral Home, 558 Mt. Auburn Street, Watertown, Mass. A wake will be held at St. Stephen's Armenian Church, 38 Elton Avenue, Watertown, Mass., tomorrow, Tuesday, July 29, from 4 p.m. to 8 p.m. Funeral services will take place on Wednesday, July 30, at 11 a.m. at St. Stephen's Armenian Church. Burial services will be private.
In lieu of flowers, contributions may be made to the Chobanian Scholarship Fund at Boston University School of Medicine, c/o Development Office, 72 East Concord St., L219, Boston, MA 02118; St. Stephen's Armenian Church; or The Fund for Armenian Relief, 630 Second Ave., New York, NY 10016. A memorial service to celebrate her life will be held in September at a date and place to be announced.