Santander Extends Funding for BU Public Health Fellowships
Agreement also fuels internships for BU sophomores
Ana Aguilera spent the spring dodging landslides and screening coffee plantation workers in Peru for cervical cancer. Peter Hynes worked all summer traveling dusty roads in Tanzania to improve water resources for rural villagers. Erika Crable returned just weeks ago from studying the impact of the dual health scourge of obesity and type 2 diabetes on the Mexican economy.
Although these School of Public Health students were in different countries studying different aspects of public health, all had in common a fellowship program that has helped them and more than 150 of their peers study abroad and gain essential career experience they describe as inspiring and transformative.
Over the past four years, a collaboration between Boston University and Santander Universities, a division of one of the world's largest banking firms, has nurtured public health study in 29 countries as well as an advanced physics research partnership between BU and the National University of Singapore and cultural exchange and literacy programs here in Boston.
On September 4, representatives from Santander Bank N.A. and BU signed a three-year extension and expansion of a 2010 agreement to provide support for student fellowships and research projects.
"We're delighted that our support has helped so many students learn firsthand about health programs in other countries," says Roman Blanco, president and CEO of Santander US. "We're excited to build upon our relationship with Boston University by adding new components. These will allow even more students to participate in these invaluable international study programs."
Half of the grant signed last week will continue funding the Santander Fellows Program, which currently provides about 45 annual stipends in three programs: for low- and moderate-income students, for students pursuing health care research in Latin America, and for a field practice program in Kenya.
The practice opportunities are critical for SPH students, who are required to spend at least one semester on an intensive practicum to gain firsthand knowledge. The costs can be daunting for students interested in global health. The stipends often pay the bulk of airfare, ground transportation, and housing for the semester-long practicum.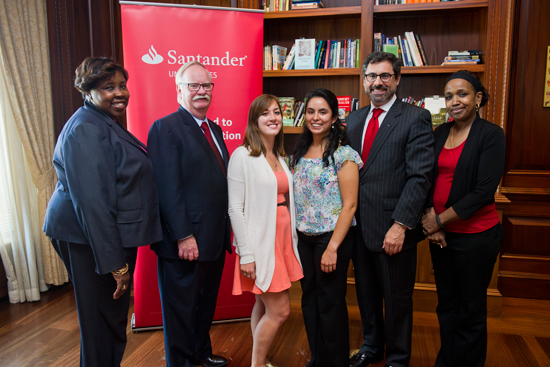 Another grant will launch the Santander Sophomore Summer Internship Program, a new initiative to expand opportunities for BU undergraduates to gain workplace experience and improve their readiness for the labor market. At the heart of this program is a career development workshop to prepare students for their summer experience, as well as student stipends to fund unpaid internships.
Students increasingly seek internships earlier than the traditional junior or senior year to gain a head start in selecting a career path and a better sense of which classes are best suited for that journey. The internship program will provide a well-timed boost to those efforts; the BU Center for Career Development currently recommends that students hold off until after freshman year to begin the internship hunt. The new agreement also includes seed fund to enable Santander and BU to identify new projects and collaborations over the next three years.
Aguilera (CAS'13, SPH'15) spent the first four months of 2014 in northern Peru working with a team sponsored by Grounds for Health, a nongovernmental organization that promotes health programs in the world's coffee-growing regions. While conducting cervical cancer screening and treatment programs, she learned how to navigate through a variety of private and public-sector entities, including the Peruvian Ministry of Health, three national coffee cooperatives, and more than 15 coffee-growing communities.
"Through all the landslides, endless government paperwork, phone miscommunications, and more rice and potatoes than I could ever want, I experienced what working on the ground to advance health initiatives is really like," Aguilera says. "I'm more excited than ever to get back in the field."
Hynes (SPH'15) explored his interests in global and environmental health during his seven-week stay in Dodoma, Tanzania, where he traveled to the rural villages ringing the capital city to work on water and sanitation infrastructure.
"This was my first experience going international to work on water projects, which is exactly what I want to do with my public health degree," Hynes says. Without the grant, he wouldn't have been able to study in Tanzania at all, he says, and "would never have had this valuable experience. It's helped solidify my trajectory for the rest of my schooling and will be a huge asset when I apply for jobs in another year."
Rich Feeley, an SPH associate professor and chair ad interim of the global health department, says the Santander Fellows Program is a vitally important program for students, "not just at SPH, but around BU, to do first-rate practica around the world. It's a tremendous opportunity to obtain a high-quality training experience for the future leaders of public health."
Crable (SPH'15), a master's of public health candidate studying global health and epidemiology, says the Santander Fellows stipend was instrumental in supporting her work this summer at the Mexican Health Foundation, a nonprofit policy think tank in Mexico City. She aided researchers trying to define the economic burden of type 2 diabetes throughout Mexico by using national health survey data to analyze the effect on households, the national health care system, and employers.
"I got the internship before I got the grant, and without the grant I would have had to decline the offer," Crable says. "It paid for airfare and living costs in Mexico City and transportation to and from work each day. I made it stretch to cover my expenses, but it facilitated an amazing experience."
After her stint at the foundation, Crable used part of the grant to supplement her own funds so she could travel to rural communities in Panama, Costa Rica, and Colombia.
"I'm interested in Latin American health issues, with a focus on strengthening health care systems in developing economies," she says. "The grant has definitely given me opportunities that I wouldn't have been able to afford, to travel through other countries and see how other systems in Latin America function at the ground level."
The original 2010 agreement has grown over the years. It was later amended to fund advanced physics research in graphene and extended further in 2013 for additional SPH fellowships and the Hispanic Voices cultural exchange program.
Feeley says the most recent expansion of the program allows SPH to "meet the growing needs among our increasing number of students, but more importantly, it allows us to initiate new opportunities with new partners around the world. We look forward to developing deeper relationships with Santander Universities and their global affiliates to expand our engagement to other countries where Santander is working."
Banco Santander, one of the world's largest banking companies, created Santander Universities in 1996 to promote higher education as a way of contributing to economic and social development. Since its inception, Santander Universities has disbursed about $1.3 billion to more than 1,100 academic institutions in 20 countries.
Michael Saunders can be reached at msaunder@bu.edu.