Rite of Spring: Women's Golf Returns
Czech native and tricaptain Pavlickova an ambassador for BU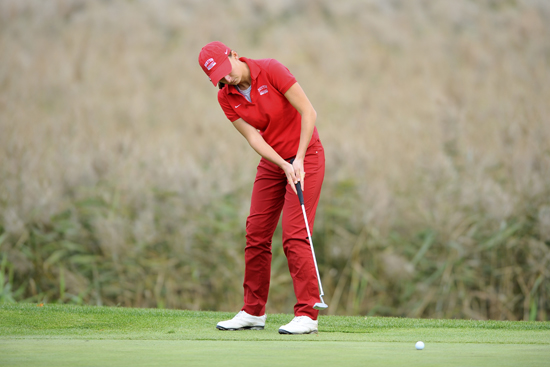 When Kristyna Pavlickova first came to Boston University in 2011, the women's golf program was still in a building stage, but that didn't keep the Czech Republic native from enrolling. An accomplished golfer in high school, she had earned a place on the Czech National Team and captured the Czech Junior Ladies championship. Because the United States is essentially the only place to play golf at the varsity level, she knew she'd have to travel abroad to play competitively.
"Boston University was an obvious choice for me," says Pavlickova (SMG'15). "I really wanted to come to a big city in the Northeast, and I fell in love with Boston. BU has a great business school and even though the golf program was not great at the time, I was hoping it would get better, and it did."
That is in no small part because of Pavlickova's contribution to the team. Now a tricaptain, she captured the individual title and led BU to a second place finish at the Hartford Invitational as a freshman, in April 2012. She was named Metro Atlantic Athletic Conference (MAAC) Rookie of the Year and received numerous academic honors that year as well as playing an integral role in helping the Terriers clinch their first Eastern Collegiate Athletic Conference (ECAC) Championship last year.
Head coach Bruce Chalas credits Pavlickova's arrival with being a critical turning point in the program's history. "She contacted me during her senior year of high school and was very engaging," he recalls. "I sell the education here. I downplay the golf program, and BU is an easy academic sell, so it's not a surprise we continue to attract good players from around the world, and that in turn has helped improve our program. She's been a great gateway for us."
Of the nine players on this year's roster, five are international students. One of them is Pavlickova's childhood friend and fellow Prague native Adela Cejnarova (CAS'17). The golfers competed together on the Czech National Team, and Pavlickova was instrumental in recruiting Cejnarova.
"At first I didn't want to come to Boston," says Cejnarova. "But Kristyna and Coach Chalas convinced me, and I'm glad they did. My first year has been so much easier with Kristyna here to support me."
Chalas says the two  are inseparable and set an example for other players. "They come well-prepared, they're note-takers, and they take their practice rounds very seriously," he says. "They walk fast, they set a great pace for the rest of the team. When we play in lousy or cold weather, they're excited. They love a challenge, but when they don't do well, they never get down on themselves. They move on to the next effort."
Like Pavlickova, Cejnarova has helped the team. In her third tournament appearance, she became the first female Terrier to shoot under 70, with a score of 69 in the opening round of last September's Yale Invitational. Thanks in part to her performance, the team posted new school records for the lowest combined score (297) and the lowest 54-hole total (907) at the event.
The Terrier golfers are making a big impression during their inaugural season in the Patriot League. After ending the fall season with 5 top-10 finishes in as many tournaments, BU is now ranked 160th in GolfStat.com's NCAA rankings—the highest of the four other Patriot League teams, Bucknell, Holy Cross, Army, and Lehigh. Because there is a six-team minimum for a conference to receive an automatic bid to the NCAA tournament, the Patriot League champion will not be eligible this year. Chalas says that despite that, he believes Pavlickova, Cejnarova, and Emily Tillo (SMG'16) have a chance to qualify for nationals individually, and he's hopeful that the Patriot League will add a sixth team for next season.
The Terriers kicked off the spring portion of their schedule yesterday at the three-day (March 2, 3, and 4) Kiawah Island Classic in South Carolina, and Pavlickova, who was Patriot League Golfer of the Month last October, is optimistic about the team's prospects in the coming months.
"We have an exciting season in front of us," she says. "The whole team is ready to get back on the golf course and hopefully win some tournaments. Back home, golf is usually out of the picture from November until March, which is pretty much the same as here. I actually really like to get some time off. I think it helps me recharge, and we should be in great shape for the upcoming season."
The Boston University women's golf team began the spring season yesterday at the Kiawah Island Classic, which ends tomorrow, Tuesday, March 3. The Terriers will conclude the season with the Patriot League Championships on April 19 and 20 in Bethlehem, Pa.
Nate Weitzer can be reached at nweitzer@bu.edu.