Paul Lipton Named New UROP Director; looks to expand program's options
CAS prof looks to expand program's options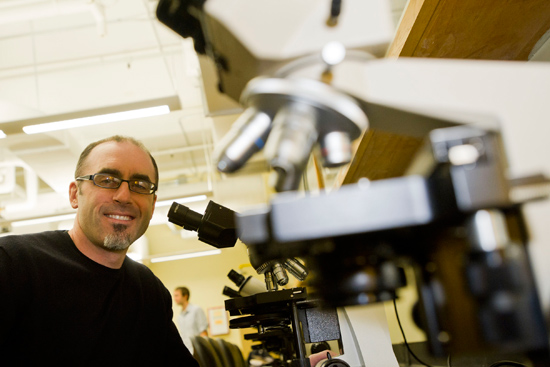 Paul Lipton, a College of Arts & Sciences professor of neuroscience and director of the undergraduate neuroscience program, has been named the new director of the Undergraduate Research Opportunities Program (UROP), which provides funding for faculty-mentored research by undergrad students in the humanities, natural sciences, medicine, arts, and education. Effective in August, Lipton (GRS'01) succeeds Thomas Gilmore, a CAS professor of biology and a School of Medicine adjunct professor of pharmacology and experimental therapeutics, who has led UROP for the past seven years.
Under Gilmore's leadership, UROP developed an extraordinary range of scientific research opportunities, opening the doors of science labs to undergraduates for research opportunities on both the Charles River Campus and the Medical Campus, and, says Lipton (GRS'01), enabling students to get involved in arts and humanities projects.
"One of the things I'd like to do is to continue that and also to really increase and facilitate access for the same types of opportunities in new directions. Lab research is one way to define an experiential learning opportunity," he says, adding that he wants to engage faculty across departments and disciplines for ideas about expanding the range of research opportunities.
Since UROP was established in 1997, it has provided opportunities to more than 3,000 BU undergraduates, during both the academic year and summer sessions, to gain experience in a range of research settings. A list of current projects on the UROP website runs from accounting to zebra fish genetics and requires hitting the "page down" key 14 times to reach the end. UROP's budget more than doubled during Gilmore's tenure, to over $1 million; grants come from both internal and external sources, including the Beckman Scholars Program and the National Science Foundation Research Experience for Undergraduates program.
UROP's profile has risen in recent years as the University community recognizes the capabilities of undergraduates, Lipton says. "Undergraduates are a hugely valuable resource. They are more and more being viewed as able members of a team, and productive members of that team. That is a wonderful place for students to be situated right now."
Lipton has extensive experience mentoring undergraduates and engaging students in research opportunities. He served as academic director of the undergraduate neuroscience program when it launched in 2008, and became director in 2013. During that time, he has mentored students, managed relationships among faculty participating in the interdisciplinary neuroscience major, and won a grant to modernize lab space. Under his leadership, the program has grown from 30 students to about 380. Lipton plans to continue directing the program as well as heading UROP. As program director for BU's Howard Hughes Medical Institute program, he is credited with increasing access to faculty-mentored research, establishing a postdoctoral teaching program, and creating a series of outreach programs for local Boston public high school students. He also is faculty advisor to the Mind and Brain Society, a BU student group that publishes the magazine The Nerve.
"We are excited to welcome Dr. Lipton into this important leadership post," says Jean Morrison, University provost and chief academic officer. "His enthusiastic devotion to the creation of new knowledge and to the development of students into enterprising young scientists and researchers is an ideal fit for UROP's needs. As we thank Professor Gilmore for his long-standing and successful service as UROP's director, we believe Dr. Lipton has the energy and vision to carry the program's strong momentum forward and open new horizons of discovery for BU undergraduates."
Howard Eichenbaum, a CAS professor of psychological and brain sciences and director of BU's Center for Memory & Brain, who mentored Lipton as a graduate student and postdoctoral fellow, describes him as an energetic, creative, and thoughtful educator and administrator. "Paul's a natural to take this over," says Eichenbaum. As the first director of the undergraduate neuroscience program, he worked closely with Lipton to launch the major. He says that Lipton's efforts to expand neuroscience research opportunities, and to build a sense of community among students, mesh with UROP's mission.
Lipton's interest in developing educational opportunities derives from his own academic experience: he says he enjoys igniting the interest of students in what drives their passions more than he enjoys the work of pure scientific research. With a BA in economics from the State University of New York at Buffalo and a doctorate in psychology from BU, he says neuroscience is the vehicle through which he engages students. And while that sounds narrowly focused, the pursuit of discovery can take students in many directions—from medical school to marketing.
At UROP he wants to develop new opportunities for students to discover new things about their fields of study—and themselves. "It's about giving students the chance to apply what they have learned," he says, "and to ask questions in ways that the classroom doesn't really facilitate. And answering the questions, that is a hugely valuable skill."
Lipton says that "part of our mission is to ensure that students experience as many possibilities as their interests will allow. I encourage students to embrace the uncertainty and explore whatever they can."