Pattern of Life: Lives Linked by Drone Attack
New Rep, BCAP stage BU alum's new play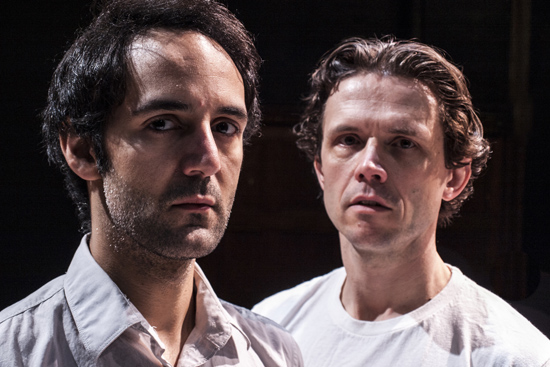 Walt McGough, a playwright with a boundless imagination, has conjured compelling drama from space alien houseguests and deranged spies. In his new play, Pattern of Life, McGough (GRS'12), links the lives of a drone pilot responsible for the death of a young boy and a Pakistani in the village where the innocent victim lived. Directed by Bridget Kathleen O'Leary (CFA'07), the play is presented by New Repertory Theatre, as part of its Next Voices Playwriting Fellowship, and the College of Fine Arts Boston Center for American Performance (BCAP).
In the world premiere, which runs through June 29 at the Boston University Theatre, the pilot is consumed by guilt over the boy's mistaken death thousands of miles away. Through dreams, he connects with a Pakistani villager, struggling to comprehend the tragedy and put a face on a faceless enemy. Through their shared dreams, they become human to each other as they explore questions of revenge, justice, and connection in a time of endless warfare.
New Rep's joining with BCAP, the professional arm of the CFA School of Theatre, is a reflection of the sowing of theater partnerships and opportunities for young actors and designers envisioned by Jim Petosa, a CFA professor and director of the School of Theatre, who took over New Rep's artistic directorship in 2012. Next Voices "has allowed New Rep to tap into the energy of emerging playwrights and their work," says New Rep managing director Harriet Sheets. "As one of New Rep's playwriting fellows, Walt has been able to develop Pattern of Life over the past year through workshops and readings, allowing him to finely tune this amazing new play."
"Walt has the incredible ability to create challenging, beautiful, and complex plays that provide audiences with almost endless variety," says O'Leary, New Rep associate artistic director. "Pattern of Life benefits from Walt's thoughtfulness as a playwright, and it has been a pleasure to work with him throughout the year to bring this play to life."
A Huntington Theatre Company playwriting fellow, McGough has earned three Independent Reviewers of New England (IRNE) Award nominations for Best New Play. His works include The Farm, Priscilla Dreams the Answer, Chalk, and The Haberdasher! He won the 2011 Best Comedy Award from the Capital Fringe Festival in Washington, D.C., and was named one of the Boston Globe's 2012 Artists on the Rise. He received the Kennedy Center's Ken Ludwig Playwriting Scholarship in 2010 and is a founding ensemble member of Sideshow Theatre Company in Chicago.
O'Leary has directed numerous New Rep productions, including Lungs, Fully Committed, Collected Stories, Dollhouse, Charles Dickens' A Christmas Carol, and Fool for Love. She joined New Rep in 2008.
Pattern of Life runs from June 14 to 29, 2014, at the Boston University Theatre Lane-Comley Studio 210, 264 Huntington Ave., Boston. Tickets are $30 general admission, $15 for students with a valid college ID, and may be purchased online or by calling the New Rep box office at 617-923-8487; group discounts are available. By public transportation, take an MBTA Green Line E trolley to Symphony or the Orange Line to Massachusetts Avenue; by bus, take the number 11 Harvard-Dudley bus via Massachusetts Avenue to Huntington Avenue or the number 39 Arborway-Copley bus to Gainsborough Street.