Nightlife: SoWa First Fridays
Free open studios event makes art, and artists, more accessible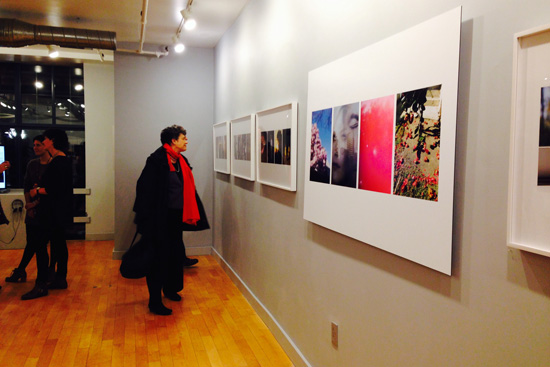 Boston has become something of a mecca for art lovers on the first Friday of the month. There are the dueling Museum of Fine Arts and Institute of Contemporary Art First Fridays, 21+ events offering music, art, lectures, and a cash bar (MFA admission $25; ICA $15). Now you can add a third event to the roster: SoWa First Fridays, sponsored by the SoWa Artists Guild, a nonprofit association of studio artists.
The open studio event is held in the guild's flagship space at 450 Harrison Ave., described on its website as "the center of the SOWA Art District." Visitors are invited to dip in and out of the ground-level galleries or trek to the upper floors and check out the studios of the guild's more than 60 artists. The First Friday event seeks to promote the diversity and breadth of the artists' work and give visitors a chance to meet the artists in their element.
If you're on the fence about spending a Friday night scoping out contemporary paintings, photographs, and sculpture, consider this: unlike the MFA and ICA events, SoWa's First Fridays are free and open to visitors of all ages.
We arrived at last month's First Friday about 7 p.m. to throngs of people spilling in and out of the ground floor galleries. They were a blend of the hip, first-time parents with infants in strollers, aging beret-clad Bohemians, and college-age art students sporting edgy haircuts and heavy eyewear. Even dogs were welcome.
As we squeezed our way into the first gallery, we could hear a live band in the distance. The space was illuminated by intense fluorescent lights that showcased a selection of monochromatic paintings accented by blobs of neon paint. The visitors here were clutching plastic cups of white wine and appeared to be engaged more in boisterous conversation than in the art.
The next gallery had a softer vibe: scuffed wood floors and softly lit walls framing mixed-media abstract sculptures. The people here seemed more interested in the art, particularly the thicket of dangling dried plants and leaves of a provocative installation occupying an entire corner of the gallery. Here we discovered the table with complimentary wine, beer, and seltzer.
After checking out several first-floor galleries (there were too many to visit all), we made our way to the upper floors to explore the open studios. This scene was significantly more low-key than downstairs. Some of the artists were hanging out, talking to visitors while munching brie and grapes, others were making art. They welcomed the smattering of visitors into their studios to observe them work or to talk about their work—making SoWa's First Fridays different from the usual gallery experience.
It goes without saying that visitors can buy unique works of contemporary art—and with Mother's Day, graduations, and wedding season upon us, it's a good opportunity to buy a one-of-a-kind gift. It's also an excellent date spot, and the 9 p.m. closing means there's plenty of time if you have plans for later in the evening.
One final tip: parking is a nightmare, so consider taking a cab or public transportation.
SoWa First Fridays are held the first Friday of every month, from 5 to 9 p.m., at 450 Harrison Ave., Boston. The next one is Friday, May 2. Admission is free and open to all ages. By public transportation, take any MBTA Green Line trolley to Boylston, transfer to the Silver Line bus SL5 towards Dudley station. Get off at the corner of Washington Street and East Berkeley Street and walk along East Berkeley to Harrison Avenue.
This is part of a series featuring Boston nightlife venues of interest to the BU community. If you have any suggestions for places we should feature, leave them in the Comment section below.
Sascha Garrey can be reached at sgarrey@bu.edu; follow her on Twitter @SaschaGarrey.