Nightlife: Friday Night Trivia at Trident Booksellers and Café
Food, fun, and flummoxing trivia on Newbury Street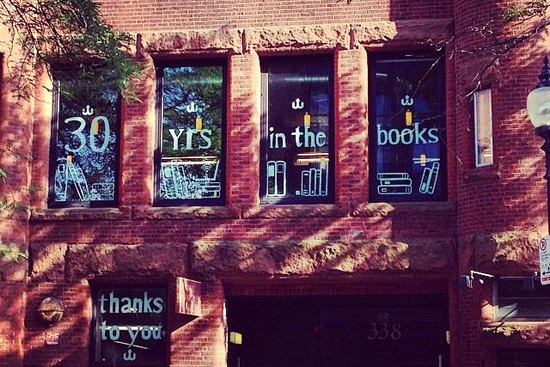 Did you know that Gouda cheese comes from the Netherlands? Or that linguini means "little tongues" in Italian? Or that in France, the title of the movie No Strings Attached was translated into Sex Friends? How about that the most commonly eaten fish in the world is herring?
If you have a mind for storing factoids like these, then you'll love Friday night trivia at Trident Booksellers and Café.
Self-proclaimed "Boston's only independent general bookstore," Trident has been a Newbury Street institution for 30 years. Half the store is a haven for book lovers—with floor-to-ceiling shelves lined with books of every genre, from current best sellers like Donna Tartt's The Goldfinch to classics like J. D. Salinger's The Catcher in the Rye and beloved children's books such as Robert McCloskey's Make Way for Ducklings. The other half is a cozy café, with a large menu, free Wi-Fi, and plenty of space to read the book you just purchased.
Trident also boasts a calendar full of evening events, among them cooking demonstrations, book and poetry readings, and paint nights. Friday nights are reserved for the store's free trivia contest, famous for its random, baffling questions, which are written by store manager Max Clark.
Getting there early is a must. We arrived a half-hour before the competition's 8:30 p.m. start, and the second floor room where the contest is held was nearly full. While the main purpose of the weekly trivia contests is to have fun, Trident gives participants extra incentive by awarding prizes to the top three teams: first prize is a $35 gift card to the store; second prize is a hardcover book under $27; and third prize is a softcover book.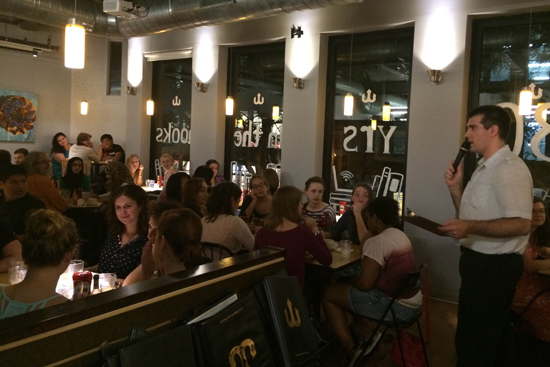 We decided to eat dinner while waiting for things to begin, figuring that food would improve our competitive edge—plus, the menu looked so good that it was an easy decision. The café's full menu is available during trivia, from decadent breakfast classics (like challah bread French toast or a crisp Belgian waffle piled with strawberries, bananas, and whipped cream, both $9.50) to pub-style treats like nachos ($8.50) and fish and chips and chicken quesadillas (both $13.50). A  selection of beers and wines is available, along with coffee, tea, fruit juices, and smoothies. We opted for the apple brie omelet ($10.50), a generous three-egg creation filled to the brim with creamy cheese and served with toast (good for scraping the extra brie off the plate). We also chose the famous Trident Bowl with shrimp ($19.95), a heaping serving of shrimp, roasted Brussels sprouts, and microgreens, tossed with sesame dressing, kale, beets, sweet potatoes, chickpeas, and rice (variations of the bowl come with poached eggs, chicken, tofu, or salmon cakes in place of the shrimp).
With our stomachs full and our minds sharp, we were ready for the competition, five rounds consisting of five multiple-choice questions each. The questions covered an eclectic list of categories, ranging from "Old English" to "Where does cheese come from?" Aside from the (very) few questions that we could answer on our own, most of our answers were the result of educated guesswork or skillfully played games of eeny, meeny, miny, moe. Clark, who acts as the evening's emcee, kept the atmosphere light with his running jokes.
After the answer sheets were tallied, we were tied for second place. The tiebreaker (What is the name of Batman's car?) was by far the easiest question of the night. We shouted, "the Batmobile" first to come in second (thus earning a free hardcover book). After careful deliberation, we chose a special edition of Charlotte Brontë's Jane Eyre and walked out onto Newbury Street excited by our surprise victory and satisfied with a Friday night well spent.
Trident Booksellers and Café's trivia competition is held each Friday night starting at 8:30 p.m. on the store's second floor, 338 Newbury St. (between Hereford Street and Massachusetts Avenue), Boston. By public transportation, take any MBTA Green Line trolley to Hynes Convention Center. The event is free and open to the public. There can be up to six people on a team. If you arrive by 8 p.m., you can order dinner, drinks, and dessert from the restaurant menu. Seats fill up quickly, so be sure to arrive early. Trident posts a full list of events on its website.
Samantha Pickette can be reached at pickette@bu.edu.