Mozart Meets Hip-Hop
In CFA musicians' video, they get along beautifully
During the summer months, BU Today is revisiting some of our favorites stories from the past year. This week, we feature a series of stories on the arts—in the classroom, on the stage, and in the gallery.
On a drive from Boston to Cleveland several months ago, oboist Courtney Miller was musing on a subject she is increasingly passionate about—broadening the American audience for classical music.
As anyone who frequents Symphony Hall knows, classical music audiences are skewing older and older. "Music is what I devote my life to," says Miller (CFA'15), an accomplished soloist who has a record contract with Centaur. "But I think a lot of people haven't been exposed to the kind of music I play and they might have preset ideas about it; there's such a stigma about where classical music belongs."
By the time she crossed into Ohio, the College of Fine Arts doctoral candidate in music performance had a vision of a music video that would marry classical and hip-hop. She enlisted a friend, flutist and CFA lecturer Ceylon Mitchell (CFA'14), who also produces audition videos. Friends and music partners for four years, Miller, from Jacksonville, Fla., and Mitchell, from Anchorage, Alaska, dream of having the uninitiated grow to love classical music as much as they do.
Miller next contacted Ernest "E Knock" Phillips, whom she'd seen auditioning for the hit Fox show So You Think You Can Dance (she's a huge fan). Phillips was immediately intrigued and enthusiastic about setting his moves to Mozart instead of Macklemore. Posted on YouTube and titled Classical Hip-Hop Video, the result, a playful, pastoral flirtation shot in the Public Garden and the Boston Common last fall, is just the first of what Mitchell and Miller hope will be an ongoing collaboration in the same spirit.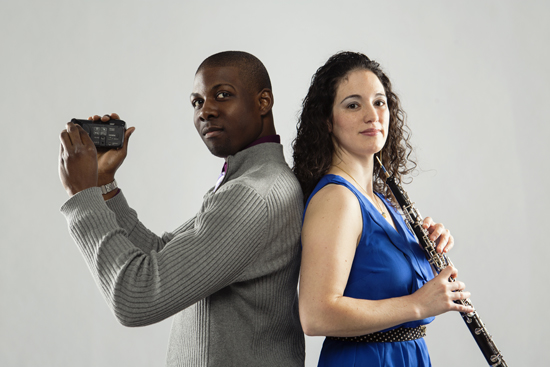 After Miller's first exuberant email to Phillips, she says, he was "remarkably enthusiastic." She gave him a choice of several audio tracks. He chose the slowest one, the haunting Adagio from Mozart's Oboe Quartet, K. 370.
"First of all, I love to challenge myself," says Phillips, a Roxbury native who teaches hip-hop dance to young people in Waterbury, Vt. "I talk fast; I dance fast. So my challenge was slowing it down so people can see my moves. I had to make everything tighter, cleaner, and less aggressive. Slow music brings out the whole emotion of the moment." He doesn't necessarily know the "names of this or that symphony," he says, but he likes to listen to classical music when he works out and when he drives.
Phillips prefers his videos to have a provocative, mysterious narrative. "I just love telling stories, the kind people can relate to their own lives," he says. His 2009 So You Think You Can Dance audition was a soulful, emotional tribute to a beloved young cousin who had recently drowned. It left the show's judges in tears.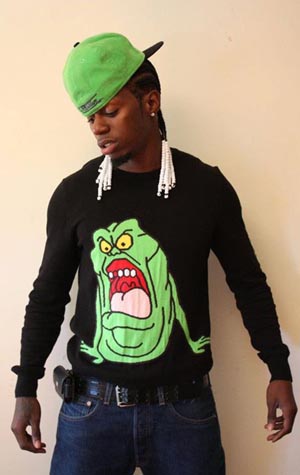 Now 27, Phillips started dancing as a toddler. Completely self-taught, he learned his best moves imitating his idol, Michael Jackson. Why "E Knock"? The E is for Ernest, and the "Knock is because I'd always knock out the competition," he says.
Miller and Mitchell brainstormed for days before Phillips arrived in Boston for the shoot with his "crew"—three of his siblings who worked as production assistants. "I had a map sheet for the scenes because I'm Type A," Miller says. Music is music, but the worlds of hip-hop and classical did collide on one point—rhythm. "We were doing the Mozart steps in three or slow six, and E Knock was counting it in hip-hop beat, which is eight," she says.
"It was a little confusing at first," Phillips recalls, "but when we talked about it, we realized we were saying the same exact thing, but weren't understanding each other."
It was Mitchell's idea to do the shoot in the Public Garden and the Common. "I wanted that natural environment," he says. Mitchell shares Miller's passion for expanding the appeal of the classical music he was weaned on. Some scenes had to be cut, because "they were too clogged with people walking through." But in others, particularly those shot in and around the columns of the circular pavilion, Phillips, in a striped polo shirt and do-rag, and Miller in a diaphanous blue sundress, appear to have the place to themselves. From park benches to sturdy oaks, everything became a prop, and in one scene Phillips hoists himself onto the Public Garden footbridge from the grass below. In a series of phone conversations and meetings in the days leading up to the shoot, Miller and Phillips worked out the general choreography together, although except for the pavilion scene much of it was improvisation.
The shoot went so smoothly that all three say they want to do more to win young audiences. Miller and Mitchell hope to secure grant money to expand the appeal of classical music. For his part, Phillips has started to listen more to classical music and is thinking about collaborating with a pianist or violinist in a project that would "add another level."
"When I do something, I don't try to do it again. I try to add something," he says. "I always think about how to better myself."
This story was originally published on January 31, 2014.