Humans of BU
Popular Facebook photoblog captures life on Comm Ave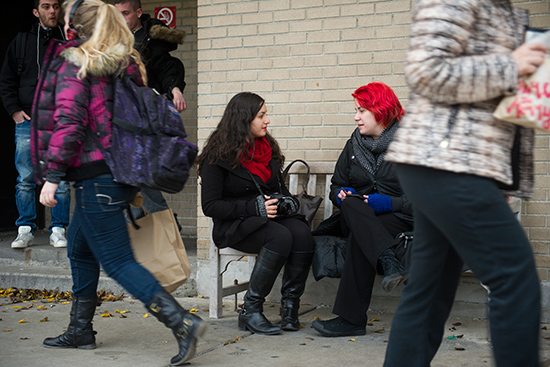 When Tami Gabriely first approaches someone on the street, she says they tend to either look away or furiously scroll through their iPhones, seeming very busy, out of fear she's about to ask them to buy something. But they look up the moment she asks "Hi, have you heard of Humans of New York?"
For those not in the know, Humans of New York is the popular Facebook photoblog launched by photographer Brandon Stanton in 2010 (the site has 11 million Likes) that posts photographs and quotes from residents of New York City's five boroughs, including everyone from precocious schoolchildren to punk teens, construction workers to Fifth Avenue swells. The page's success (it's also led to two books) is a result of how people open up and share frequently moving details about their lives.
A fan of the site, Gabriely (CAS'16) decided to launch a Humans of Boston University Facebook page last year. She already has close to 2,400 followers. Similar in vein to its New York cousin, the BU site seeks to capture a wide cross section of the BU community: a two-time Madrid Study Abroad student, a member of the InterVarsity Christian Fellowship group at BU, and a marathon runner, to name a few. Many posts get more than 200 Likes and multiple comments.
Gabriely believes that BU's sprawling campus and large student population make it easy for people to ignore or even judge strangers, based on rumors or appearances. So her goal is to share individuals' personalities, histories, hobbies, and views of the world and give others a better sense of who they are.
"I have noticed how much impact Humans of New York has had on its followers; if you look at comments on that page, you can see how supportive, understanding, and compassionate people are to these complete strangers," she says. "I think bringing this idea to a smaller community, in this case BU, can expose the diversity of the people that make it up and has the potential to make it more unified and connected….I think pairing a quote with a face can make it more human, and it can also sometimes be surprising, because you wouldn't expect some people who look the way they do to say the things they say."
The popularity of Stanton's site among the BU community means Gabriely is usually greeted with a smile when she approaches normally camera-shy individuals and asks her leading question. "If someone says no right off the bat, I ask them if I can tell them what I'm doing first," she says. That tactic almost always works—Gabriely estimates she gets just one rejection for every 19 yesses. "Many times, people just open up. I've found that people love talking about themselves."
"I think bringing this idea to a smaller community, in this case BU, can expose the diversity of the people that make it up and has the potential to make it more unified and connected….I think pairing a quote with a face can make it more human."
To make her shyer subjects less self-conscious, Gabriely saves the photograph-taking for the end of the conversation. And she asks each subject before they begin if it's OK to record the conversation on her iPhone so she can transcribe it later.
Gabriely can be found many days between classes with a Canon EOS 6D slung over her shoulder or snapping away. At the end of the day, she loads the images onto her computer and uploads them to the Facebook page.
On a recent Tuesday afternoon, she was scanning the Ziskind Lounge on the second floor of the George Sherman Union. "I often look for people who are alone," she explained, as she walked toward a student typing away on a laptop. She also keeps an eye out for people who are engaged in some activity, whether it's someone playing the piano in the George Sherman Union or walking their dog.
Sarah Lowe (CFA'15, CAS'15), a big fan of Humans of New York, was game right off the bat when Gabriely approached her. Once Gabriely asked her first question ("What makes you tick?"), Lowe talked in a kind of stream-of-conscious way about what she's studying (sociology and theater arts), future plans (find a PhD program), and home life (complicated).
"I plan to take a year off, because I need it," Lowe confided. "My program was supposed to take five years but I overloaded and did it in four."
Gabriely asked another question—"if you could tell your teenage self something, what would it be?" Lowe thought a minute before responding. "In middle school, I was the weird kid," Lowe told her. "I wish I could go back and give myself a hug.…But I went to a really awesome high school and became friends with some older kids who told me I needed to stop apologizing for everything." Gabriely asked the senior a few more questions and then thanked her for her time.
"I've gotten better coming up with questions since I've started doing this," Gabriely says, about how she keeps conversations rolling. She began Humans of BU partly to challenge herself to talk to strangers and get out of her own shell. Born in Russia, she grew up in Israel and moved to Brookline during high school. Gabriely believes her cosmopolitan upbringing helps her to connect to BU's diverse population.
After taking Lowe's photo, Gabriely spent the next hour walking around, talking to and photographing a bright-red-haired Starbucks barista and a man who admitted to having had "asshole" tendencies when he was younger.
Her last stop of the day was inside the College of Arts & Sciences building, partly to escape the biting cold. Sitting on a couch in the lobby area was Cheng-Hao Wang (CAS'17), an economics major born in Hong Kong who came to the United States for the first time in order to attend BU. Gabriely immediately struck up a conversation with Wang, complimenting him on his flawless English and bonding with him over the fact that she, too, had been born abroad.
"What do you like most about this country?" she asked him.
"People here open up a lot more. I can definitely have conversations with strangers about random things," Wang said.
Gabriely—a stranger only 30 seconds before that—nodded in agreement.