Faculty, Staff Win Grants for Innovative Online Education
Projects will increase academic flexibility, raise global signature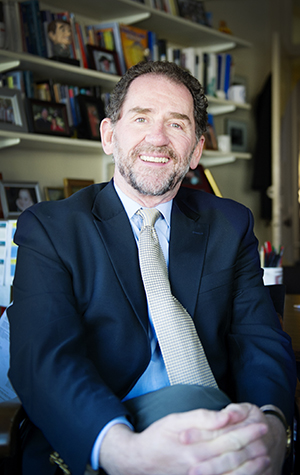 Geography and time are playing less of a role than they once did in higher education, and the Digital Learning Initiative's first seed grants for online innovation are taking full advantage of the trend.
Thanks to these EdTech grants, medical professionals will soon earn microcredits for skills they didn't have time to learn in their graduate school years. Dozens of Chinese graduate students will attend orientation before, not after, they arrive in Boston. Students of Korean, Hindi, and Urdu will be able to access grammar lessons on their smartphones, and undergraduates considering study abroad will get a firsthand view of life in Italy, Spain, and England before they get on a plane.
"Education is a process that prepares people for success and happiness in life," says Chris Dellarocas, director of the DLI, which develops BU's MOOCs (massive open online courses) and which awarded the University's first EdTech grants last semester. "Every single dimension of this process has room for innovation and improvements through technology. BU needs to be on the forefront of innovation on all those dimensions."
BU's Council on Educational Technology & Learning Innovation (CETLI), which established the DLI last year, sent out the first call for distance learning proposals last spring to gather ideas from faculty and staff. Applicants were asked to consider three focus areas: expanding academic flexibility for University students, leveraging assets unique to BU, and supporting or extending BU's global signature. Since choosing the awardees late last fall, Dellarocas, who is also a School of Management professor of information systems, DLI associate director Romy Ruukel, and members of a selection committee have been working with faculty and staff to develop their visions.
EdTech grants provide faculty with an opportunity to develop ideas that are out of the box or that push the envelope beyond traditional education methods, says CETLI cochair Azer Bestavros a College of Arts & Sciences professor of computer science and director of the Rafik B. Hariri Institute for Computing and Computational Science & Engineering. Bestavros says online technology encourages "flexibility on both sides: for the teacher to try pedagogies that are impossible to do face-to-face…and for students to be flexible about when and where they take courses."
Faculty at the College of Communication were among those who welcomed the grant announcement. For the past five years, COM has seen a steady increase in the number of Chinese graduate students applying to its programs, quadrupling from 10 registered students in 2009 to 44 in 2013. The faculty welcomed the students, but saw that many struggled with the cultural nuances or classroom expectations taken for granted by native-born colleagues.
"We felt that we have an obligation to do all we can within reason to ensure success," says Stephen Quigley (SED'87), a COM associate professor of public relations. Along with Micha Sabovik (COM'96,'06), a COM assistant dean, Quigley is co–principal investigator of the college's seed grant. "We saw this as an amazing opportunity to erase the geography" and facilitate Chinese graduate students' transition to BU, he says.
COM will use its EdTech grant to pilot a series of summer online workshops and a weekly webinar that give entering Chinese graduate students an opportunity to ask questions about anything from culture and the English language to internships and professions. When they arrive in the fall, students will attend monthly seminars that focus on English writing and speaking. Current students and alumni from China will help faculty plan and present material. The experience is free and is optional for this year's incoming class, but Quigley says it could someday become a two-credit course.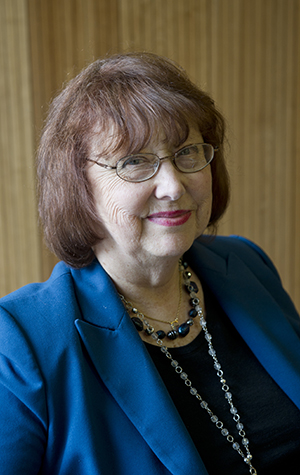 Gail March (CFA'73), a School of Medicine assistant professor and director of instructional design and faculty development, proposed the creation of the BUSM+ Medical Education Badge Program. The EdTech program would award digital badges—similar to Boy Scout and Girl Scout merit badges—to medical professionals who complete up to 10 online sessions covering lifelong learning skills. Enrollees would display their badges in electronic portfolios, CVs, or on social media sites such as LinkedIn and Facebook.
March's pilot course, Teaching and Learning, will be available in October, and she envisions three more courses—Curriculum Design, Academic Leadership, and Medical Education Research—covering skills, she says, that medical students and professionals want to learn, but often don't have time to pursue in traditional classes.
Gisela Hoecherl-Alden, a CAS assistant dean, director of language instruction, and a professor of the professional practice in German, will use her EdTech grant to reimagine how languages can be taught online. "Up until now, there's been no real technology platform to replicate what we do in a classroom," she says.
Working with an Information Services & Technology team, Hoecherl-Alden plans to identify software that facilitates oral and written instruction in a virtual classroom, with enrollment held to a maximum of 16 students. Beginner Korean, Hindi, and Urdu will be the trial courses, but Hoecherl-Alden believes many others could follow once the technology is perfected. Fall classes will feature some online segments, and—if the template works well—spring classes might be fully online. The EdTech project will allow more students from around Boston, and around the globe, to access the University's language courses.
"Once the beginning levels have usable templates," she says, "it will be much easier to move advanced courses online."
Willis Wang, vice president and associate provost for global programs, and his team of Charles River Campus and international colleagues will use their EdTech grant to develop online courses that enhance study abroad students' predeparture preparation, in-country experience, and reentry to the United States.
Using technology that will be available as early as spring 2015, the courses will also provide students with a "platform to reflect on what they've learned and measure it," Wang says.
Ruukel points out that each of the projects is still an experiment. "We want them to be successful experiments," she says, "but they can also be a proof of concept." She says the COM course could someday become required curriculum for Chinese graduate students, or serve as a template for other schools and colleges welcoming international students into their degree programs.
Dellarocas and Ruukel are now sorting through the second round of EdTech grant proposals, which have a new set of focus areas: potential MOOCs, how to enhance the residential experience, and how to reduce the cost of a BU education or increase the University's revenue stream.
Although the latest round of grants was officially due by January 31, Dellarocas says, "if people really have some ideas and they have a burning desire to implement them, they can approach us at any time."